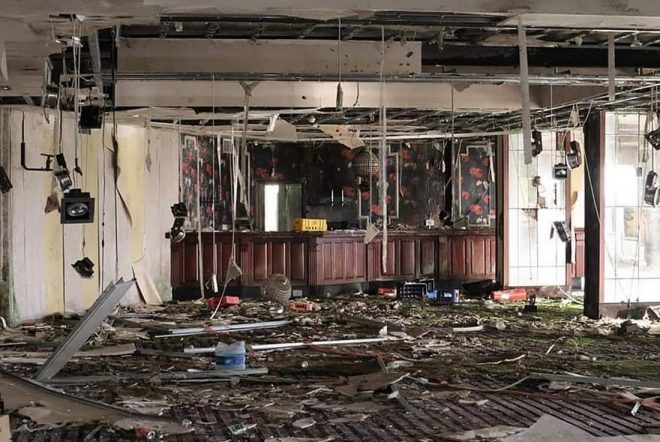 ONE of the west Donegal's best known hotels, the Ostan Gweedore, overlooks the 'Bád Eddie' shipwreck resting on Magheraclogher bay.
Over recent years both sites, which have become synonymous with the region, have fallen into a state of disrepair and locals and visitors alike are hopeful that their futures can be preserved.
And now there is growing speculation that the new owner of the hotel is hopeful of gradually reopening some of the site, on a phased basis, later this year.
The doors of the Ostan have remained closed since receivers acting on behalf of the banks put the 32-bedroom hotel up for auction almost four years ago with a reserve price of just €590,000.
Six adjoining holiday apartments and a leisure centre with swimming pool on 76 acres were also included in the lot. The hotel was owned by the local Boyle family.
Last month researchers from Queen's University carried out a 3D survey on the famous 'Bád Eddie' shipwreck as part of a plan to incorporate the wooden skeleton into a stainless steel full-size replica that would be Ireland's first permanent sculpture in the sea.
"It would be a great boost to the Gweedore area if the Ostan was able to re-open its doors, providing much needed jobs, to go with the plans to preserve Bád Eddie," one local said.
Images of the fully furnished hotel, with piles of linen sitting in the corridors, made headlines on social media when captured by "urban explorers" five years ago.
Commonly referred to as 'Urbex', the practice is the art of finding old and abandoned buildings and locations, exploring them, and taking photos as you go.
One such explorer, who runs the 'Urbex: Forgotten Ulster' Facebook page, took those images of the Ostan back in 2015. He spoke to the Donegal News this week.
Wishing to remain anonymous, he recalled that he came upon the hotel by chance and the fire doors were open.
"It had obviously been occupied at some point by squatters. When we went inside it was surreal. We are used to going into decaying buildings where the moss is growing on the walls, but this hotel was fully furnished, some beds were still made, while there were piles of linen in the corridors that looked like they had just been put out for washing," he explained.
Last month, a woman who runs the Abandoned Misadventures Facebook page, visited the hotel site and out together a series of images which she compared to those previously taken by Urbex: Forgotten Ulster.
"It's been almost five years since we captured the images of the hotel. Back then there was not much decay and a feeling that the place wasn't really abandoned as such. This week I saw some recent photos on the Abandoned Misadventures page showing the hotel as it is now – badly vandalised and decayed. The place is sadly gone now," he said.
Receive quality journalism wherever you are, on any device. Keep up to date from the comfort of your own home with a digital subscription.
Any time | Any place | Anywhere
Posted: 5:30 pm September 18, 2020