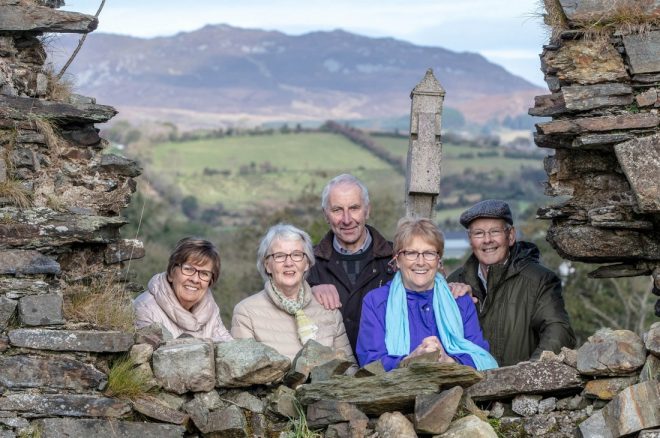 DONEGAL County Council have confirmed that a conservation plan has been developed for the historic Kilmacrennan Franciscan Friary site.
The friary was built in 1537 by the clan leader Manus O'Donnell for the Franciscan friars on the site of a previous monastery of the 6th century. It is said that at this early monastery Colmcille was educated in 528.
The Council is developing a plan for funding of works to mark the 1,500th anniversary of the birth of St Colmcille next year.
Born in Gartan, Saint Colmcille is one of the most important figures in the story of early Christianity in Ireland. His significance has led to him being chosen as one of the three patron saints of Ireland alongside St Patrick and St Brigid.
The Kilmacrennan Abbey Preservation Society have spent much of the past two decades campaigning for conservation measures to be taken at the local site associated with the saint. The Council have fenced off the ruins in recent years because they're unsafe and dangerous.
The proposed conservation works for the Abbey Wall will see the reconstruction of section of the collapsed north wall and temporary support to southeast corner masonry, removal and reinstatement of defective modern masonry.
New stonework to support overhanging collapsing stones at north end of east gable and west end of south wall as well as consolidation of wall heads and exposed wall ends using appropriate materials and techniques informed by mortar analysis are also being planned.
"Donegal County Council working closely with the Kilmacrennan Abbey Preservation Society have developed a Conservation plan for the Abbey Wall which is perhaps, most notable, for its connection with St. Colmcille and a religious foundation established here in the 6th century
"The Council is developing a plan for funding of works in relation to a Colmcille 1500 commemoration in 2021 and further details will be made available at a future date," the spokesperson said.
Ms Maura Strain, Secretary of the Kilmacrennan Abbey Preservation Society, welcomed this week's confirmation that a conservation plan has been developed for the site.
"We've been looking for works to be carried out at this site for a long time – it must be fifteen years at this stage. The graveyard is still is use and people still visit it. A lot of people were upset when Donegal County Council cordoned it off.
"The site is of great historical value. We have regular walks and talks and we've got all the relevant documents in place. We're shovel ready," Ms Strain said.
"We're very hopeful that this will come to fruition in time for the St Colmcille celebrations next year. This will give us all renewed focus," she added.
The saint's connection with Donegal and nearby Derry is evident from the many landmarks, churches and schools which have adopted his name. Credited with many miracles and other feats, Colmcille was banished from Ireland and he eventually settled in Iona off the west coast of Scotland where he established a monastery which exists to the present day.
Receive quality journalism wherever you are, on any device. Keep up to date from the comfort of your own home with a digital subscription.
Any time | Any place | Anywhere
Posted: 9:00 am September 12, 2020