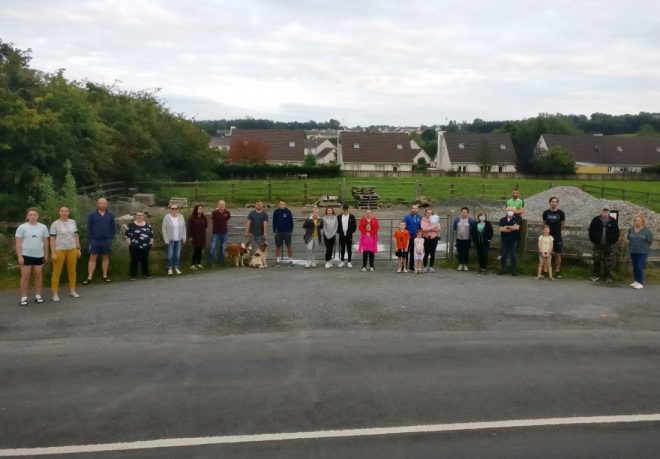 A CONTROVERSIAL social housing development for Ballybofey is to proceed despite 26 submissions of concern from local residents.
The scheme, which will see 19 homes built at a site in Trusk Road in a mix of two and three bedroom two-storey houses, was given the green light after the approval of a Part eight planning application.
The scheme was the subject of controversy earlier this year when a number of residents met with representatives from Donegal County Council. At that meeting in the Villa Rose Hotel on July 27 residents claimed that the council presented a "done deal" and did not engage in discussion of potential alternative solutions.
Mr Ciaran Browne is spokesperson of the local residents organisation. Speaking to the Donegal News he stressed that the group was not opposed to social housing.
"In principle, we have nothing against social housing and it is needed in Ballybofey. It's the scale of this proposed development that's the problem. It almost dwarfs the bungalows along Trusk Road and the dormers in the nearby Weavers. There was a precedent set down by the Council for the type of developments allowed in this area many years ago but they've torn it up by pushing through this Plan 8 planning application," he said.
"To say that we've been let down by our local Councillors is an understatement. The planning notice was first put on site on March 12 – the same day as the country was effectively closed down – and it was subsequently illegal for us to meet as a group to discuss the plans for the site.
"It's costing €4.7 million to develop the site which is an incredible amount of money as we're about to enter into a recession. It's the wrong site. It's less than an acre, 0.8 of an acre, and they're putting nineteen two-storey units into it," he added.
"We're lay people and we're unfamiliar with the whole process. We submitted 26 letters of concern to Donegal County Council and that should have raised a red flag or two. When we were asked to that meeting on July 27, one week after the Part 8 planning was approved by the council, we attended under the impression that we were going to find an alternative and come up with a compromise but that's not what happened. We were informed that the deal was done. It was a fait accompli.
"We were then told that we could appeal the decision to An Bord Pleanála but we've since learned that that too is incorrect. Under Part 8 of the Planning and Development Act, there is no process for appealing decisions to An Bord Pleanála," he said.
"We're looking at different avenues as to where we can go from here but we really need to highlight how poorly we were treated throughout this whole process. We feel that we didn't great a fair deal and, hopefully, by highlighting it we can help people in other parts of the county who are faced with Part 8 planning applications in their area.
"It would appear to us that Donegal County Council can build what they want, where they want and when they want under Part 8. They will say that they did meet us – and they did – but that only happened after the deal had been agreed and it was effectively a box ticking exercise," he said.
"The council say that 22 people will be staying in the units but there is a capacity for 76," he added.
The residents then sought to secure six signatures needed from elected members to secure a special meting of the Council to discuss the issue further. They got five.
"We got the independents on board but the party machines ensured that their members towed the party line," he said.
The Council had not responded at the time of going to press.
Receive quality journalism wherever you are, on any device. Keep up to date from the comfort of your own home with a digital subscription.
Any time | Any place | Anywhere
Posted: 9:14 am September 23, 2020