Mark Curran is a well-known figure in Donegal soccer circles, and played locally for 15 years before successfully going into management.
Curran made his debut for Rathmullan Celtic when he was 17 and went on to play with Swilly Rovers, Bonagee United, Finn Harps Reserves and Milford United, before finishing off his playing days with Rathmullan.
Curran went up against some top quality players over the years and this week has picked the best 11 (4-3-3) he faced, with honourable mentions for Sean Barrett (Fanad), Davy Deery (Fanad), Dermot 'Froggy' Shiels (Lifford), Mark Callaghan (Newtown and Kildrum), and Colm McGonigle (Fanad).
Bosco Gallagher (Fanad United)
Bosco was a great goalkeeper and he had huge presence. When he came out to close you down it felt like Peter Schmeichel was coming after you. It was very close with Damien Bradley, but I'm going to give it to Bosco.

Patrick Patton (Finn Harps Reserves and Fanad United)
In my opinion, 'Burger' was the best junior footballer from Donegal not to play senior football. He was probably unfortunate in that he played in an era when it was all about physicality, whereas now you want your defenders comfortable on the ball and that's what he was. He could play anywhere along the defence, but I do have to remind him the odd time about the day when I played for Milford and he took me down on a one-on-one and was sent off!
Shane Bradley (Fanad United)
I remember going up against 'Rita' when he was a young fella playing for Fanad. The only chance I had against him was on the ground because he was so physically strong and powerful that he won everything in the air.

John McElwaine (Fanad United)
John was a brilliant midfielder, but I remember going up against him when he was a sweeper with Fanad, and he was just so intelligent. You'd be thinking you'd outpace him but he would just show you wide and put you out over the endline. It was only when I played with him in a summer cup down in Ray that I really saw just how talented he was.
Shane Sweeney (Fanad United)
Shane Sweeney always stood out for Fanad. He was a good defender but also brilliant at going forward and from set-pieces. He was very quick for a full-back and would be up the wing in a flash, and the boys on the line would be giving out for not following him.
Paddy McDaid (Letterkenny Rovers)
We had a good rivalry with Letterkenny Rovers when I was with Bonagee, and the games would often be tight affairs. But time after time, Paddy McDaid would pop up with a crucial goal to swing it their way. Paddy could play up front or on the right wing, and his pace would frighten you.
Kenny Harkin (Fanad United)
I would have played a lot against Kenny Harkin and for me he was the best midfielder in the Ulster Senior League. The first thing you had to do when you played Fanad was to try and stop Kenny running the game. I've had the pleasure of playing with him in charity games over the last few years, and he could still play he's in that good a shape.

Paddy McGrenaghan (Fanad United)
We had a good Under 18 side with Rathmullan when I was younger and had some big games against Fanad, and Paddy was their danger man. He then broke through into their senior team, and you could see the skill he had, and it was so hard to get the ball off him. I remember when he went up to Harps, and people would have criticised him for taking too much out of the play, but he very rarely lost the ball.
George Grier (Fanad United)
When I was starting off, George would have been in his late twenties and he was the main man in the USL at the time. I used to think when we played Fanad that you needed to score two to win because they would always score and George would usually be the player to get it. He scored a lot when he went to Milford as well and he was just a natural goalscorer.

Con McLaughlin (Milford United)
I played against Con for Bonagee when he was with Milford. It was towards the end of his career, but he was still unplayable at times. I actually had the pleasure of playing with him for a season at Milford and then Rathmullan. His vision, awareness, and hold-up play was top class. Whenever I see him now refereeing, he tells me 'I learned up boy'. And he did. If you couldn't have learned from Con, you shouldn't have been on a football pitch.
Timmy Burke (Kilmacrennan Celtic)
We had some good battles with Kilmacrennan when I was with Rathmullan, and I don't think I saw anyone with a better first touch than Timmy Burke. He had so much ability, and I think if he had been coming up in this era with a little bit more guidance, he would have played senior football regularly with his talent.
Receive quality journalism wherever you are, on any device. Keep up to date from the comfort of your own home with a digital subscription.
Any time | Any place | Anywhere
Posted: 9:30 am August 7, 2020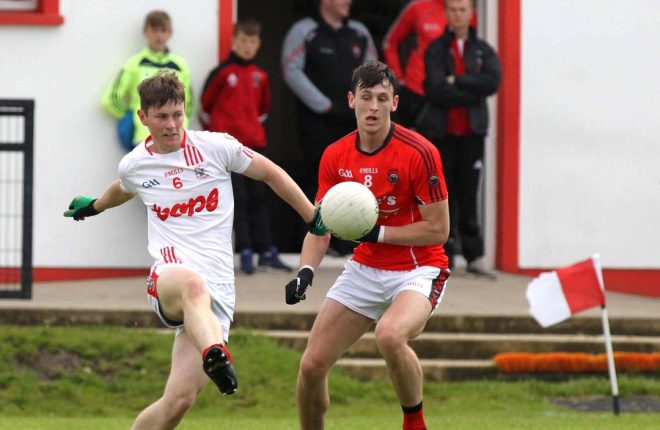 The Donegal Under 20 team take on Cavan at 2pm on Sunday.
RATHMULLAN Celtic joint-manager Mark Curran felt it was fitting that Eoin Sheridan was the one who grabbed the goal...