JP Malley is a well-known figure in Donegal soccer circles, and is one of the top strikers in the county.
Malley didn't play a huge amount of organised football until he was 21, but over the last ten years, he has represented Mulroy Celtic, Whitestrand United, Finn Harps Reserves, Castlefinn Celtic, and Convoy Arsenal.
Malley has gone up against some top quality players over the years and this week has picked the best 11 (4-4-2) he faced, with honourable mentions for Joe Coll (Glenea United), Shane Gallagher (Deele Harps), Darren McGeever (Glenea United), Mickey Lafferty (Ballybofey United), and John Gerard McLaughlin (Glengad).
Lee White (Lifford Celtic)
Lee wasn't huge for a goalkeeper but he was a class act. He was a good shot-stopper but also excellent with his feet. He'd try and take the ball around strikers, and could pick a pass. He wasn't a fan of just kicking the ball up long.

Seami 'Nanny' Friel (Kilmacrennan Celtic)
Seami could make this team at right-back or left-back or anywhere across midfield. He's versatile and has been a huge player for Kilmac since signing for them a few years ago.

Michael Lynch (Kildrum Tigers)
'Farmer' is the toughest defender I have come up against. He's big and strong and quick, and he would have always man-marked me when I played against Kildrum, It was hard to get away from him.

Marcus McDonnell (Lifford Celtic)
I would have gone up against 'Fish' a few times and he was always a good defender for Lifford. Like Lynch, he's a big, strong man, and he was able to read the play so well.

Matthew Byrne (Glengad)
There were three or four years there when Castelfinn played Glengad twice each year in the Ulster Cup and FAI Junior Cup, and Byrne was usually the best player on the field. He is a flying machine. He's won a Junior International cap too and you can see why.
Gary Merritt (Milford United)
Gary would play in midfield or up front for Milford and he was always someone we had to watch closely. He's a good finisher who scores a lot of goals, and I don't think I've ever seen a better striker of set-pieces than him.

Kevin Mulhern (Glenea United)
Kevin is as tough as they come but he's a very good footballer as well. The year Glenea won the Premier Division, Kevin was brilliant for them and he's a big leader too.

Paddy McCourt (Finn Harps)
I only played against Paddy once and it was for the Oscar Traynor team against Harps at the opening of the new pitch at Ballyare. We were short numbers and I had to play in midfield, and spent the whole game chasing after Paddy. He nut-megged me twice in the first half-hour, including one time when I was left on the floor and he just ran on through.

Daire McDaid (Kilmacrennan Celtic)
Like Merritt, Daire McDaid can play up front or on the wing and he's a really skilful player and one of the best in the Donegal League. He seems to score at least 15 goals every season.

Stevie O'Donnell (Lagan Harps and Convoy Arsenal)
I would have gone up against Stevie when he was coming towards the end of his career, but he was still a real handful. He has a really powerful shot and could score plenty of goals too.
Kevin McHugh (Kildrum Tigers)
Kevin must be in his forties now but he is still a class act, and a huge threat in every game he plays. He can score goals from anywhere, including from the half-way line against Castlefinn a few weeks ago.
Receive quality journalism wherever you are, on any device. Keep up to date from the comfort of your own home with a digital subscription.
Any time | Any place | Anywhere
Posted: 11:54 am August 28, 2020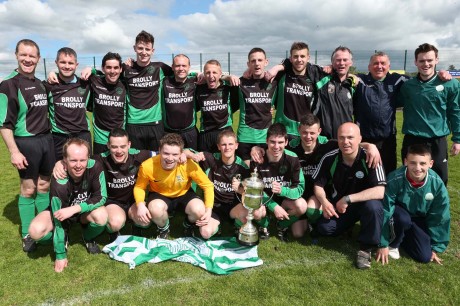 Castlefin Celtic won their first ever Brian McCormick Sports Cup last Sunday in Bonagee...