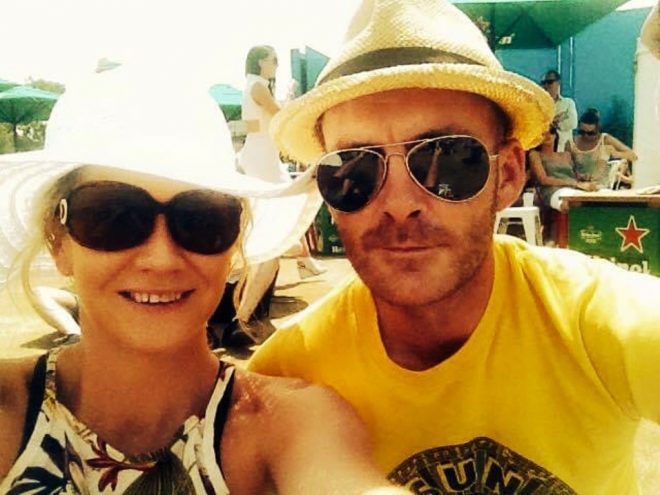 MELBOURNE has been home to Donegal couple John Cunningham and Aoife Dalton for much of the past decade.
John is Head of Creative Urban Places at the City of Melbourne. The Ardara man is responsible for the strategic development and management for the safe delivery of a programme of innovative and engaging temporary and permanent public art for the city which has a $30 billion budget over the next eight years.
His partner, Aoife Dalton from Letterkenny, works as a senior project manager at the Department of Justice and Community Safety in Melbourne.
Stage four restrictions were introduced across Australia's second largest city from Sunday last for six weeks in a bid to get Covid-19 community transmission numbers under control.
Under the restrictions you are only allowed to leave your house for four reasons: shopping for food and essential items, care and care giving, daily exercise and work.
John and Aoife were due to be back home in Donegal this week to start their annual holidays but those plans have had to be shelved.
Speaking to the Donegal News via Zoom yesterday John Cunningham said that they don't expect to be back working from their respective city centre offices until 2021.
"We're very lucky but other members of my team are getting it tough. They're under a lot more pressures. Unlike stage three, there is now a curfew on Melbourne residents between 8pm and 5am," he said.
"I'm just after hearing that they've deferred opening the bars for another few weeks at home. They probably re-opened the bars too early here. It's all about getting the economy going but I wouldn't want to be making those decisions," he said.
The former Deputy Director of the Regional Cultural Centre in Letterkenny, John took a four year break from his employment with Donegal County Council to travel to Australia in 2011. He was the director of McClelland Sculpture Park, the home of Australian Sculpture, before taking on his current role two and a half years ago.
"Melbourne is a fascinating city with so much history and to be in the middle of that is so, so exciting," he said.
"We're spending $30 billion redeveloping the city. There's a lot of major projects ongoing at the moment. We were about to sign off on one – we were due to make the announcement on Monday – before Stage 4 kicked in," he added.
The couple have been working from home since late March and they don't expect to be at their desks again this year.
Supermarkets, grocery stores, pharmacies, petrol stations, banks, and local bakers and butchers continue to trade but subject to density rules limited by people per square metre.
General retail will be closed from today while pubs, bars, nightclubs, beauty services and hairdressers are also closed.
"We're locked down for six weeks and it will probably take that length of time to figure out exactly where we are at.
"It's six weeks of pain but we're no different to anywhere else in the world. One good thing the State Government did back in Mach was to amalgamate the private and public heath care systems together. It meant that we have enough ventilators and medical equipment," he said.
The lockdown has also allowed John and Aoife the opportunity to get to know their neighbours better.
"It's now like walking through Ardara. It takes a while because you're always stopping to have a chat with someone," he laughed.
"That's something positive we have taken from home and are applying here. It's a lovely thing. We now feel better about the place we live in. We're much more connected to it. Before Covid we were all too busy going about our business," he said.
Melbourne is the sporting and cultural capital of Australia.
"If people want to sit together once more to enjoy a game or sit in the cinema or theatre into the future they're going to have to do their bit now. It's short term pain for long term gain," he said.
"We have nothing to complain about. We're both busy at work and we get out for walks together although the weather is terrible right now. The Government is paying people $750 a week through a Job Keeper payment to allow employers to keep people at work while landlords have reduced rents. There's a lot of very gold things to come out of all this," he said.
Receive quality journalism wherever you are, on any device. Keep up to date from the comfort of your own home with a digital subscription.
Any time | Any place | Anywhere
Posted: 11:57 am August 8, 2020