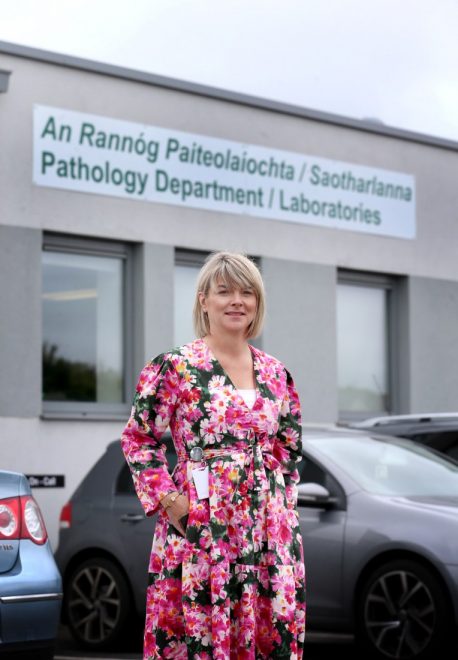 "IT was like going to war. We were all scared but we had to stand up and meet the Covid-19 pandemic head on."
The words of Jacqui Clarke, Pathology Laboratory Manager, Letterkenny University Hospital, strike a chord.
A native of Newtowncunningham, Ms Clarke took time out from her busy schedule this week to acknowledge the work of the ninety scientists and health professionals in her department over the past four months.
Under layers of personal protective (PPE) equipment, they have been working long hours fighting the Covid-19 pandemic. They are the ones who have played a major role in the detection of the virus.
It's not over yet, but with very few active Covid-19 cases at present Ms Clarke is thankful for how far we have come.
Since February, the Pathology Laboratory Manager had heard warnings from overseas colleagues that this wasn't just flu.
"When those early blood samples came in we still didn't know an awful lot about the virus. There was a feeling of dread and we were all scared but the staff were only ever worried about the patients. It was an amazing effort right across the board," Ms Clarke explained.
The pathology lab in Letterkenny University Hospital is preparing for a possible second wave of the virus, with a rise in confirmed cases in Portugal and England in recent days.
"What we learned as a department is invaluable. So many younger members of staff have developed, matured and really shown what they can do. It was marvellous to see so many young people at the start of their careers really show what they're made of in terms of their knowledge, application and ways that we do things," she said.
"It was like a production line the way they got the Covid-19 tests stream-lined so quickly. Every day they improved on their processes to make it better, more efficient and quicker," she added.
"We've never seen the like of it before and, hopefully, we'll never see the like of it again," Ms Clarke said.
A past pupil of Loreto, Letterkenny, Jacqui Clarke studied Biomedical Science at GMIT before moving to Coleraine to complete her PhD. She started working in the Bio Chemistry department at LUH twenty-one years ago and worked her way through the ranks, becoming Pathology Laboratory Manager over two years ago.
"We were very fortunate that we had three Donegal students on placement from GMIT when Covid arrived. Nobody was prepared for what was to follow but I suppose that was the same for all professions," she said.
Like all Covid-19 test centres, Letterkenny encouraged difficulties due to the worldwide shortage of critical equipment. Finding new kits, testing and validating them, or designing their own primers in a very short period while patients were still waiting for their results was extremely challenging.
"My nerves were shot those first two weeks. Without the help of Dr Mary Keogan, who leads the Pathology National Clinical Programme, I don't know where we would be. Her team streamlined how supplies came into the country so that each lab wasn't competing against one another," she said.
The decision to cancel all non emergency surgery at Letterkenny University Hospital also allowed Ms Clarke and her team some much needed breathing space.
"Maria Howard and Helen McCloskey, who had both retired, returned to contribute their expertise to the introduction of new testing equipment and processes," she said.
"Their expertise was hugely valued as we introduced the new Covid-19 testing processes along with a range of other tests not routinely carried out in the hospital, but which were pivotal to the effective and timely treatment of patients with Covid-19 and which helped to prevent patients from being ventilated," she added.
The labs in Letterkenny were receiving 400 coronavirus tests per day at its peak with results back in less than forty-eight hours. At present the labs are testing, on average, 60 tests per day with results currently reported within 24 hours of receipt.
"We were incredibly lucky in that we had just gone through the procurement process for new molecular testing equipment in Letterkenny. Staff had completed specialised training but they hadn't started running tests so it was a real baptism of fire for them all but their level of expertise and know-how was mind blowing," she said.
The laboratory continues to carry out testing on swabs taken from patients in the hospital, HSE staff (hospital and community based staff) as well as testing samples taken from members of the public referred to community testing hubs by their GPs in Donegal.
"The virus hasn't gone away and it's important that we listen to what we're being told with regard to social distancing, washing your hands and wearing masks. They're three pivotal things in helping keep the virus out of Ireland.
"I would also be worried about people leaving the country on holiday this year. If we all listen to what we're being told we can help to keep it suppressed," she said.
The laboratory is a core department at LUH but does not attract much attention usually as their work, which informs every diagnosis in the hospital, is very much behind the scenes.
"Very few knew about us prior to Covid. It's put us in the shop window and, hopefully, it will lead to more students choosing to pursue science degrees over the coming years.
"We provide a 24 hour, seven day week service. Rarely does anything happen to a patient in Letterkenny without their bloods being tested," Ms Clarke said.
"We're getting ready for a second surge and the key things remain test, trace and isolate. If we can quickly identify who has the disease, identify their contacts and isolate them then, hopefully, we won't have to go back into total lockdown across the country," she added.
Receive quality journalism wherever you are, on any device. Keep up to date from the comfort of your own home with a digital subscription.
Any time | Any place | Anywhere
Posted: 1:00 pm July 4, 2020