Mark Nesson is a well-known figure in Donegal soccer circles, and played locally for the best part of twenty years.
He played adult football for Lifford Celtic, Convoy Arsenal, Letterkenny Rovers, Omagh Town Reserves, and Bonagee United, while he also represented the 28th Infantry Battalion soccer team.

He went up against some top quality players over the years and this week has picked the best 11 (4-4-2) he faced, with honourable mentions for Kevin Mulhern, Terence Shiels, and Trevor Scanlon.

Caolan McGettigan (Milford United)
There's a lot of competition for the goalkeeper's spot but I'm going to go for Caolan. I remember in 2014 we came with a wet sail in the league and won seven or eight games on the trot and were going for back-to-back titles. We went down to play Milford near the end of the season and they didn't have much to play for. But Caolan was brilliant that day and we didn't get the win we wanted. We ended up losing the league to Rathmullan by a point.
Dermot Kelly (Kildrum Tigers)
Dermot was the best right-back in the USL when Kildrum were at the height of their powers in the mid-noughties. There was a big rivalry in the summer cups at that time too between Lifford and Deele and we met one year in Convoy. We were quite confident because Ivan Sproule came down to play for us, but Dermot was playing for Deele and he didn't give Sproule a kick of it. Two months later, Sproule signed and was playing in the first team for Hibs.

Barry Porter (Drumoghill and Letterkenny Rovers)
When Lifford first went into the Ulster Senior League in 1996, Barry Porter was with Drumoghill and he was a very solid player. In later years, I would have played against him when he was with Letterkenny Rovers. He was a great reader of the game, a strong tackler, and exceptional at heading the ball.

Kieran Gorman (Kilmacrennan Celtic and Rathmullan Celtic)
We had a lot of battles with big 'Gorby'. He was an important player for Kilmac, and then with Rathmullan the year they won the league. Down through the years in the Donegal League and Ulster Senior League, he was always a man that stood out to me.

Mark Callaghan (Kildrum Tigers)
Much like Dermot, Mark was one of the best left-backs in the league when Kildrum were going good. 'Ruction' was a tough competitor and you never got anything easy against him. He was always a mainstay for Kildrum whether it was a USL match or a summer cup game.

Colin Fortune (The Sixth Infantry Battalion)
Army football is a real battle for ninety minutes and it can be helter skelter. We had a big rivalry with Athlone down through the years, and Colin Fortune was their main man. He was a great player, who had a super career in the League of Ireland too.

Eamonn Cannon (Glenea, Gweedore, and Bonagee)
I would have played with Eamonn a bit when we were coming through and a good bit against him down through the years. He is a tough player, who always gives 100%. He's 41 now and still playing well for Bonagee.
Kenny Harkin (Fanad United)
When we were starting off in the USL, that great Fanad team were in their pomp. I remember one of the first games we played was against Fanad down there, and Kenny ran the show. He covered every blade of grass and never lost the ball.
Sean Friars (Foyle Harps)
I played a lot of my youth football in Derry with Moorfield in the D&D. There was a lot of talented players about, but the best was Sean Friars, who played for Foyle Harps. He was a really special player, who went on to play for Liverpool.

Peter Thompson (Linfield)
I played eight or nine games for Omagh Town Reserves in the early 2000s, and we went up to play Linfield in Windsor one day. It was a tight game, and then they brought on Peter Thompson, who I think was working his way back from injury. He was only on for 15 or 20 minutes, and he scored a hat-trick. A real classy player.

Ronan Coyle (Kildrum Tigers)
Coyle was the best player in the Ulster Senior League for ten years. He was brilliant for Kildrum. I was playing for Letterkenny Rovers in 2014, and there was a three-way tussle for the league with ourselves, Drumkeen, and Cockhill. Coyle had just signed for Drumkeen when we played them, and he came on and completely changed the game.
Receive quality journalism wherever you are, on any device. Keep up to date from the comfort of your own home with a digital subscription.
Any time | Any place | Anywhere
Posted: 2:23 pm July 2, 2020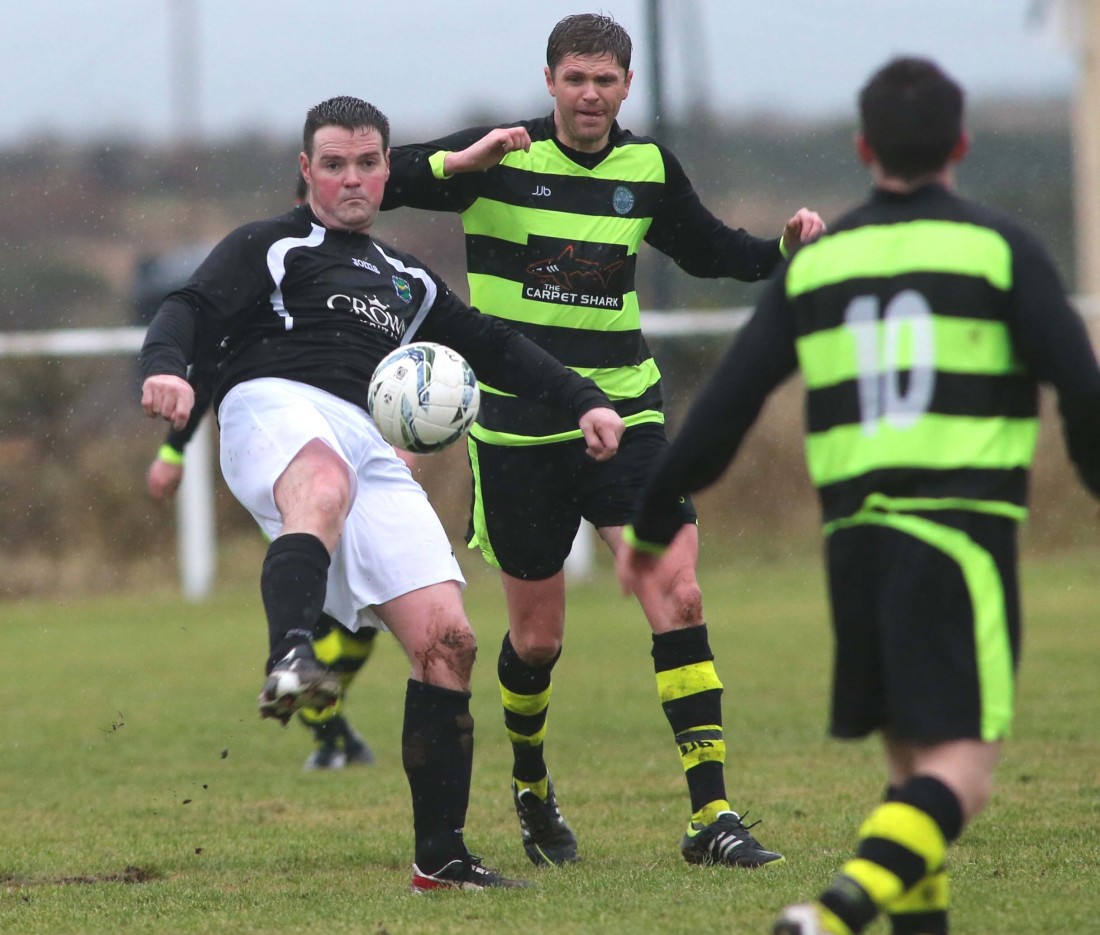 LIFFORD Celtic secured an unlikely point in their ongoing quest to retain the Donegal League title at a wet...