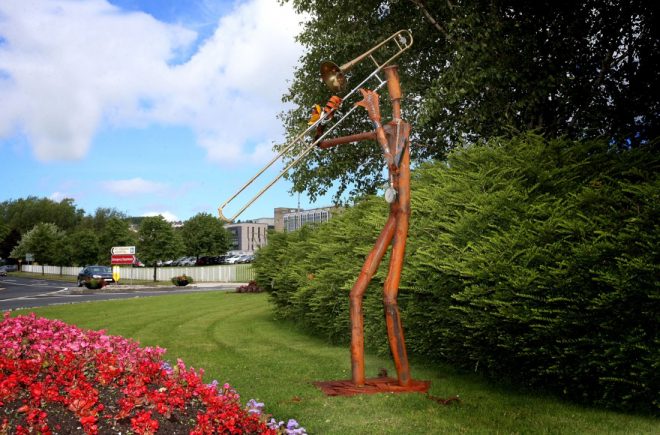 A NEW sculpture at the Hospital roundabout in Letterkenny has been attracting admiring glances from motorists in recent days.
'Trombone Man' is the latest creation of Michael Parkinson and is a thank you to front line staff working in the nearby hospital.
"It's singing a tune for the front line staff and it's a thank you for all their hard work. Donegal County Council and the Friends of Letterkenny Hospital have put up a wee sign alongside it," he said.
It's just one of a number of Michael Parkinson pieces dotted around the town and joins 'Double Bass' at LYIT, 'Mag Dog' at the Unifi Roundabout and 'Traffic Lights' outside his own house.
Old pieces of timber, scrap metal, nuts and bolts and other items which have been discarded provide the raw material for his work.
"I saw a man from Ramelton throwing a metal toy into a skip one day and I picked it out. I went to another skip a found a trombone which had been thrown away because it was slightly damaged. I put the two together and this is what I ended up with," he said.
Another new piece which has been attracting much comment is 'Traffic Lights' which is located at the entrance to his Cornagil home.
"That's caused a lot of attention. When people see it they are automatically alerted because they're waiting for the lights to flash. There's a larger than life hand beside which gives the piece that bit of added authority," he said.
A native of Manorcunningham, Mr Parkinson was a maintenance man in Unifi and he left before it closed to pursue a course in Derry. Today he works as a trainer with the HSE
"I enjoy what I'm doing. I've always been talented with my hands so I went back to night classes in Derry where I did some pottery and sewing before settling on the kind of stuff that I do now," he said.
A member of Donegal Designer Makers, he is currently putting together pieces for an exhibition in Rathmullan House later this month.
"I've loads of stuff lying around the house which I'm looking forward to showing off in Rathmullan. I've been getting great feedback from people who have seen Trombone Man and Traffic Lights in the past week or so which is always encouraging.
"All we need now is for Donegal County Council to close off Letterkenny's Main Street for weekends allowing artists like myself, Redmond (Herrity) and Christy (Keeney) to showcase our work. It would also allow families to cycle safely through the town and cafes to put tables and chairs out along the street." he said.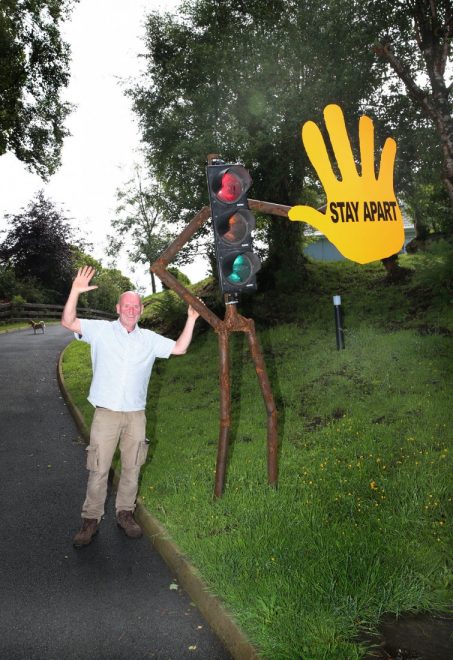 Receive quality journalism wherever you are, on any device. Keep up to date from the comfort of your own home with a digital subscription.
Any time | Any place | Anywhere
Posted: 4:11 pm June 26, 2020