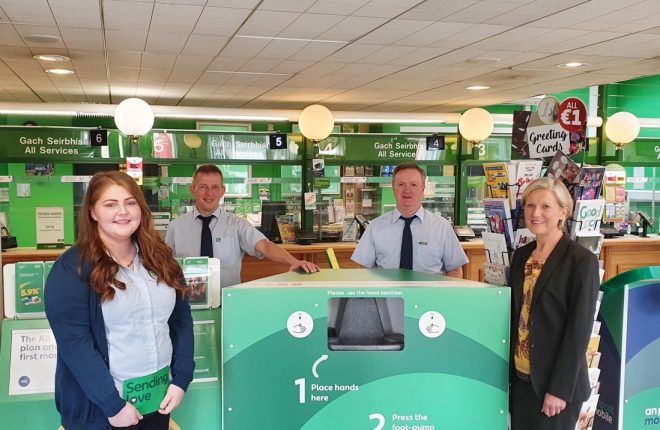 AN Post staff in Letterkenny brought a lot of joy to 140 elderly customers last week with hand-written, personal messages of love and support.
Customers who had been cocooning for the past two months were handed the cards by counter staff when they arrived to collect their pensions. Similar postcards were handed to sons, daughters and neighbours for people who continue to stay at home.
Mr Anne Doherty is Branch Manager in Letterkenny. She explained that the initiative had come from counter staff working at An Post's Main Street premises.
"The staff wanted to do something for all the lovely pensioners who come into us every other week to collect their pensions. We were worried that we might miss some people out and mightn't have addresses for others so we decided to target one specific day.
"We got the cards ready, signed them all and keep them behind the counter to hand out to the customers as they came in on pension day. Sometimes it wasn't the person themselves who presented so we gave them to their agent, be that a son, daughter or neighbour," Ms Doherty said.
The message says: This is just a little note to let you all know we are thinking of you here in the Post Office. Stay safe, best wishes from..
It is signed by Joe, Tommy, Maeve, Sonia, Jacqueline, Stephen, Rachael, Kathleen, Bernie and Anne.
"We only signed it with our first names. Some people used black pens, others blue and one even signed the cards in pink," she laughed.
"We miss each and everyone of them and hopefully we'll see them back in again soon. We've already got a few messages back and cards from people to say thank you which is heartening. We really appreciate the business they give us and maybe this might be a starting point for people using the post office to post letters to one another – the personal touch. All this technology is all well and good but sometimes nothing beats getting a hard written personalised message. It means so much," Ms Doherty said.
The An Post initiative to provide every home with free postcards to send to loved ones during Covid-19 has been very well received.
Two specially-designed postcards, postage-paid to anywhere in Ireland, have been delivered to Ireland's 1.8 million households over the last two months.
Since then, children have got in touch with grandparents and separated friends have been able to pen messages to each other across the country to help them stay connected over the past number of the weeks.
Receive quality journalism wherever you are, on any device. Keep up to date from the comfort of your own home with a digital subscription.
Any time | Any place | Anywhere
Posted: 7:00 pm June 5, 2020