By Ciaran O'Donnell

Andrew Nesbitt's quite astonishing career in rallying throws up some notable stats. He is, of course, the record holder of Donegal International Rally titles, with six to his credit. He's competed in around ninety events, winning 31 – 19 of which were international. He notched up a grand total of 260 stage wins and crashed out on 28 occasions.
And while he's enjoyed success far and wide, it's Donegal where he's made the biggest name for himself. And it's Donegal which still means most to him.
He'd been on the go for the best part of a decade before he made his debut in the Donegal International in 1988. He placed 11th overall from a seeding of 64th in a green and white MK2 Escort 2.4 Holbay purchased from Langley Humphries. It was to be the start of an unbreakable link with Donegal, its people and rally enthusiasts from all corners of the globe which spanned close on 30 years.
The Armagh native was 15 when he went along to watch his first rally, the Circuit of Ireland, back in the mid-seventies. In 1977, he navigated for a couple of years for Trevor Henry, a neighbour whom he worked with. The following year he began driving himself in a Mazda RX3 body with a 1300cc engine. He placed third in Monaghan in what was a converted road car with a half roll cage.
In 1978 and 1979, the Newtownhamilton driver had Donegal International Rally Competitor Liaison Officer and well known IFA figure, Michael Chance, calling the notes and the pair won the Monaghan Navigation Night Rally in those successive years. On way to one of their victories, they overtook a competitor by driving through a field to get ahead and stay ahead.
Before making an impression in the late eighties, Andrew took a few years out from rallying to concentrate on other things. In 1979 he moved to Dublin to work with Cross Refrigeration. He was also heavily involved with Richhill Tug of War Club with whom he pulled for three years. He contested the British Isles Championships, the European Championships and the World Championships and later moved into a coaching role with the club. He also represented Northern Ireland and coached with Northern Ireland. And while his passion for tug of war and Richhill was rich, he returned to rallying with a deep sense of purpose, desire, and motivation.
He followed up his first Donegal with a sixth place finish in car number 52 in 1989 with Brian Murphy on the notes.
The pair finished seventh in Donegal in 1990 in an Opel Manta 400, the same car they had secured victory in the Cavan Stages earlier in the season by just two seconds from Eamon McAleenan's Starlet RWD.
It took six more years of trying before he made the podium's top step in Donegal. He crashed out in 1991 and finished fourth in 1992. A bad off on day two in 1993 on the Knockalla stage put paid to his Donegal ambitions and he finished fourth again in 1995 behind the talented trio of Bertie Fisher, James Cullen and Frank Meagher.
1996 is a year Andrew Nesbitt will always look back on with great fondness. He could win the Donegal International another hundred times, but there will only ever be one first time.
"To win Donegal was just amazing," he says of significant win.
"I was up against Bertie Fisher, James Cullen and Austin McHale – all the big guns were there that weekend. To challenge them was a feat in itself. But what I clearly remember from that was winning your first rally is the most major thing ever because you then know how to win. Up to that point you never know how to win. You always know how to be a nearly winner, but you don't know how to win. And that was my first lesson in actually knowing how to control a rally from the front," he says.
"I remember Austin McHale saying to me on the Saturday night 'Andrew you have the rally won. Well done.' And then he comes out the next morning and says 'I'm going for you'. Talk about psychology, the mind games were very much part of things and I learned to cope with all that."
The break from rallying at the start of the eighties, he offers, served him well.
"When I was 17, I was rallying, and when I was 21, I wasn't. I stopped for five years and it was great because I pulled for Northern Ireland and coached for Northern Ireland. Tug of war is massive where I'm from. It was seen as a country boy's sport, but when you run 10 miles over the Mournes on a Sunday morning before you get your lunch, it's no small feat. The guys have won three world championships since, so they are class guys."
While the joy of winning his first Donegal was almost unquantifiable, it was somewhat overshadowed by a serious accident he had shortly after which almost claimed his life.
"I was coming down for the holidays to the caravan park at Marble Hill. I'd stopped off in Letterkenny to meet a few of the lads – Ciaran Larkin, Seamus McGettigan, Cathal McGettigan, Frank Grimes and Tony Kelly. When I was heading through the gap between Termon and Creeslough, I hit a rock on the side of the road. It broke the back rim of the car and the car just went up the road like a pendulum. Then it went side over side a few times and then end over end. I remember clearly going through the whole emotion of it and finishing upside down. When I was going through the air I remember saying 'please God don't hurt me'. But he decided to give me a lesson and I probably needed the lesson," he recalls.
"My arm was under the roof of the car all night. Basically, I was trapped. With the whole effect of the car spinning, my arm went out through the window and the car landed on top of it and I was still in the car lying upside down. That was probably a big turning point for me because I had to fight to get out of that situation."
Eventually, he got out around the arm with his body.
"It took me about half an hour to get out. I was hoping someone would come and find me. That didn't happen and I remember clearly saying 'Andrew you've got to dig your way out of this'. I'd been sitting watching a programme on television with my two boys, Graeme and Matthew, watching a mole digging. I thought if the mole can do it, I can do it."
So, he started digging with the front door key of his house for a good six hours.
"In all, it took me eight and a half hours to free myself. The midges in Donegal had a field day on me and destroyed every part of me. At 4 o'clock I had no more pain and I thought 'eat away'. People talk about the pain barrier, but once you're beyond the pain barrier, it doesn't matter – the pain's gone. I desperately wanted out of that situation and what drove me on was that I didn't want anyone else rearing my children. The whole tug of war experience and intense training programme really stood to me. I was as fit as a butcher's dog and strong enough to get through it."
Once free, he took off walking and after a mile or so he reached the house of Hugh McGinley along the side of the road where the old train station once stood.
"I rapped him up and his sister came with bed clothing and placed it around me. It was great comfort after being in the middle of a bog all night, I can tell you."
Hugh and his brother-in-law took Andrew to Letterkenny Hospital.
"I remember we were going that slow that when we got to the Mountain Top I said 'you could nearly freewheel from here Hugh'. But he said he didn't want to speed up in case he hurt me. He was so genuine."
Because of the severity and nature of the injury, Andrew was transferred to Altnagelvin Hospital in Derry where he was introduced to surgeon, Sean Simpson.
"He told me 'there are two people in Ulster who can deal with this injury and I'm one of them'. I said 'you're my man, get on with it'. Before he got started he asked me if I had any questions. I said I had only one and that was 'when would I be back rallying again?' I told him I was a rally driver, that I had just won Donegal and was keen to get back driving. I knew I probably wouldn't make Cork that year which was in October, so I asked him if I would make it back for Galway in February.
"He said 'that's up to you'.
It was only after he'd won Donegal for a fifth time that he went back to see his surgeon to thank him. They met at his clinic at the private hospital in Ballykelly. The rally champion presented him with a signed copy of a book and it was only then that Andrew realised just how different things could have transpired.
"Mr Simpson said 'I was about to tell you that I was going to amputate your arm when you asked me when would you race again. I could never tell you at the time. I have used your injury and given talks on it all over the world. It was such a specialised injury for me at the time'.
"But I never knew that that was going to be his next statement to me until I went to see him with the book."
As things unfolded, he wasn't fit to drive until February of the following year. On reflection, he shouldn't really have been next or near a steering wheel in 1997, such was the lack of power in his right arm.
He'd sustained a compound fracture which left him with an extremely weak arm for the best part of 12 months.
"History will tell you I crashed in every race I entered and I only finished one – that was in the Ulster with Rory Kennedy sitting alongside me. We probably would have won the rally if we hadn't have crashed. We went through a hedge at 120 miles per hour and spun through the air like a corkscrew many times. As Rory can confirm, we landed in a field, drove through the gate and finished the rally."
Andrew competed in five rallies in 1997 and crashed out in every one, including Donegal. Partnered by George Millar, he slid off on day two, having started out in fourth, 43 seconds behind leader Austin McHale, with Paul Harris in second and Peadar Hurson third.
"I bounced her off the road on Atlantic Drive – I just didn't have the power to steer the thing."
He decided to embark on an intensive rehab programme with the help of his wife, Linda, who was a physio at the time.
He also went to the squash courts to help build up the power and improve coordination on the injured limb. He knew the level of fitness he needed to get back to if he was to savour further podium wins.
"Mentally, you were always thinking about the accident. You were always thinking about the injury, and I had to get over that. And I did, pretty quickly. I decided to get back into it at a strong level. Have the best machinery with the best team and everything else will work itself out and I will be the best at what I'm doing. Bertie Fisher, bless him, taught me a lot of that as well."
Andrew bounced back in 1998 with a second Donegal victory with James O'Brien alongside him in the Celica. The pair had placed third in Galway, the Circuit of Ireland and the Lakes of Killarney prior to Donegal where his winning margin over Austin McHale in a similar car was over a minute, with Eamon Boland third.
After going off on stage one in Donegal in 1999 and losing three minutes to drop to 114th, Andrew put in a big push to finish fourth, with James Cullen taking the honours.
2000 saw Andrew earn his third Donegal title in truly remarkable circumstances. Alongside James O'Brien in a Subaru WRC-V10, he recorded the fastest times for all 22 stages. By the end of the final day's action in the Inishowen peninsula, he was three minutes and 30 seconds ahead of runner-up James Cullen with Frank Meagher third.
After his life-changing accident in 1996, Andrew got himself in a place where he found him racing against himself, and himself one.
"That showed itself best in 2000 in Donegal where you set a standard against yourself and your main competitor in your life is yourself," he explains.
"I wanted to see how I could maximise my time on the stage. Can I do it better as a person? Can we do it better as a team? Can we drive it to the absolute maximum? And we did that on every stage. But you can only do that when you are racing yourself and you must be in control of that. Yes, all the others will have their times, but you will only have that out-of-body experience when you are racing against yourself at the highest level."
Everything he did in the 2000 Donegal International was on the money, and he looked for fractions of seconds over that third weekend in June every way he could.
"We used 32 tyres and three sets of brakes. Some of the crew were telling me that I didn't need to change the tyres. I changed my tyres when I was down to eight millimetres. Most would wait until they went down to four. Why? Because I wanted maximum grip. Brakes were the same. There just happens to be 12 millimetres on those as well. As soon as they got to eight and a half mil, they were out because I was going to be one of the late brakers. So, I needed the best tyres and the best brakes."
The foot-and-mouth outbreak in 2001 meant the cancellation of the Donegal International. The 2002 Donegal came to a tragic end when two marshals were killed after a competitor's car left the road at Cloghan on day one. He was fastest on the opening two stages and led Peader Hurson by 11 seconds. The leader was declared the winner, but no Tarmac points were awarded.
He retained his Donegal title in 2003 in a Subaru S8 WRC-X12 SRT, with a winning cushion of one minute 23 seconds over Eugene Donnelly, with Derek McGarrity third. He failed to finish Donegal in 2004 and 2005 and won his sixth and final Donegal International in 2006. It proved every bit as sweet as his first a decade earlier and came after a pulsating ding-dong battle with Mark Higgins.
"Every year I won Donegal was the best year," he says.
"Bringing the Mitsubishi World Rally team to Ireland was some achievement. Mitsubishi were never going to come with one car – they were only ever going to come with two cars and Mark Higgins was going to get driving the second one. The person who tried to set the deal up disappeared two weeks before Donegal and we were left to pick up the pieces. I remember saying to John Easton who headed up the team 'if the two cars have to come, the two cars have to come'. So, I put the deposit down for both cars and both cars arrived. Mark Higgins and Rory Kennedy took over the second one. We ran one, they ran the other and it turned out to be the best dogfight ever. You had to be on the top of your toes. Both navigators, James O'Brien and Rory Kennedy, had their work cut out, I can tell you, that weekend."
It's worth noting that before the drama-filled duel between Nesbitt and Higgins in their Mitsubishi EVO WRCs got under way, the former hadn't actually sat in a rally car for the previous two years.
"All I had was a bit of time up the back of Glenveagh to do a bit of testing. When I got into it, I changed the suspension to my way of thinking and that won the rally. I would say technically Mark Higgins was a better driver than Andrew Nesbitt. But on the day we had to find that little bit more in the tank and that was the suspension set-up. We were given two identical cars and drove them to the maximum. What a car – when you asked her to go, she said you just steer me and I'll go. It was unbelievable. You just needed to be careful not to overdrive the car and stay at 98 to 99 per cent all of the time, never at 100 or you're gone. That was a great achievement and we had a great party afterwards."
Towards the end of the noughties, the recession kicked in. Andrew remembers it well and decided to call it a day.
"As a result, sponsorship dried up and anybody that stayed at it (rallying) might not have made the right decision financially. I pulled the pin, but I always wanted to go back. I always felt I was fit enough to go back. But then I had to get stuck into my business and we are back there again now with a full recession on again. Everyone has to realise that we are going through a very difficult time again. Motorsport in Ireland was getting to a good, strong place again and now this has happened," he comments.
Cross Refrigeration, based in Armagh, has continued to expand in recent years – the multi-million pound business employs around 300 people.
While it's doubtful that Andrew Nesbitt's record in Donegal will ever be equalled, let alone surpassed, he believes the one driver who was capable of rewriting the history books was the late Manus Kelly – the three-times Donegal International winner who lost his life in a freak accident on day three on Fanad Head last year.
"Manus's death was a huge loss to the whole county, to all in motorsport on the island of Ireland and of course to his family. Manus was the man who would have beaten my record and I would have given anything for Manus to have won the rally last year. For the previous three years, any time I was asked to help or advise, be it with tyre choice or just a chat at the service area, I was always there to do that for himself and Donall.
"This year there will be no rally. It will give people time to reflect. We should use the time to reflect on all of that, stay together as a motorsport family and support each other as best we can. There's not a week goes by that I don't think about what happened to Manus and the loss for Bernie and the children. People have been extremely good to a very sensitive situation and we are all there for the family," he adds.
Donegal remains an integral part of Andrew Nesbitt's life and his holiday home in Portnablagh currently under construction is nearing completion.
"I just love Donegal and the people of Donegal. Some say it's my second home, but there are times it's hard to know which is first and second because they are so aligned with one another. I have some great friends in Donegal and you couldn't get better. People like Ivan and Cynthia Fuery have been so kind to me down the years and the support I had in Donegal was second to none. That's why we have decided to set up a wee house down in Portnablagh so that we can come and spend some time with those friends we've made over the years – friends like Tony and Anne Kelly, John Lyons, Wendy, Ciaran Larkin, Amanda and Rory Kennedy."
Every now and then, Andrew still gets the urge to jump into the driver's seat and compete in Donegal again. It's hard to believe that 14 years have passed since he claimed his last Donegal crown. While he reckons he'd need about six months to get himself back in the groove, he did harbour hopes of being part of the 2020 Donegal International.
"I would love to have done Donegal this year. It was definitely to the forefront of my mind and would have been something I would have done to help Irish motorsport back into a good place."
Later this year, Andrew Nesbitt will celebrate his 60th birthday. For ten of those years, he entertained the masses with breath-taking brilliance, ability, craft and knowhow. When he was at his absolute best, it was impossible to differentiate between the 99 per cent he said he maxed at, and the 100 per cent which he so often appeared to drive at.
Some memories.
Some champion.
Some story.
Receive quality journalism wherever you are, on any device. Keep up to date from the comfort of your own home with a digital subscription.
Any time | Any place | Anywhere
Posted: 2:59 pm June 19, 2020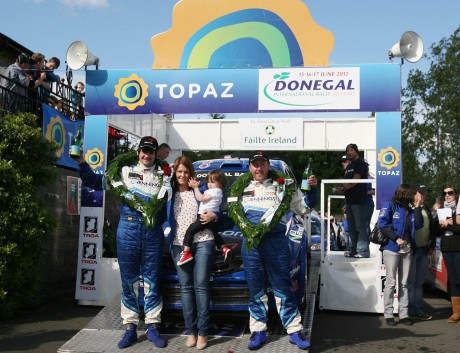 Garry Jennings and Neil Doherty set out this morning in defence of their Donegal International Rally crown...