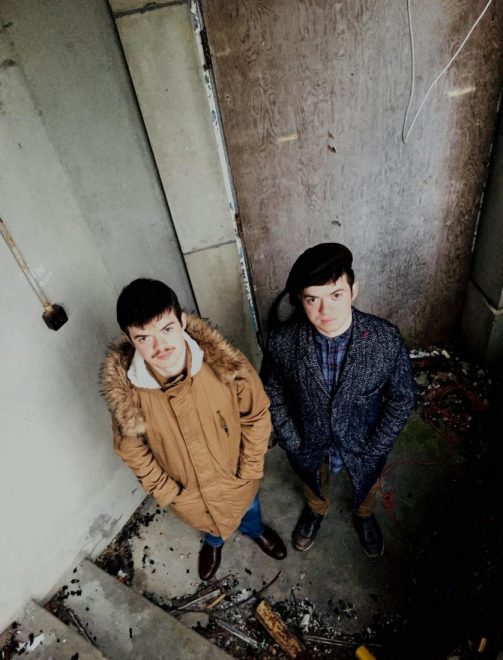 AFTER the coronavirus sent the whole country into lockdown earlier this year, a set of identical twins responded the way they always had.
Jazz musicians, Michéal and Conor Murray picked up their instruments and started performing duets from the comfort of their living room in Falcarragh.
Michéal (saxophone) and Conor (double bass) grew up in a creative home and music played a big role in their formative years. Their parents Micheal and Mary are both teachers.
Their mother, who sings and plays guitar, grew up in a musical household where music and performing at family get togethers was very special. Older brothers Philip and Simeon and sister Aine all play music to some level so the groundwork was laid.
Michéal and Conor (23), who both graduated from Glasgow's Royal Scottish Conservatoire last year, have performed with many leading Irish, Scottish and American jazz musicians.
Since then they have been touring with David Lyttle, Ireland's most celebrated jazz musician. Performance in South America, Europe and Morocco had been pencilled in later this year before coronavirus.
Speaking to the Donegal News this week, Conor (who is the eldest by 11 minutes) said that they were hopeful the easing of restrictions would allow them to reschedule some dates, both at home and abroad.
Conor had been touring Ireland with renowned New York jazz pianist Michael Kanan and David Lyttle when the country went into lockdown.
"It was weird. We were aware that something was happening but it just seemed to move so fast. The next thing I was back home in Falcarragh where I've been since," Conor said.
Lockdown has allowed the twins the opportunity to work on a commission 'Tapes and Drums As Gaeilge' with David Lyttle and includes a poem written by pupils of Falcarragh National School.
"We've spoken to local school children about their aspirations for the future and what they would like to be when they get older. Maybe they have been influenced by some things during lockdown that has shaped their thinking. We're excited by it and we're looking forward to hearing all their pieces," Michéal said.
The time in Donegal has also provided Michéal and Conor with the opportunity to further hone their considerable skills.
"As twins we were lucky in that we still had the chance to perform and keep up some level of performance during lockdown. It's important to keep those skills honed because a lot of what we do is intuitive and we respond to what someone else is doing – especially in jazz – where you really have to listen and react to what's going on around you," Conor said.
"We were able to work on that stuff and make sure that we didn't lose that aspect of our music. It's also fun to have another person to play with," Michéal added.
Growing up, hours were spent listening to American blues musicians like Muddy Waters and Little Walter rather than playing football or golf.
"They were legends of that style of music and we both liked what we heard," Conor explained.
Four years at Glasgow's Royal Scottish Conservatoire exposed them to many leading Scottish jazz musicians while it also led to them joining David Lyttle's band last year.
"We started off by doing a thirty-day tour of Ireland last June. It was an amazing experience, especially just after finishing college. He really encouraged and motivated us both," Conor said.
The work diary for the remainder of this year has yet to be filled in but they're hopeful that some tour dates will be rescheduled.
"It's very hard to predict what will happen. It really depends on the next few weeks and we'll just have to wait and see what's viable and what's not," he added.
"We've been lucky enough to have worked with some amazing musicians already in our careers. We always walk away from such gigs feeling very motivated to push ourselves on to the next level of musicianship," Michéal said.
Closer to home, the twins remain hopeful that their Falcarragh Winter Jazz Festival will be able to proceed in early December.
"We're still planning to bring international jazz artists to Donegal in December and we're really excited about that," Conor said.
The twins are also working closely with Earagail Arts Festival and David Lyttle who have launched a search for the island's most exceptionally talented young drummer.
Drummers under 20 in all styles, especially jazz, will be considered for the award, which will also include performances with Michéal and Conor.
"There's already been a few enquiries. We've worked with David since we were sixteen. He's a special drummer and jazz musician and this is an amazing opportunity for any young drummer to get a chance to work with David.
"The winner will also get the opportunity to perform with some of the best in the business in Falcarragh later in the year. We were lucky to have had David to mentor us. We're keen to replicate that and give someone the opportunities that we both had," Conor said.
Earagail Arts Festival will produce an introductory video on the winner which will premiere during its 18-day series of digital events, Srutháin, 9th to 26th July
Receive quality journalism wherever you are, on any device. Keep up to date from the comfort of your own home with a digital subscription.
Any time | Any place | Anywhere
Posted: 9:00 am June 27, 2020