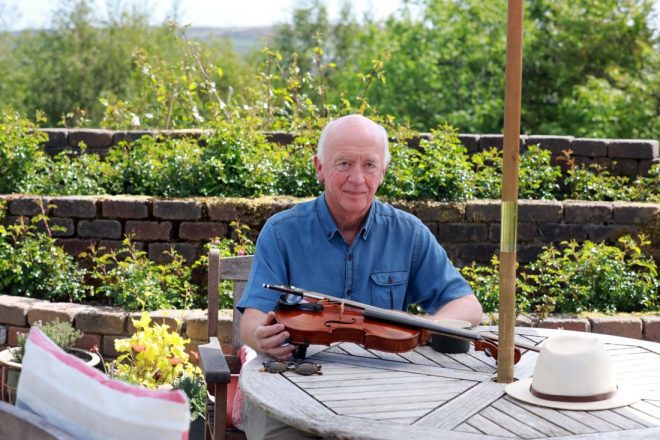 MANY people have found themselves turn to music for security and warmth in these uncertain times.
Artists and musicians have taken their talents online to help brighten the mood for older people who find themselves cocooned or others who are feeling lonely and down.
From Monday next, the renowned fiddle player Séamus McGuire joins the RCC in Letterkenny as their June Virtual Artist-in-Residence. He will be performing a tune a day (Monday to Friday) along with a short accompanying history of that specific piece of music.
A retired Paediatrician at Letterkenny University Hospital, Mr McGuire said he is honoured to have been asked to become the Virtual Artist-in-Residence.
"I've been to so many incredible live music events at the venue over the years and I'm looking forward to embracing this new fangled label (Virtual Artist-in-Residence).
"I'm conscious of people seeing the same fella with a fiddle every day – I'll play the viola as well – and there will be lots of Irish music and pieces from other parts of the world with different tempos every day," he said.
Séamus is a co-founder of the renowned West Ocean String Quartet who won Traditional Album of the Year in 2014 (The Irish Times), and performed in The Royal Albert Hall, London, for Ceiliúradh, a celebration of President Michael D Higgins' historic visit to the United Kingdom in 2014.
The group's fifth album 'Atlantic Edge' which marked their 21st anniversary had just been recorded and released on CD days before the lockdown came into effect.
"We had great plans to mark the new album with a tour this year. We were extremely lucky to get the album recorded and were happy with the way it turned out. We have planned to tour venues along the west coast later this year but, like everything else, that has been postponed," he said.
With restrictions starting to ease and some people returning to work, Mr McGuire said it is easy to forgot how frightened everyone was when Covid-19 first made its way into Ireland earlier this year.
"Things have improved and over the past few days people have become a little less fearful but it's still an issue. In the beginning there was a lot of talk about the importance of the arts and especially music in relieving pressure and stress and I think that still applies," he said.
"A lot of musicians have taken to their kitchens, gardens and sheds to put up a few tunes online and I think it has helped the mood of the country. There's also an element of self help therapy for the performer as it keeps them in touch musically. It's a win win. It's good for both the audience and the performer," he added.
Born in County Sligo, Séamus grew up in a family which was steeped in music. His parents Paddy and Jo were both accomplished musicians, playing piano and fiddle.
"Music took a back seat when I was studying medicine and while I was working as a doctor but now that I'm retired I've much more time on my hands. I feel very lucky to have music in my life," he said.
"As a doctor I was used to seeing sick children bring a comfort blanket into hospital with them. I see the arts, and music particularly, providing a comfort blanket for society in general in these times of trouble and stress," he added.
While he hasn't worked as a medical doctor for more than six years, Séamus continued to lecture medical students in NUI Galway until more recent times.
Married to Una, the couple have two sons Patrick and Neil – both of whom are working as junior doctors in Glasgow.
"They're seeing first hand the tragic realities of Covid-19. After a stressful day at work they might phone me and we'll play a tune or I'll give them a quick lesson. They have found that music can help relieve pressure," he said.
"As an observer, I think the situation (coronavirus) is looking quite positive. My only concern it that that optimism might result in complacency but I sincerely hope that doesn't happen.
"I'm very conscious of the terrible sadness that has been thrust upon people who have lost loved ones and haven't been able to grieve for them and, because of restrictions, have been unable to attend funerals.
"I would also like to express my appreciation to the medical and nursing staff and key workers for their selfless dedication.
"I count myself extremely lucky to be living in Donegal. I can't think of a better place to live during these difficult times," he said.
For more details of their latest album 'Atlantic Edge' go to www.westoceanstringquartet.com
To see these wonderful performances by Séamus, and the stories behind the tunes, weekdays at midday, from Monday, 1st June, follow the RCC's social media channels.
Receive quality journalism wherever you are, on any device. Keep up to date from the comfort of your own home with a digital subscription.
Any time | Any place | Anywhere
Posted: 5:00 pm May 30, 2020