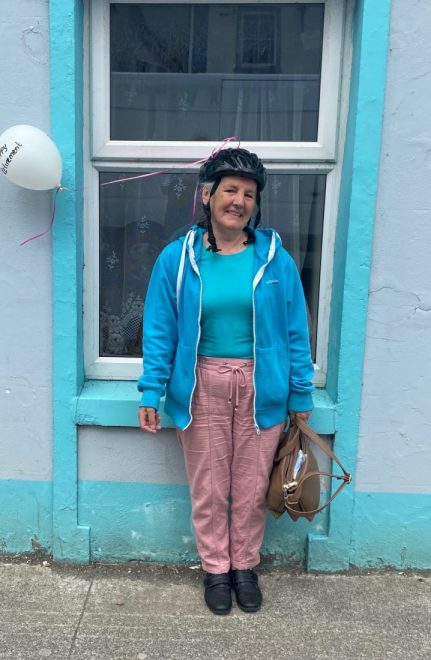 LOCAL Home Carers lined Ardara's Main Street on Thursday last to mark Róisín Maguire's last day in the job.
Over the past twenty years, Róisín has taken to her bicycle to look after people in their own homes each day across the community.
Róisín's sister-in-law Eileen decorated the bicycle with balloons and tin cans to make sure that that last journey through the town was both colourful and noisy.
"I never learned to drive a car and being able to cycle makes my job so much easier. I feel refreshed and energised between calls and my clients love the fact that I arrive on a bike," she said.
Róisín lives in Drumaghy Park, Ardara with her husband Malachy. She reared a family of four Plunkett (New York), Nicholas, Michelle (Australia) and Rose-Marie (Galway) before 'stumbling' into work in 2000.
"My late next door neighbour Barney McNelis was getting out of hospital but they wouldn't let him home without a home help being in place. His niece Annie – who has also since passed away – came to me and asked me would I think about doing Home Help.
"The late Nurse Boyle agreed to her request, Barney let me in and that's how I stumbled into the job. I had no qualifications, No FETAC Level 5 – nothing," she laughed.
However, what she have was the experience in raising a family and she grasped the opportunity with both hands.
Since 2000, Róisín has become synonymous with her bike as she makes her way through Ardara visiting her clients.
"In the beginning home help was all about doing light housework and giving the client a bit of company but, unfortunately, it's run like a business now. We still make them breakfast or a light snack but we're no longer making dinners. The personal touch is almost gone too. It's such a difference from when I started out – when you had more time to spend with a client," she said.
While Róisín never learned to drive she would prefer to walk to her work rather than take the bike out in the snow or frost.
"The first sign of the white stuff and the bike would stay in the shed and I walked. If it was very wet or frosty I walked too but it never stopped me getting to my clients. I've had a few bad soakings. I remember going through three coats in one day," she said.
The bicycle came out for work for the last time last Thursday, Róisín's 65th birthday.
"I've been lucky to have worked with some great colleagues and we've had some good laughs along the way. I must say though it was much more fun in the earlier years but, then again, I'm getting older. I got some shock when I seen them all lining the street last Thursday," she said.
Róisín and her daughter Rose-Marie had planned to go to Australia to visit Michelle in Melbourne in October but that has since been put on hold.
"I wouldn't be comfortable travelling at the moment. Maybe we'll try again early in the new year," she said.
In the meantime, there's a garden to be tended and plenty of jobs around the house.
"I've neglected the house and there's a good bit of spring cleaning to be done which will keep me busy for a while," she said.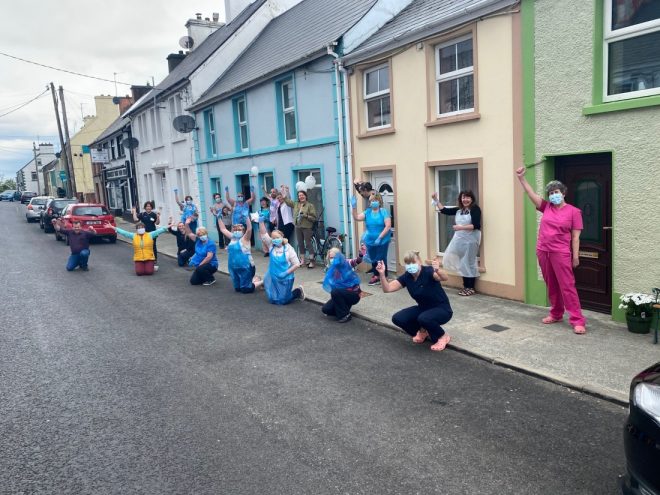 Receive quality journalism wherever you are, on any device. Keep up to date from the comfort of your own home with a digital subscription.
Any time | Any place | Anywhere
Posted: 5:04 pm May 15, 2020