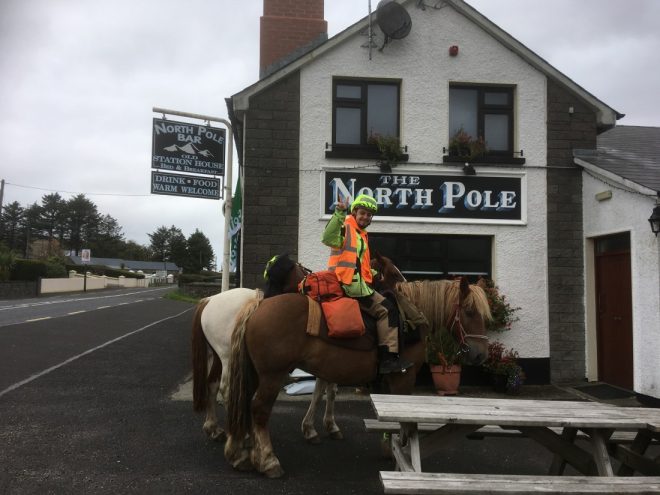 LONG Rider and author Cathleen Leonard has just released her new book about a journey on horseback around Ireland with a violin.
The book 'Fiddler on the Hoof' details the 1,000 mile long journey from Mizen to Malin with her partner, Vlad Coman, in 2018.
The couple were in Donegal for almost two weeks as they passed through Raphoe, St Johnston, Killea, and Bridgend to name but a few spots.
She spoke to the Donegal News about her time in Donegal and the kindness and hospitality she encountered from complete strangers on her journey across Ireland.
"Lots happened while we were in Donegal. For example, a really lovely family near Raphoe offered us a field on their farm where the horses could graze for the night and we could pitch our tent.
"Within half an hour they had kindly invited us into the house, given us a room, offered us a shower, cooked us dinner, and washed our clothes, too. I don't know their surnames but they were Patricia, Robert, and Nicola who ran Drumbeg B&B near Raphoe," she recalled.
The couple had spent most of the previous week camping in barns because the weather had become colder and wetter (it was late September).
"A shower, bed, and clean clothes were a true luxury. Life on the road teaches you to appreciate those simple little things because they can be few and far between," she said.
"The next night a nice man named William let us sleep in his barn next to a huge quarry somewhere between Muff and Burnfoot while the horses grazed in a paddock next door.
"The next night we stayed with James, a nice man who lived near Dumfries and worked as a security guard at a nightclub in Buncrana. He let us camp in his garden and the horses had the field below his house for the night," she recalled.
From there they headed on towards Carndonagh, stopping off at a small supermarket to get some supplies and they got chatting to some of the locals.
One woman, Toni Harkin, invited them back to her house for a shower and a hot meal, and offered them a bed for the night. She said the horses could graze her garden but it was too small. She started ringing round some of the locals and soon Derek McLoughlin had kindly offered them a field.
The day after the pair rode up to Malin Head and back, stayed another night with Toni and then had to work out how to get themselves and the horses (and one-eyed mule) back to Cornwall.
"We tried to get a horse transporter to get us home but most didn't want to come that far north, and none would take us all the way to Cornwall. It was a bit of a nightmare and we didn't know how we were going to get home.
"We actually ended up buying a 7.5 tonne horse lorry that neither of us could legally drive from a lady in Falcarragh (Tina Reaney). A stranger we found through Facebook who was at a loose end then flew over from the UK and drove us all back to Cornwall in it. It was a little crazy at the end, but it all worked out.
"We couldn't have done it without Toni Harkin, or if Derek McLaughlin hadn't been happy for the horses to stay in his field for so long. People were so kind and helpful. It really gave us a lot of faith in humanity.
"Also, another thing we noticed in Ireland was that drivers don't usually slow down or give horses a lot of space when passing on the roads which can be quite terrifying, but in Donegal we noticed that the drivers were really polite and sensible around the horses and would often pull over and let us pass, or slow down and wait until it was safe to overtake us. Definitely the best drivers we'd met on our travels," she laughed.
The pair had set off from their home in Cornwall, UK, riding Cathleen's rescued French draught horse, Oisín, and her nervous young Welsh Cob x, Dakota.
Along the way they gathered folk tales and fiddle tunes and even acquired a tiny but opinionated one-eyed mule near Limerick. The journey was to raise money for two UK based equine assisted therapy charities, the Conquest Centre and the Red Horse Foundation.
Cathleen's book 'Fiddler on the Hoof' provides an honest and reassuring account of the better side of human nature, highlights the beautiful bonds developed over hundreds of miles between horses and humans, and is interwoven with some of the music, folklore, myths, and history of Ireland.
Cathleen's book 'Fiddler on the Hoof' can be found on Amazon.
Receive quality journalism wherever you are, on any device. Keep up to date from the comfort of your own home with a digital subscription.
Any time | Any place | Anywhere
Posted: 11:31 am April 6, 2020