JONNY Carlin's pathway to senior football was an unusual one, but the young defender has proven to be a success with Cabinteely in the League of Ireland First Division.
There were a few eyebrows raised when Carlin signed for Dublin-based Cabinteely last season.
A talented sportsman whether that be soccer, gaelic, hurling, or athletics, Carlin's outings were often chronicled in these sport pages.
However, a career in the League of Ireland didn't appear on the cards until a chance meeting with Cabinteely stalwart Des Roche.
"The move kind of came out of the blue to be honest," Carlin explained.
"I was up working in Dublin for my da, and he was out on a job one day.
"He was working at Des Roche's house and they got chatting.
"Des then got in contact with me and invited me to go down to training.
"I wasn't going to go at all but my da said why not give it a try, so I did.
"I went down to training on the Wednesday and again the following Monday, and a week after that, I signed for Cabinteely."
The Carlin family from the Crossroads are steeped in sporting tradition, and it was always likely that Jonny would follow suit.
Tall for his age, Carlin was blessed with a sweet left foot, and that saw him stand out from a young age on the soccer field.
"I played with the Donegal schoolboys for a few years and then I went into the North.
"I was with John Bosco and then moved to Maiden City's Academy.
"I came back out when I was around 16 and signed for Bonagee, and then went to Harps.
"I was with Harps for three years I think and played with the Under 17s and Under 19s.
"(Sean) 'Wizzy' McGowan was manager of the Under 19s when I first went up, and Eunan Brolly and David Mullan were there for a year and Tommy Canning as well."
By his own admission, Carlin could 'take it or leave it' at that time.
The grá for soccer just wasn't really there and he put more emphasis on gaelic with Red Hugh's.
That was his main priority but he was persuaded to come back out and play for Kildrum Tigers – who he had represented when he was growing up – and helped them to a Donegal Junior League Premier Division and Brian McCormick Sports & Leisure Cup double in the 2017/18 season.
"I didn't play much after I left Harps. I played a few games for Lifford Celtic and that was the height of it before I joined Kildrum.
"I won the league and cup with Kildrum and I enjoyed it, but I was only really dabbling with the football really.
"I'm from the Cross and hurley and gaelic are very big there.
"The first year I was playing hurley with Setanta and we won Ulster and got through to the All-Ireland semi-final.
"Then the following year, Red Hugh's went on a good run. I scored a goal in the Ulster Final (against Limavady).
"We got through to the All-Ireland semi-final and I was putting in a big effort, taking days off work to get back down for training.
"But I only got on for seven minutes in the semi-final and I couldn't understand that.
"I didn't ask any questions or anything, I just decided it wasn't for me.
"Then I got chatting to Des about Cabinteely and he took me over to meet Pat Devlin and things kicked off from there."
Carlin is confident and assured and backs himself when kicking a ball.
But it was still a big ask to go from the Donegal Junior League to the League of Ireland.
He had impressed with Kildrum, but this wasn't as much a step up as a leap into the unknown.
"I'd be lying if I said I wasn't nervous. I didn't know what to expect the first night I went in or what people would think of me.
"I just went in and sat in the corner and kept my head down for about the first month.
"To be fair I settled well and got on with all the boys.
"I think my first pre-season game was against Bohs and I thought I did alright in that."
Pat Devlin, the Cabinteely manager, liked what he saw in the game defender from Donegal.
He gave Carlin a chance, and while it wasn't a completely seamless season, the man from the Cross did see a good bit of game time.
"I think I played around 15 games or so, which wasn't bad but it could have been better.
"It was a big step up and it took my body a good while to adapt and I kept getting injured.
"I would play two or three games and then I would get injured and that was frustrating.
"The team was going well too so it wasn't easy to get in, but to be fair to Pat, he had a lot of faith in me.
"A lot of people wouldn't even look at a boy coming from a Junior League in Donegal, but he gave me my chance and he just told me to go out and play my own game."
Cabinteely won 14 of their 27 regulation league matches last season and that saw them finish in the top four, with big clubs like Galway and Bray Wanderers on the outside looking in.
That put Devlin's side through into the play-offs and after two legs against Longford Town, the Stradbrook club eventually prevailed on penalties.
That saw them progress to another two-legged tie this time against Drogheda, and they knew that an encounter with Finn Harps lay in wait if they could come through.
However, there was to be no meeting with his former club for Carlin as Cabinteely lost out 6-2 on aggregate.
"I was on the bench for the play-off against Longford and again for the first leg against Drogheda.
"Then our left-sided centre half Kevin Knight got sent off, so I knew I was in with a good chance of playing in the second leg.
"I was picked and I went on to have one of my best games of the season.
"It was a strange one because it was a disappointing end to the season for Cabinteely, but my performance was a high point and I took a lot from it."
Carlin took confidence from that showing against the Drogs and that gave him the belief that he would be kept on for another season.
Devlin was also keen to keep him, and the defender put in a big push over the close-reason to get ready for 2020 and that work paid off as he started the first three league games of the campaign.
"I was confident enough that I would be back with the club again.
"I knew I had to put in a big effort and I started back training about a month before pre-season.
"I wanted to get into shape so I could make a good impression.
"Thankfully I did that and the season couldn't have started much better for us.
"We were three from three and had kept a clean sheet in our last game.
"We had built up momentum before all this started so it is disappointing that the football has stopped but what can you do."
Carlin has had to put the gaelic and the hurling on the back burner for the time being.
He will return to those sports at a later date, but at the moment, he is committed to Cabinteely and their cause in the League of Ireland.
"No to be fair when I put my mind to something, I do put everything into it.
"Cabinteely is where my focus is now and I'm 100% committed to the club.
"Obviously when I come home, I check in with the boys and see how they're getting on, and I might go for a puck about or a kick around.
"I do miss it at times, but I'm doing well with Cabinteely at the minute and I just want to try and keep that going."
The outbreak of Covid-19 has put the brakes on Cabinteely's fine start to the year, and that is a source of frustration.
However, Carlin can sense something of substance brewing and he has been putting in the hard yards on his own over the last couple of weeks.
He is determined to be in the best shape he can be when the action resumes.
"I'm back home at the minute. I'm usually up in Dublin working or playing football, and when you don't have either of those two things to go to, there's not much point in staying about.
"I'm just counting down the days now until June 19. That's when they've said the league will start up again and hopefully it works out like that.
"I'm training every day at the minute. I'm out running and we have a gym in the house so I can do my programme there.
"I want to make sure that I'm in the best shape I can be in when this is all over.
"I aim to be that step ahead because we've made a good start to the year and I want to be in the team and helping the club to win games."
Receive quality journalism wherever you are, on any device. Keep up to date from the comfort of your own home with a digital subscription.
Any time | Any place | Anywhere
Posted: 4:48 pm April 11, 2020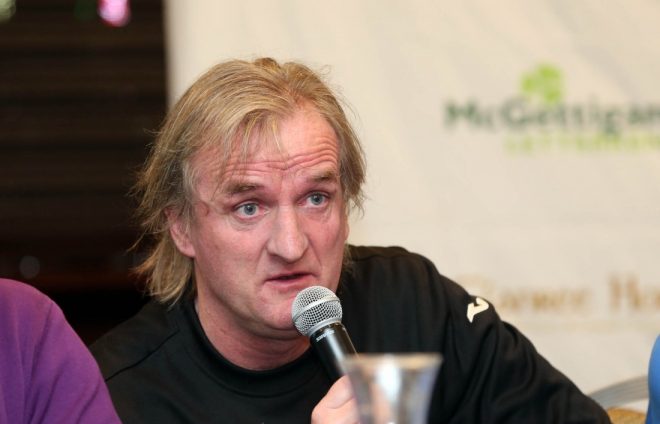 With the summer transfer window opening this Sunday, July 1, the Harps boss is instead content to spend every...