By Frank Craig
Mark McHugh fears the new advanced mark rule will have a detrimental effect on Gaelic football if persisted with.
The 2012 All-Ireland winner was present in Ballybofey last weekend for the NFL visit of Mayo.
McHugh had his reservations prior to throw-in. What he subsequently witnessed in MacCumhaill Park and what he later viewed on TV did little to ease those previous concerns.
Players – he believes – are all of a sudden having to recalibrate a lifetime of instincts and habits.
He told the Donegal News: "Across the board, there are already real concerns. The fear is that Gaelic football is becoming a different sport. Look at last year's All-Ireland final, the first day out in particular. It was one of the best games of football ever.
"Donegal and Kerry at Croke Park was a phenomenal game of football. It was fast, flowing football.
"When we are having spectacles like that why look to change things? If something isn't broke, why try to fix it? We"re moving more towards the AFL with this rule.
"It's a different conversation but you look at the Cathal McShane situation. This is only going to put lads in the shop window for Aussie Rules if we persist with it."
The new rules, which also include a sin bin sanction, are applicable across the board. McHugh expects underage football to experience the biggest shift in approach.
"My fear is that it'll have a detrimental impact on underage football especially. Lads develop physically at different rates and you'll get consistent attempts to go route one to the biggest player.
"I remember Patrick McBrearty at under 14. He was so big and powerful, even then. This isn't going to have a good impact on the development of young players."
A mark can be called when a forward or defensive player catches a ball cleanly that has been kicked from on or outside the 45 metre line – once the ball has travelled at least 20 metres.
The player awarded an advanced mark will then have 15 seconds to take a kick. For attacking catches within the 13-metre line, the play is brought back to that line.
"Take Michael Murphy's mark at the weekend," McHugh said. "Are we seriously going to reward forwards an opportunity to be able to stop and kick a point like Michael did on that occasion?
"Michael did nothing wrong. He played to the rules of the game. But it was a silly interruption to the game."
How much thought or preparation has actually gone into utilising the new rule as a tactic is anyone's guess.
There is no more paranoid or secretive a sporting battle ground out there than that of the All-Ireland Football Championship.
Hide in plain sight during the NFL and hope to have your house and gameplan, finely tuned and honed behind closed doors, ready before summer.
We might not get a real or accurate picture of the actual state of play until Donegal and Tyrone, the stand out provincial opener, across the board, throws in on May 17.
Sides might well be keeping their respective approaches under wraps. Indeed, for all the noise and polarised opinions come Monday morning the fact is that only 17 marks were awarded across the 16 NFL outings in Round 1.
So how does McHugh envisage things playing out when the real action begins?
"Teams will look at it differently. Look at Mayo, every high ball kicked in early on their direction, all they wanted to do was fist or break it. They didn't want to catch it.
"It's pot luck then as a break could go anywhere. They're talking about high fielding but all defenders now are going to be coached to break ball away.
"No one is going to want to directly compete with a David Clifford or Murphy. You've a better chance breaking it as hard as you can back the way it came like midfielders were being coached to do a while back.
"Teams will maybe look at a sweeper along the '45. But coaches will probably look at coaching their players to jump with the man and just get something on it.
"Who knows how this is going to evolve if it's persevered with."
McHugh expects referees to come under even sharper media focus – especially when big games are live on TV.
The difficulty, he argues, will arise in cases where it's marginal whether the ball has travelled 20 metres and whether contact was made inside or outside the 45-metre line.
"I was working for BBC at the weekend. I was still a little confused about it all so I rang two different intercounty referees coming up the road. I'm not lying, even they struggled to make sense of it all.
"These are two top referees. I'd questions for them and they couldn't answer some of them. They'd to go back and look at it and call me back. This is where we're at at the moment."
McHugh doesn't have an issue, in principle at least, with the sin bin rule which sees a 10-minute dismissal for players guilty of black card offences where the offending parties cannot be replaced during the time.
The 10-minute sanction runs concurrently though and won't pause for any subsequent stoppages. Sides may well attempt to exploit the rule with cynical forms of time wasting.
McHugh explained: "It invites cynicism. The sin bin, I don't really have an issue with except that the 10-minute spell runs through real time not playing time.
"You'll have players going down with 'tight hamstrings' and 'missing contact lenses' just to eat into that clock. When the opportunity is there to exploit the rule then that's what will happen.
"Referees, who are already under serious pressure, are going to have even more negative attention focused on them.
"I feel sorry for them. You talk about human error but this is only going to increase the mistakes and, in big games, the scrutiny that comes with that. It's not fair on officials."
One of Donegal's greatest ever days, punctuated with one of the great All-Ireland final goals, came of course courtesy of Michael Murphy's astonishing fetch, turn and wallop back in 2012.
McHugh believes we could well have been denied that amazing sight had the new advanced mark been in place that day in Croke Park against Mayo.
"We'll never know but going back to Michael's goal in the 2012 All-Ireland final. Had the mark been in what would his instinctive reaction have been to winning that ball?
"It's a massive day, Kevin Keane is hanging out of him. Maybe he'd have put up his hand and taken the early settler of a point. In that instance, without the rule, he had no other choice but to take on his man and hit that goal."
Meanwhile, McHugh says returning ace attacker Patrick McBrearty has been pushing hard behind the scenes, in America, to be ready for action as soon as possible following his return to those shores last Tuesday morning.
"Patrick's return will be another massive boost," he said. "I'm hearing he was flat out over there in the gym, working hard. He'll have kept himself in really good shape.
"It'll take him a little while to get right up to match sharpness. Saturday night was, for the most part, a very positive outing for Donegal.
"There was some rustiness in front of the posts. But considering the injuries we have I felt a lot of young players really stepped up and impressed."
Receive quality journalism wherever you are, on any device. Keep up to date from the comfort of your own home with a digital subscription.
Any time | Any place | Anywhere
Posted: 2:29 pm February 1, 2020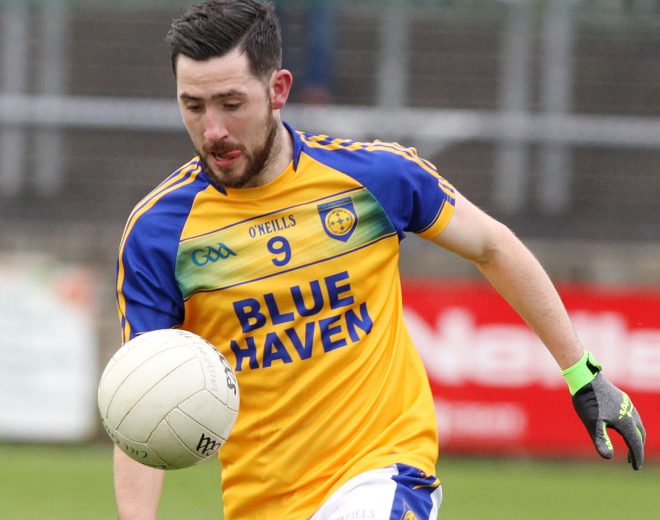 Mark McHugh will be presented with the award at the annual Donegal GAA County Banquet and Award night in...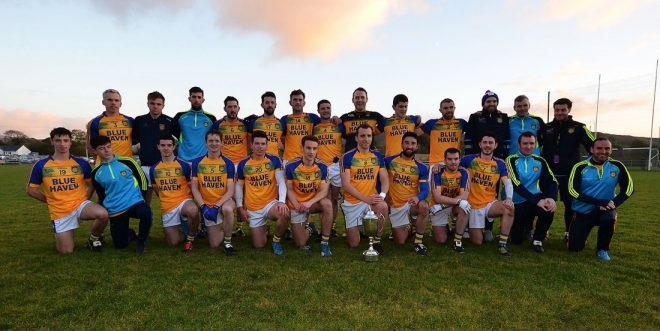 Kilcar had just defeated Naomh Conaill 2-16 to 3-08 to secure the Division One League title but McHugh's focus...