By Frank Craig
Leo McLoone's final farewell to his county was late to break.
A Donegal centurion, the Glenties man made his decision during the off season. So influential but so unassuming. McLoone would have wanted to exit out the back door with minimal fuss.
And while Declan Bonner and his squad have had some time to come to terms with his departure, supporters are still trying to get their heads around the disappointing news this week.
Introduced to adult club football in the 2005 Donegal SFC final as a gangly 16-year-old, he'd eventually build himself into a central powerhouse for both Naomh Conaill and Tir Chonaill.
John Gildea was the star of the show that day when Glenties finally landed a first ever Dr Maguire. He knew instantly that his side had a very special talent on their hands.
Still only 30-years-of-age, fans will feel McLoone has called it a day a little prematurely. But Gildea argues that the modern demands and rigours of intercounty football means the shelf life at the very top of it is now shorter than it's ever been. Others like Mark McHugh and Martin McElhinney have also stepped off the green and gold carousel early.
It's a trend, Gildea says, that's not for bucking. But he believes McLoone's 12 years at the very top for Donegal will only be remembered as a spectacular success.
"Supporters will be disappointed but 'disappointment' certainly isn't a word I'd attribute with Leo McLoone, his career or his decision. As purely a fan of Donegal, yes we'd all have loved him to play on.
"But people only see the big games every other weekend. They just don't see what's sacrificed in between to get to that point. The game has now got to the stage where it's completely all in.
"It's so time consuming, takes up so much of your life that players are inevitably retiring a little younger. I understand he's just got engaged too so he's moving onto another part of life now.
"Don't get me wrong, football and playing for Donegal is an amazing thing. And it's the most important thing when you're in that bubble. But when you leave that bubble, you're out of it and you're forgotten about pretty quickly.
"That's just a fact of life. So the days of playing on until you're 35, 36 or 37 are now gone. You could get away with it once upon a time. But the demands on lads now are too great and it means you simply can't do it. The older you get, the harder it is to recover and the easier it is to pick up injuries.
"That, in itself, can have long term implications. So Leo will feel he has made the right decision for himself at the right time. He owes no one anything.
"He has been a brilliant servant and he played a huge part in giving Donegal supporters so many days out and so many good times over the last decade or so."
McLoone was, of course, the last of that famous Naomh Conaill four that also included Anthony Thompson, Dermot Molloy and Marty Boyle. But Gildea believes part of their legacy is that there is now a steady progression of Boys in Blue making the step up to senior football with their county.
"Definitely – without a doubt," he adds. "But look at the new lads coming through. I'm bias but you've Ciaran Thompson, Eoghan McGettigan, Ethan O'Donnell and young Jeaic Mac Ceallbhuí now coming through. And I've no doubt there are one or two more behind that.
"There is a new generation of county footballers coming through. There is a great underage structure in Glenties and those four lads we've mentioned have all played some part in that.
"When I was coming through Pat Ward and Michael Gallagher were the men you looked to. For us to have a county footballer back then was a huge deal. Myself and Jim (McGuinness) were then part of it at the same time and it was a big thing. But the club has come so far in the time since.
"They're at the point now where Naomh Conaill are one of the dominant clubs. Those lads, as a bunch of players, were so dedicated and were and still are a huge part of what drives it on."
McLoone, Gildea explains, was never one to covet or look to bask in the limelight. But his importance to Donegal's five Ulster SFC crowns and 2012's All-Ireland title triumph during that time shouldn't be downplayed.
"The one thing you'd never find with Leo McLoone was any level of arrogance. He'll not want any fuss made this week. He loved his football. He gave absolutely everything at training and when he played for Donegal.
"But at the end of it all he was always happy to sit at the back of the bus and let others make the noise. He was a pivotal part of all of that success since 2011.
"To be honest, I feel he was maybe a little under appreciated. Maybe that's because he wasn't flashy or he didn't always speak after games.
"But ask any of those lads that shouldered alongside him, or anyone that knows the game intimately, how good he was and you'll get the same answer. He was absolutely fantastic.
"He was one of those that sacrificed so much in crucial areas of the pitch so others could shine. He did so much spade work but also was able to contribute at both ends of the field.
"He had a brilliant knack of getting on the end of ball and getting himself goals. Best of luck to him and I'm sure all Donegal supporters will be saying the same thing this week. "
Tir Chonaill boss Bonner confirmed McLoone had indeed stepped away at last Tuesday's press event prior to this Sunday's Round 2 NFL Division 1 clash away to Meath in Navan.
"Leo has retired," Bonner finally disclosed earlier this week. "Leo has been a brilliant servant to Donegal football and the time we've been involved he won two more Ulster titles and was a very important part of the panel."
McLoone was part of the Naomh Conaill team who came through a three-game thriller against then Ulster champions Gaoth Dobhair in the final of the Donegal SFC in October before reaching the Ulster Club SFC final where they lost to Kilcoo in Omagh.
"I met him a number of times in early autumn and he was going to see out the club championship with Naomh Conaill. He had a lot of experience and was a born leader but felt the time was right. He's been there a long time and worked hard the last few years. We wish him well."
Posted: 10:21 am February 1, 2020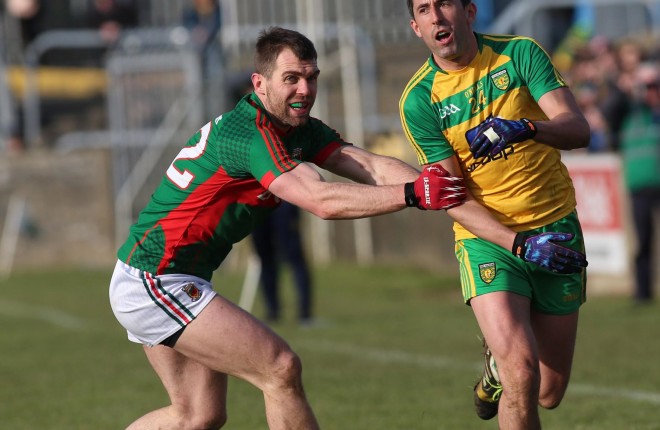 LEO McLoone's 57th minute goal was the crucial score as Donegal defeated Mayo in front of 11,000 people at...