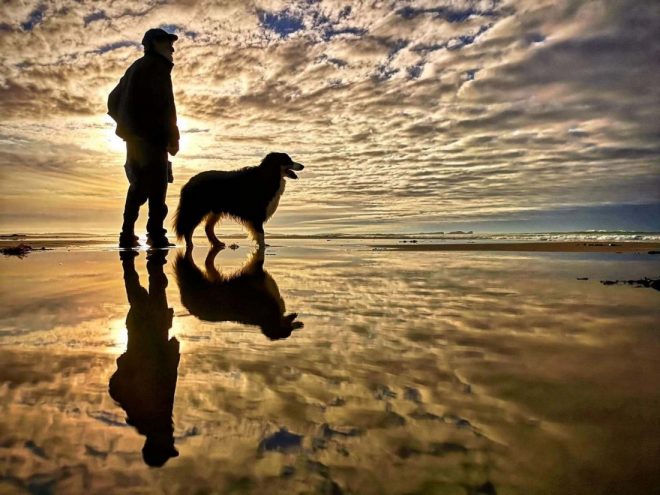 THE flights are booked and the passport's in date but Iggy the dog is staying behind in Donegal.
Along with her owner, photographer James O'Donnell, the eight year old collie has been the subject in some of the most stunning images of Donegal. Many of those images were put together in a 2020 calendar which has since made its way to all four corners of the globe.
Next month, James is putting his collection together to be shown to audiences in Florida's Key West, Key Largo and Islamorada. A second visit to the States (New York) in June to exhibit is also in the planning, with possibly an August event in Connecticut.
Former Magnum Photos librarian Samuel Holmes and Elliott Erwitt (Marilyn Monroe photographer and Magnum Photos member) have come together to make all this happen. "I've never exhibited my photographs before. This is a real step into the deep end," he smiled.
Having spent twenty years working in construction in London, James returned home to Falcarragh ten years ago and before long he had rekindled his love of walking and hiking.
"The addition of Iggy into the family eight years ago meant that she came along for the walks too. I started taking photographs of Iggy and the views and put them up on social media," he said.
The interest in James, Iggy and their photographs is highlighted by the fact that they have more than 10,000 followers on facebook and 7,000 on Instragram.
"I've always been encouraged to sell my work. It was a hobby and I felt that was more important than putting a price on it but then reality kicked in. I wasn't working and need to get the balance right. That led to the 2020 calendar which was quite successful. It sold in every State in the USA, across Japan, Europe and Australia," he said.
The success of the calendar brought him into contact with Adam Rory Porter who has put his collection together for next month's dates in Florida.
"It's a long way from Ballyconnell wood to Key Largo but I'm looking forward to the exhibition," he said.
James started to take his photographs on an iPhone 5c but he's now working off a Huawei P30 Pro.
"I would do very little editing. I just let the camera phone and Iggy do most of the work," he added.
Receive quality journalism wherever you are, on any device. Keep up to date from the comfort of your own home with a digital subscription.
Any time | Any place | Anywhere
Posted: 5:00 pm February 21, 2020