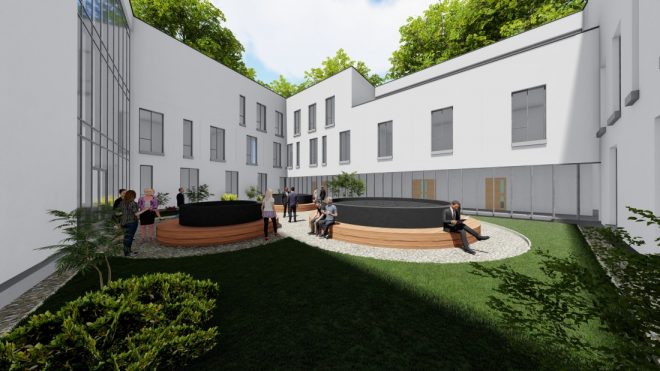 The HSE is pleased to announce that Donegal County Council have issued a decision to grant planning permission for Buncrana Primary Care Centre at Maginn Avenue, Buncrana. If there are no appeals to An Bord Pleanála , the final grant will be issued in one month and it is envisaged that works will begin by Q3 2020.
This new development will provide state of the art facilities to accommodate a range of primary care services within a single Primary Care facility.  The centre will have over 5,200 sqm of clinical space accommodating a wide range of services including GP Services, Public Health Nursing, Physiotherapy, Occupational Therapy, Speech & language Therapy, Audiology and Ophthalmology.  Children and Adult Mental Health Services, Children's Disability Services, TUSLA, and Dental Services will also be available. There will also be capacity to book rooms for other services/professions so that additional services may be accommodated in the future. The facilities will be spread over 3 floors, with underground car parking facilities, it will have pedestrian access from Maginn Avenue and Main St.
Inishowen will be one of the first nine networks in the country to implement the Community Healthcare Network model in 2020.

Dr Paul Grant, GP at Buncrana Medical Centre, said the new Primary Care Centre will enhance the provision of primary care in the area. 
"We hope this new development will provide us with the extra space and facilities we require to continue providing first class medical care for our patients well into the 21st century".
The HSE can confirm that architects Michael Galbraith Associates in conjunction with John Halligan architects and the development company Valley Healthcare were successful in their submission of a planning application to Donegal County Council for the construction of this new state of the art Primary Care Centre which will be located at Maginn Avenue, Buncrana. 
The development of this new facility in Buncrana is part of a coordinated development for Primary Care services across Donegal and other new facilities are planned in Donegal town, Dungloe, Dunfanaghy and Newtowncunningham.

Posted: 5:33 pm January 21, 2020