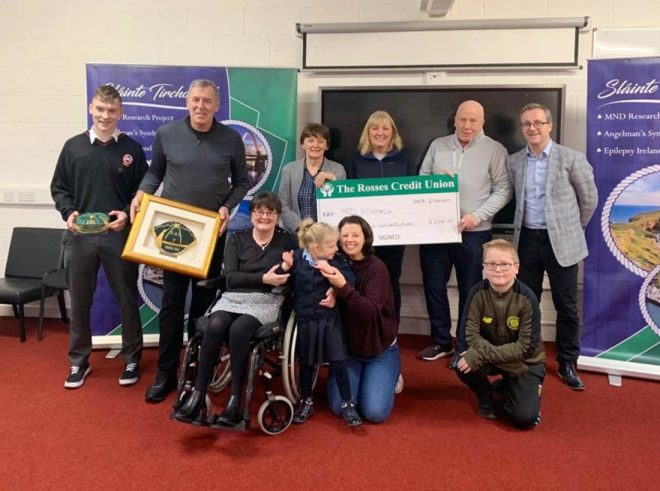 A RECENT fundraiser took place in the Waterfront Hotel commemorating the memory of Connell Boyle. It would have been the occasion of Connell's 60th birthday.
A native of Pole Road in Dungloe, Connell was well known throughout West Donegal and Scotland for his strong political work in supporting Fianna Fáil and also in terms of networking and supporting the business community, both in Scotland and in Ireland.
Connell had hoped to run a fundraiser to mark his 60th birthday for Motor Neurone research, Angelman's Syndrome project and Epilepsy projects – all charities close to Connell's heart due to family, friends and his own personal experiences. He passed away in July 2019.
As a young man, Connell followed his best friend former Republic of Ireland and Celtic goalkeeper Packie Bonner to Glasgow and ended up as managing director of a semi conductor and chemicals firm EKc.
Connell worked in the Irish Embassy in London for a spell and before that in Pat the Cope's office. In latter years he had a consultancy company called An Cuig which helped Irish and Scottish companies in business planning and development which brought him back to Donegal often.
Connell had been very active in trying to promote Scottish companies to relocate post-Brexit to west Donegal. A man who held his allegiance to both Ireland and Donegal very much close to his heart, he developed a passion and role in supporting the business community in developing close links between the two.
The son of Connie (Ellen John) Boyle and Mary Molloy, Droimnadraighid, Dungloe, Connell is survived by his siblings Hugh, Patrick and Helen Boyle and his partner Andrea McLeish.
A number of Connell's friends set up a charitable organisation 'Slainte Tirconaill' for the purposes of raising funds on his 60th birthday. The charity has strong links with Irish culture and language and with the Irish political landscape.
Over 350 guests attended on the night and quite a number of substantial prizes were donated by various charities and sponsors.
Some of the key sponsors on the night were Moya Doherty who donated a trip to New York for the 25th anniversary show on Broadway of Riverdance which was won on the night by Denis Bonner, a close friend of Connell's. Denis and his daughter Una will be travelling to New York.
Also on the night, Packie Bonner's 1994 World Cup cap, in the year that he received seven caps, was donated and raised over €2,500 for motor neurone research and the precious cap was donated back to the Rosses Community School to remain in the local area.
To date, proceeds raised on the night were €19,888 with still some funds to come in. St Crone's national school project received €6,194. The Angelman's project received €2,000. Epilepsy Ireland received €3,500 and research for Motor Neurone received a total of €8,194.
Huge thanks to the organising committee and all those involved and to the charities for allowing the fundraising to take place. Thanks also to all the sponsors. A special word of thanks to Connell's special friend Mrs Maura Monaghan and her husband Packie McHugh for co-hosting and speaking on the night. Also to Connell's niece in law, Melanie Boyle, who spoke on behalf of Angelman's project and St Crone's and the work that will be done there for Connell's grand niece Ellen Boyle. A great positive night had by all.
Receive quality journalism wherever you are, on any device. Keep up to date from the comfort of your own home with a digital subscription.
Any time | Any place | Anywhere
Posted: 9:00 am January 24, 2020