Annual Letterkenny event going into sixth year 
LETTERKENNY Trad Week has just unveiled its full line-up for January 2020 featuring a host of homegrown and international talent. Now going into its sixth year, the annual event continues to go from strength to strength attracting a high calibre of musicianship.  Hosted by the Regional Cultural Centre and An Grianán Theatre, the event aims to promote Irish traditional music, as well as giving you a flavour of traditions from around the world.  This year's line-up includes Sharon Shannon, The Lisa O'Neill Trio, Clann Mhic Ruairí, Paul Harrigan & Tim Edey, Laoise Kelly & Tiarnán Ó Duinnchinn, Lemoncello, The Straddy Session, Xylouris White, Navá and more.
Kicking off this week-long celebration of Irish and world music will be renowned Cavan singer/songwriter Lisa O'Neill on Sunday, 19th January, in the RCC. Support on the night will come from Donegal/Carlow duo Lemoncello, Laura Quirke and Claire Kinsella, who are making their first appearance in Claire's native Letterkenny. Letterkenny Trad Week will come to a close with a big concert at An Grianán with legendary button accordion player Sharon Shannon on Sunday, 26h January. In addition to hosting Sharon Shannon, who will be accompanied accompanied by Alan Connor on keys/guitar, An Grianán is also hosting a fantastic play during Trad Week.
Sponsored Content brought to you by Regional Cultural Centre and An Grianán Theatre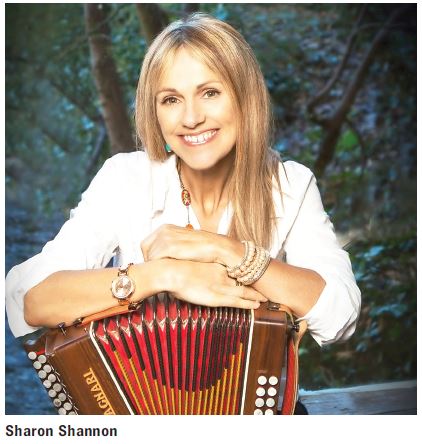 Following their highly-acclaimed 2018 tour, and their extended sold-out run at The Abbey Theatre, Livin' Dred Theatre present the award-winning 'Trad' by Mark Doherty at An Grianán Theatre, an hilarious, absurd and poignant tale of a 100-year-old Irishman…and his father! Together they set out to discover the son they never knew he had.  Jeremy Howard, General Manager at the RCC, said: "Letterkenny Trad Week has not only hosted some of the biggest names in Irish traditional and international folk music, it has also brought together musicians for collaborations and introduced new acts.  "This year is no different as we look forward to welcoming Music Network's quartet of Galician and Irish artists, Anxo Lorenzo gaita/whistles), Jim Murray (guitar), Dónal O'Connor (fiddle) and Jack Talty (concertina) and hosting the first-ever performance of the Strady Session.  "The new Donegal-based ensemble includes singer/guitarist Michael Gallanagh from Inishowen, fiddle player Barry McLaughlin from Tyrone, Monaghan concertina player Róna Dinkin, flute player John Lee from Leitrim and fiddle player Séamus McGuire from Sligo."
An Grianán's Director, Patricia McBride said: "I am really delighted that An Grianán is again hosting Trad Week in association with RCC in 2020. It's a great start to the year's programme.  "We have a superb line-up of artists and events throughout the week, an absolute feast for music fans in the north-west."  Letterkenny Trad Week, 19th to 26th January 2020, is brought to you by the Regional Cultural Centre Letterkenny and An Grianán Theatre, with the kind support of Donegal County Council, The Donegal News (Media Partner), Music Network, Arts Council of Ireland and Earagail Arts Festival.
Tickets are available from regionalculturalcentre.com, angrianan.com, Tel 07491 20777, on in person from the An Grianán Theatre Box Office, Port Road, Letterkenny.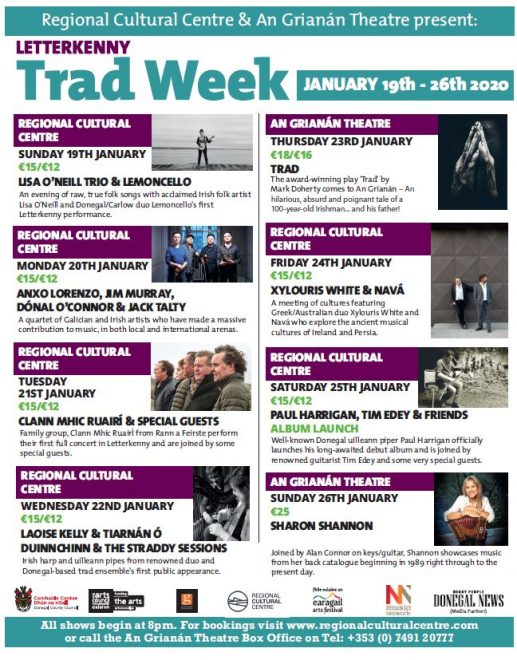 Sponsored Content brought to you by Regional Cultural Centre and An Grianán Theatre
Posted: 4:56 pm December 9, 2019