Whether you are a first time home owner who has just acquired a property that, with a little bit of vision, will be your dream home, or maybe you feel it's time to breathe new life into your long time family home, taking the next steps can be a big hurdle. Home upgrading is a trend which has seen a surge in popularity in recent years – and for good reason. A refurbishment can completely transform a home.
As with anything that has major longterm benefits, carrying out larger home improvements can come with a significant cost. The good news is that Letterkenny Credit Union stands ready to provide loans for those looking to retrofit their homes in the coming months.
Gordon Randles, CEO, says Letterkenny Credit Union, has launched a new 'Fixer Upper' home loan for those wanting to retrofit their homes, but who might need some financial assistance to do so.
"The new loan is as affordable as it is flexible. With the new Fixer Upper Loan from Letterkenny Credit Union members can borrow between €30,000 and €60,000 at an APR of 7.5%*. The loan is typically approved within 48 hours and does not have any hidden fees or costs. Letterkenny Credit Union is happy to work with borrowers to structure the repayments in a way that suits their financial circumstances best. The product is designed to take the toxic stress out of home improvements, so you can focus on the upgrade."
"Making significant changes to your home can have economic and environmental benefits long term. That's why we offer loan terms of up to 15 years so you can match the cost of renovations with the savings in energy bills over the life of the loan," said Mr Randles. For further information on the new, Fixer Upper loan, contact Letterkenny Credit Union at 0749102126 or email loans@lettekennycu.ie
*For a €50,000 15 year variable interest rate loan with 180 monthly repayments of €456.16, an interest Rate of 7.24%, a representative APR of 7.5%, the total amount payable by the member is €82,116.79. Information correct as at 17/10/2019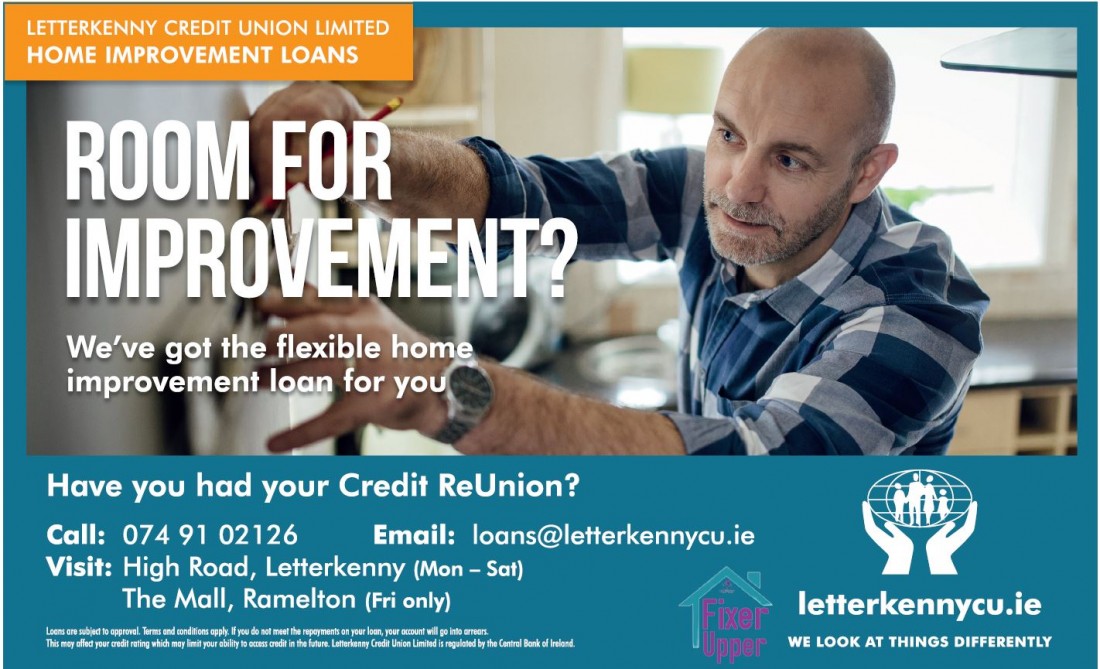 Posted: 3:26 pm October 24, 2019