Our #LoveDonegal Day wowed the world and now Donegal Connect is bringing that Wow factor home with a packed programme of over 50 events. Donegal Connect is part of the Global Irish Festival series and runs from 27th September to 6th October.
"Whether you want practical advice on careers or moving home with a family, a night of traditional music, a chance to explore your roots or a taste of Donegal's great food, it's all there in the programme for you." That's according to the Cathaoirleach of Donegal County Council, Cllr Nicholas Crossan.
"All the hard work in creating and promoting these events is almost over and now it's time for everyone to get together and enjoy them."
 INFORMATION & BUSINESS EVENTS
"Donegal Connect is all about creating a stronger economy and future for our county, so some events have a practical focus," explains Garry Martin, Director of Economic Development with the Council. "At our Working and Living in Donegal day on 30th September, you can meet employers and agencies to find out about job and career opportunities here. Or you can talk to experts on the practicalities of moving to Donegal, for advice on issues like residence for partners, healthcare, driving licences and more."
"We're also bringing the business community together with public sector agencies on 2nd October to explore how we can all work as a team to achieve a common vision for Donegal's future," he said. He will be outlining this vision at Driving our County Forward – Achieving our Vision Together."
"It you want to explore the work place of the future, the Donegal ICT/FinTech Group is hosting a special Tech symposium on 4th October. Or if you want to get together with other female entrepreneurs, Donegal Women in Business celebrate their 20th anniversary with a special Looking Back, Moving Forward conference on 1st October."
Mr Martin emphasises that Donegal Connect is also about connecting with our Diaspora. "That includes those who have emigrated, have Donegal connections or ancestry, or who simply love Donegal. We're holding a special workshop on 4th October to –Connecting our Donegal Associations and Networks – to discuss the best ways to keep in touch.
 FUN & FAMILY EVENTS
"But Donegal Connect is also about demonstrating the beauty, and the culture of Donegal, and bringing visitors to share it," emphasises Ciara Sugrue, Head of Festivals with Fáilte Ireland – the main funder for the project, which is part of the Global Irish Festival Series. "Lots of the Donegal Connect events are about inviting family, from near and far, to join in the fun, music and the outdoors."
The spectacular closing event on 6th October at Fort Dunree by street theatre company LUXE features The Henry Girls and "will be a great evening out for all the family," she adds. "The Donegal Bay and Bluestacks Carnival on 5th October is also a must see. Other family and outdoor fun includes festivals, walks, tours, island trips and a half marathon."
 A TASTE OF DONEGAL FOOD & CULTURE
Altan's Pilleadh Abhaile Concert with An Crann Óg on Sepember 29th in Gweedore is undoubtedly one of the highlights of Donegal Connect. But there's lots more music including The Henry Girls, Donegal Fiddlers, Donegal Voices, and the iconic Christy Moore, who's unfortunately sold out completely.
"Donegal Food Coast is running a dozen events across the county to showcase the best of what we have to offer in terms of food producers, chefs, restaurants, hotel and bar food," says Michael Tunney, Head of Enterprise with Donegal LEO. "Donegal Maps have now done a very handy map for the Donegal Connect website, so you can use it to find a food event near you."
 AN GHAEILGE & INNOVATION
He points to Lá na Gaeltachta on 3rd October, "which will highlight our rich Gaeltacht heritage and its future growth with exhibitions and careers events. Plus there's Innovation Island: Oileán Árainn Mhór on 5th October which offers an insight into their kids coding club, virtual classrooms and Ireland's first offshore digital hub." To see the full programme and to book events, go to www.donegalconnect. com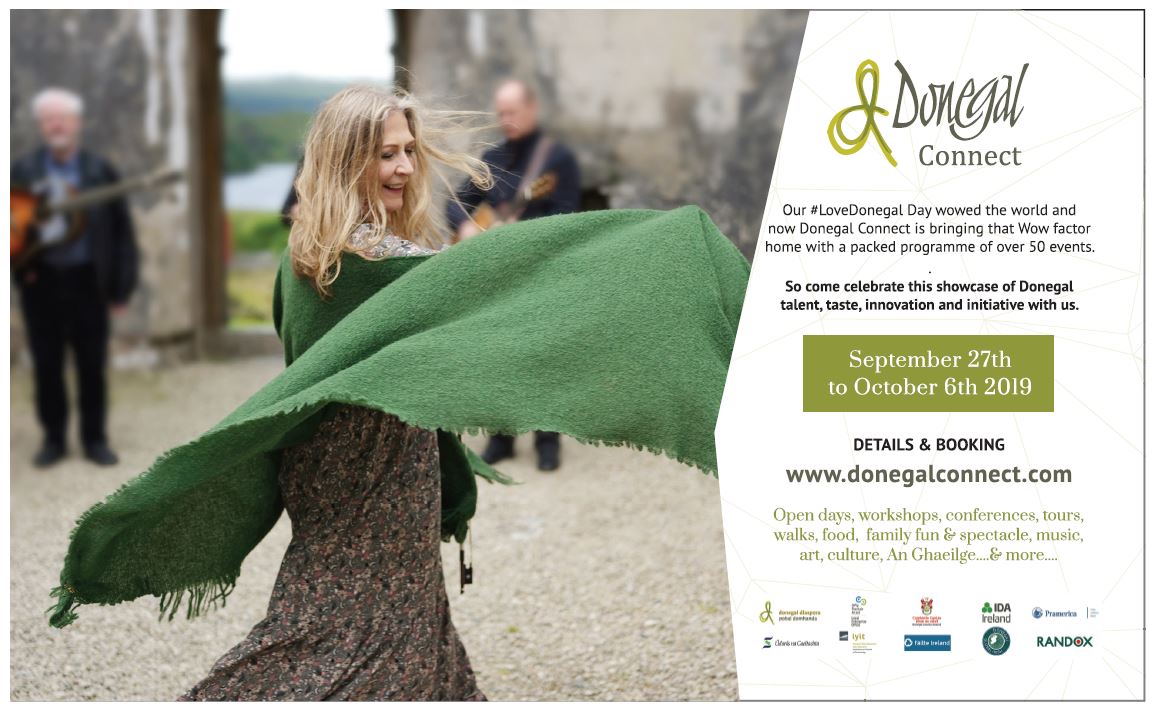 Posted: 12:18 pm September 19, 2019