THIS weekend is filled with musical events across the county from Letterkenny, Gaoth Dobhair to Arranmore for Earagail Arts Festival.
Donegal's premier summer event on the Wild Atlantic Way has teamed up with another Letterkenny festival to bring you the best in psychedlia, punk and Indie in Letterkenny, while Arranmore hosts a new two-day celebration of music, comedia and spoken word.
Distorted Perspectives in partnership with Disturbance Fest present a day-long festival of contemporary international music with staggered sets throughout the evenings across two venues, the Reginal Cultural Centre,The Central and No.58.
Headlined by one of Ireland's finest artists, the intense and hypnotic The Altered Hours are joined by Londonbased Cowboy Flying Saucer, Donegal's own Aul Boy, the esoteric antipop of The Barbiturates, plus the Distorted Perspectives DJs and visuals by F12 at the Regional Cultural Centre.
Headliners at Disturbance Fest are London's NWOBHM legends Girlschool, frequently associated with contemporaries Motörhead, alongside top Irish acts such as Junk Drawer, Scally, Wild Rocket and Podracer over two stages from 2pm through to 2am.
One of the biggest highlights of this year's festival will be the second annual Mór Music & Arts Trail on Arranmore Island this Saturday 20th and Sunday 21st.
A two-day celebration of music, comedy and spoken word across five venues, there will be lots of free entertainment, while day and weekend passes will cover events in the Community Centre, the Glen Hotel and Early's Bar at night-time.
Highlights over the weekend include the Modern Bards, Honeyfeet, Clann Mhic Ruairí, Eve Belle, Dianne Cannon and Manus Lunny, local heroes Green Island and much more.
If you're in the Gaoth Dobhair area on Saturday night, 20th July, Moderns Bards will perform new compositions commissioned by Earagail Arts Festival in Teach Jeaic.
This is an exciting collaboration that brings together some of the very best of Irish and Scottish musicians steeped in a shared tradition.
Later that night, Honeyfeet, who have spent the past nine years tearing around festival stages and theatres, clubs and fields melting down folk, blues and pop, jazz and disco, pushing air molecules around with instruments, play Teach Hiúdaí Beag.
THEATRE
Well-known actor John Connors brings his latest play, Ireland's Call, to An Grianán Theatre on Thursday night, 18th July and then moves on to Amharclann Ghaoth Dobhair on Friday night, while English actor David Monteith has joined the cast of An Grianan Theatre's production of Shakespeare's The Winter's Tale which will take place in Letterkenny on 19th & 20th July.
This is an ambitious community-led project with a cast of over 30 local people performing, along with eight musicians and a brass band. The company will lead the audience around Ballymacool Park in Letterkenny! Food and refreshments will be served, and given that it's Donegal in July sunblock and rain ponchos will also be on hand!
Earagail Arts Festival takes place from 10th July to 28th July. For more information and ticket bookings visit www.eaf.ie or call the box office on Tel +353 (0) 74 91 20777.
Earagail Arts Festival is funded by Arts Council Ireland, Donegal County Council, Wild Atlantic Way and Fáilte Ireland.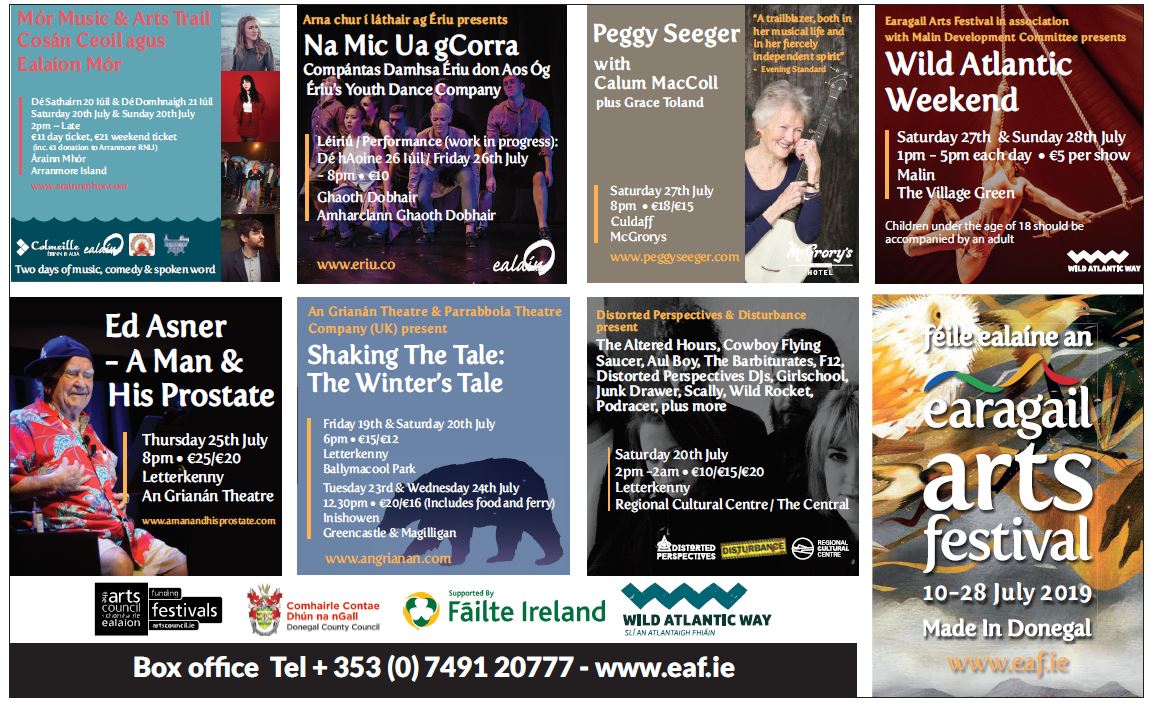 Posted: 4:49 pm July 18, 2019