The nation is increasingly suffering from inflammatory health conditions. These include arthritis and degenerative disorders, as well as autoimmune conditions such as rheumatoid arthritis and atopic conditions such as eczema. On top of this, many health conditions are accompanied with pain and inflammation. There seems to be an ever-increasing number of people taking anti-inflammatory medications and suffering from the side-effects they sometimes bring.
 IS THERE A NATURAL SOLUTION?
Turmeric is a root vegetable with a bright yellow inner. It is rich in many constituents known as curcuminoids. There are many types of curcuminoids, however the most studied and well researched are curcumins. These are fat soluble components which help to regulate inflammatory responses within the body. There are three types of curcumins, all of which are important, and work together for an all-round effect.
Turmeric has been used for centuries for its properties. We now have an abundance of scientific research papers which endorses its traditional applications and allows us to be more specific about what to use it for and how to use it.
Turmeric 15000 provides 500 mg of curcumins extracted from 15000 mg of turmeric root. It provides all three types of curcumins as well as containing black pepper extract to increase the absorption of the curcumins.
 WHY IS A SUPPLEMENT BETTER THAN JUST EATING TURMERIC?
Food can be a wonderful aid to health, and a varied and balanced diet is essential. However, it would be impossible to consume the amount of Turmeric that we would need to obtain the right levels of curcumins for advanced diseases. When we take a curcumin supplement, the active curcumins have been extracted and can be taken in a much higher dose. Curcumins from turmeric root on its own is poorly absorbed in the body. Taking Quest Turmeric with added piperine (black pepper) enhances absorption and allows it to be utilised.
For further information call into The Natural Way Letterkenny.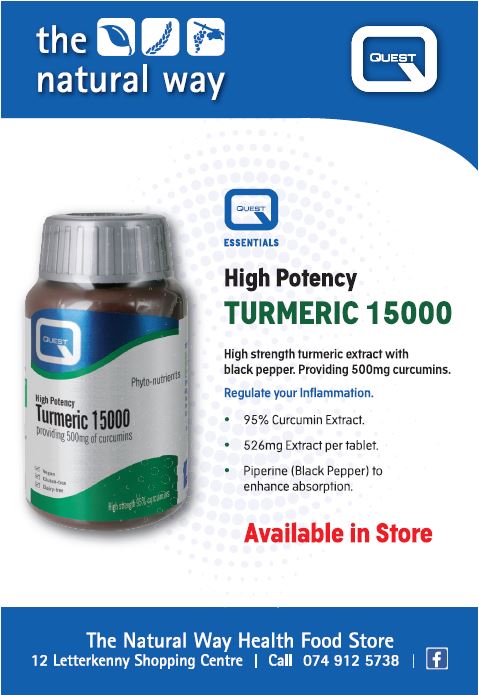 Posted: 10:16 am June 6, 2019