Sponsored content by Donegal, Home Instead
WITH a population of 20,000 people aged over 65 in Donegal, Home Instead Senior Care Donegal are celebrating the life of these senior residents in the county by hosting an event entitled 'Age is Just a Number' in the Station House Hotel, Letterkenny on May 9 from 12 to 4pm.  As part of the Bealtaine Festival  calendar of events, this is an event that celebrates ageing and  wisdom while offering everyone who comes along an opportunity to learn more about the services and offerings in Donegal. A fun event for everyone here's some of what you can expect on the day: Practical advice and information stands; A Virtual Reality experience to travel the globe virtually; Meet the experts in nutrition, movement and memories; Lifestyle and wellness information as well as a number of guest speakers and tea and coffee.
It will be an opportunity for music, laughter and friendship as well as the opportunity to share your story and enter free draws to win some great prizes. Perhaps the most unique part of the day will be thanks to a Raphoebased company called Virtual Reality Design who will be there with VR headsets giving those present the chance to experience a virtual walk around capital cities of the world, by wearing the special headsets while sitting in a comfy chair. It might even be an opportunity to visit places they once lived and worked in earlier years.
Local personality and speaker Helen Kelly will also be on hand to sit and chat with the visitors throughout the day, about the state of ageing in Donegal and what can be done to help everyone going through it. Donegal Volunteer Centre will attend to talk about opportunities for all ages to get involved in volunteering and Cara House will be there offering supports and practical information for those who want to embrace their elder years. Some of the other stands on the day include: The Foot and Ankle Clinic, DLDC, Cancer Care West, Nutrition Advice, Chiropractor and Healthy Ireland Donegal Library.
For further information contact Martin at Home Instead Senior Care office in Letterkenny on 074 91 13050 by e-mail to donegal@ homeinstead.ie or visit the Home Instead Senior Care Donegal facebook page for further information on this and all future events.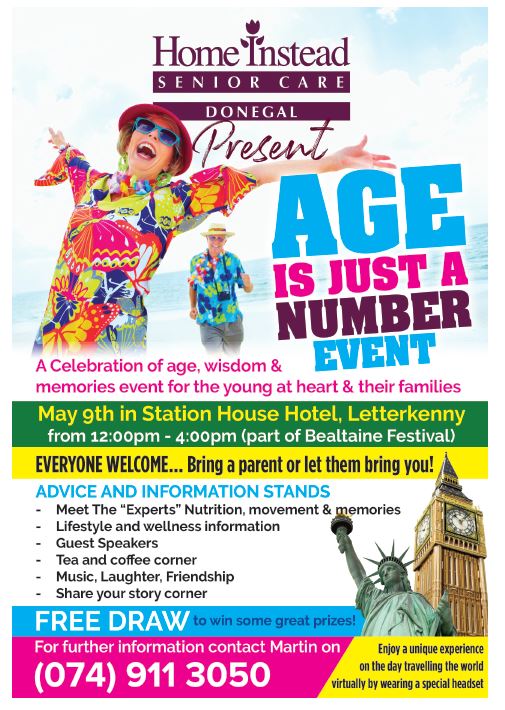 Sponsored content by Donegal, Home Instead
Posted: 2:00 pm May 3, 2019