Irish Cancer Society looking for new volunteers at the centre.  The Irish Cancer Society's Daffodil Centre in Letterkenny University Hospital dealt with 1,767 contacts by members of the public in 2018. Since its opening in September 2013, the Daffodil Centre has had contact with almost 12,000 people.  The number includes enquirers, browsers, awareness stands and chemotherapy education participants.
 The centre is a walk-in cancer information centre for cancer patients, their families and anyone concerned about cancer. Most enquirers to the centre in 2018 were female, making up 75% of the total number.
Speaking about the centre, Teraze Toby, Cancer Nurse in the Letterkenny Daffodil Centre, said, "As the numbers show, we are reaching  a huge amount of people in Donegal who are concerned about their own or a family member's cancer diagnosis, want to talk through their treatment, or need some advice or emotional support. We also offer a chemotherapy education programme which is really helpful for patients starting their treatment."
 "The centres are a really important  resource for people getting practical and emotional support.  Emotional support is mainly why people come to us, with it being the primary reason for 61% of enquirers. Other issues raised are financial support, cancer prevention, local cancer support information and survivor ship.  We offer high quality, reliable information and are always here to help someone navigate there, or their family member's, cancer journey." 
The centre is located on-site in the hospital and is run by Irish Cancer Society specialist cancer nurses and trained volunteers. The Irish Cancer Society is currently looking for new volunteers to help out at its Daffodil Centre in Letterkenny Hospital.
 Speaking about the recruitment, Deirdre Murphy, Survivor Support and Volunteer Coordinator said, "Our Daffodil Centres are often a first stop for many cancer patients and their families and are a really important resource for  reliable, trustworthy information and support.  We are currently looking for new volunteers to join the centre.  We ask them to commit to a morning or afternoon (four hours) once a week and there is no requirement for volunteers on the weekend. Following successful interviews, volunteers will be asked to attend four days of training."
 For more information on Letterkenny Daffodil Centre and the Irish Cancer Society's 13 Daffodil Centres nationwide, log on to www.cancer.ie/daffodilcentres    
To apply to become a trained Daffodil Centre volunteer, please contact Deirdre Murphy in the Irish Cancer Society on (01) 2310 564 or dmurphy@irishcancer.ie. Deadline for receipt of applications is 30 April 2019.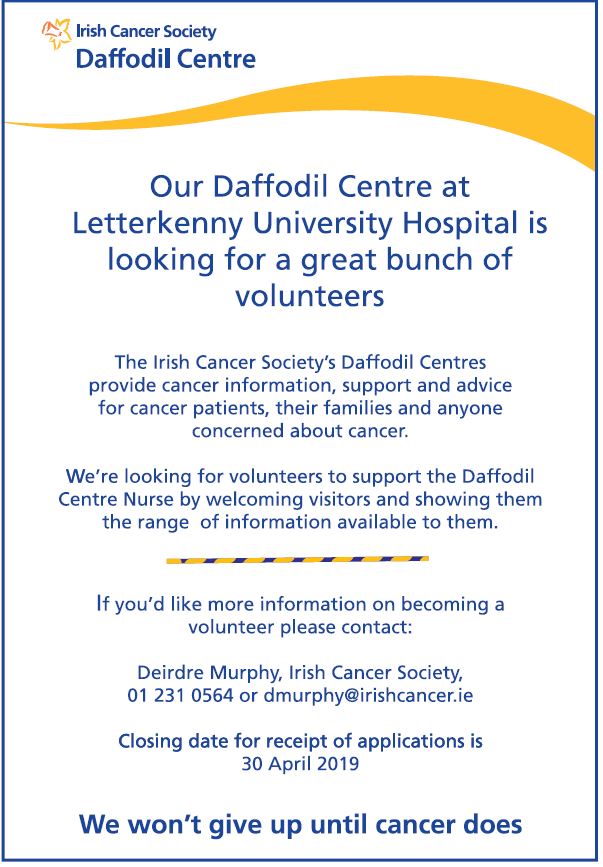 Posted: 3:46 pm April 9, 2019