By Ciaran O'Donnell
There's a notable buzz in The Blueberry Tea Room on the corner of The Diamond in Donegal Town. It's Wednesday morning just before 11 and Cathal Gallagher is deep in conversation with two locals in the cosy surrounds of the well-known café. Everyone, it seems, knows Cathal Gallagher. And everyone wants to exchange a friendly or encouraging word with the Operation Transformation leader whose story caught the nation over the Wednesday nights in January and February.
At the start of the 12th series, the Ballyshannon paramedic was labelled as the programmes's heaviest ever leader. On week one, the 49-year-old weighted 26 stone and 10 pounds. On his final appearance, he tipped the scales at exactly 23 stone. Two week's on from the grand finale, he has lost a further 10 pounds, leaving his current weight at 22 stone and four pounds. In nine and a half weeks, he's lost four stone and six pounds.
Last weekend, Cathal took part in both the 5k and 10k events held in Bundoran as part of the Cara Challenge.
"Something like a 5k or a 10k was the furthest thing from my mind three months ago. To some, it was a competition. To me it was about competing and completing – that's what my achievement was," he says as he sips from his mug of tea.
Cathal does many things well and his talent for talking is right up there. He looks remarkably healthy, is keen to chat and is very much in the moment.
After finishing the 5k on Friday night, he decided to give the 10k a go the following morning.
"I was nervous on Saturday morning. I met a woman from Leitrim, Cait Kearns, and she walked with me. We were the last two over the line. It was as emotional for me crossing that finishing line as it was after getting over the finish line in the 5k Phoenix Park last month. So many people passed me and they recognised me and shouted to me. We were just sharing compliments with each other."
The new exercise regime has opened up his mind to the importance of physical activity.
"I'm benefiting from it greatly, not alone from the weight loss, but with my positive mental attitude. When you get into the workout and get it done, it's great. We all talk about the endorphins and the impact it has on our mood. The hit you get from the endorphin release afterwards lasts much longer than a bar of chocolate, a can of beer or a Chinese. It is addictive and you want to get it."
Cathal is at a stage where he wants to push himself to the next level. He's getting gradually fitter and learning about the importance of recovery.
Over the eight weeks of Operation Transformation, Cathal let the cameras into his home he shares with his wife, Agi, and daughter, Maja. He also shone a light on himself in front of the whole world in the most honest and bravest of ways.
"People now know me and know my story. They know why I had gained so much weight over the years – low self-esteem, feelings of worthlessness and feeling like a monster. I had this thing in my head that I wasn't worth it."
There were many major moments throughout this year's Operation Transformation. The most moving, perhaps, was when Cathal was told by the show's fitness expert, Karl Henry, that he was proud of him and his efforts.
"That got to me. It was a real curved ball that came out of nowhere. To have somebody that I only met a few weeks earlier say that to me was incredible."
After bearing his soul in the 'circle of truth' at the start of Operation Transformation, Cathal spent a few hours sitting at the bottom of the bed with tears steaming down his face on his return from Dublin. Emotions ran deep. Extremely deep. If the process he'd found himself in was going to take him to a better place, he knew it wasn't going to be easy. Or comfortable. He subsequently got a phone call from David Cryan, one of last year's OT leaders. It would prove a significant development.
"David said if I embrace this whole thing with an open mind and open arms, I'd get so much out of it. He was right. He said it would change my life, and it did. It's a new me, a rebirth of me basically. I am able to sit here now and say I am proud of myself and I am liking myself. I'm not saying I'm loving myself. I'm still on a journey, a fantastic journey and loving every minute of it. It's good to talk and it'd good to cry."
Talking is the one thing Cathal encourages everyone to do. The first OT walk in Ballyshannon apart in January, when hundreds upon hundreds turned out to show their support, his talk to students at Letterkenny's IT is a memory that trumps all others. He addressed a packed lecture hall from the heart and without a note kind.
"It was phenomenal," he recalls.
His plan was to speak for a five or six minutes, but he ended up talking for 25.
"I just laid out the facts about me and my life. Before I finished, I looked up and I could see at least 20 people crying. That certainly wasn't my intention. But at that moment I realised that I had said something that had struck a chord with people and they are getting a release as well. A number of people came up to me after the filming stopped and we talked on a one-to-one. I'm not a trained psychologist, but I can share my life story. People have an interest in it because it's so intense at times, and because of the feelings I had about myself."
Cathal has realised that motivational speaking is something he can develop. By helping others, Cathal finds that he's helping himself, too. For 20 years, he went through life never asking for help.
"Of course I blamed the world. But I have since identified myself as being my own worst enemy."
A fire at the family home in 2014, together with work-related incidents when on call, combined to increase Cathal's stress levels.
"I'm a peer support worker myself. When staff are involved in an untoward event, they can have mixed emotions after. Maybe it was unsuccessful, somebody died, there were numerous fatalities in a road traffic collision or maybe a child was involved. It's traumatic and it's not normal. We're supposed to try and deal with it because we're trained in it. But we're not robots and we're not hard-drives . We're human beings with emotions and it's always good to have a talk with someone after to see if they're ok. That's what I do along with along with other peer support workers. I took on that role because I advocate for the staff as I'm a shop steward and as a peer support worker. I might look a bit rough on the exterior, but I'm a big softy on the inside. I was asked recently who do I go to…I just shrugged my shoulders."
The Gallagher household is much the livelier since January.
"Agi says to me now more often that she's proud of me and she loves me. Maybe she said it before and I just never heard it. Since this all started she has supported me 100 per cent. Herself and my daughter, Maja, are my two biggest fans. The community, my family and the ambulance workers have all been so supportive, too."
Cathal will turn 50 a year from now.
"March 2nd 2020 is when I will be happy. I hit 50 that day. I want to have as much weight off by then. It's been told to me that once a man hits 50, he's not going to change. I have almost 12 months left to get down to a more manageable, healthier and fitter weight.
"I might get to that beforehand, or might get to the stage when I'm down to 16 or 17 stone and I'd be happy. I'd like to think I'd get a little bit under that. I have a figure of 14 or 15 stone in my head. That's what I'd like to be down to. It might never be viable or never be feasible. But I'm going to give it a go. A pound a week over a year is four stone right away. So if I get another four stone off I'll be delighted. If I get six stone off I'll be more delighted.
"I'm happy with my own weight now, but there's more for me to do to make less of me, but to make me a better person, if that makes sense?"
Absolutely.
Posted: 11:00 am March 16, 2019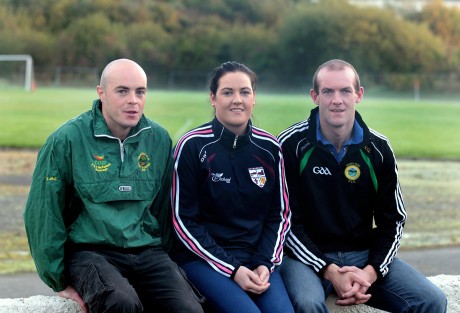 THE Donegal senior football championship final between Glenswilly and Killybegs on Sunday promises to be a real family affair...