BY FRANK CRAIG
Leo McLoone will become the newest member of Donegal senior footballers' '100 Club' when Declan Bonner's side takes on Fermanagh in O'Donnell Park today.
The Glenties man made his bow way back in 2008 under then boss Brian McIver when he was sprung from the bench against Mayo in the NFL. But it was under fellow Glenties man Jim McGuinness that the player really shone.
He was part of the 2012 All-Ireland winning side and won three Ulster SFC medals in that time. He spent a season away from the set-up in 2017 but was coaxed back into the fold by Delcan Bonner last term.
And under the Na Rossa man, he added a fourth provincial medal to his collection when Donegal disposed of Fermanagh last summer in Clones. McLoone – a secondary school teacher at the Abbey Vocational School in Donegal Town – admits he finds it hard to comprehend just how much time has passed since he ran onto the field in Castlebar as a fresh-faced 19-year-old 11 season's ago.
"We were playing a challenge with the Under 21s about an hour away," McLoone recalls. "That's how it came about. Myself, Declan Walsh and Martin McElhinney were called in kind of out of the blue. We didn't even shower, we went straight to the senior game.
"I was lucky enough to be thrown in in the second-half. I certainly didn't expect it. I'd just played a full Under 21 game. We were happy to be on the bench and part of it all. None of us really expected to play. It was just unreal then to get the shout.
"I don't think you would see that kind of thing now. It's a different time really. It doesn't seem that long ago to me but so much has changed."
Fast-forward two years and the golden generation of Under 21s from 2010 were flooded onto the senior panel by McGuinness as he and a large cluster made the step up later that season. They were the prototypes for what would follow, what would become the norm in relation to strength and conditioning and the basic requisite needed to play senior football in the county.
Rory Kavanagh has since said that so many of the already established group like himself, aged 27 or 28, had never lifted weights or looked to bulk up. But a new standard had been set ahead of the 2011 season.
McLoone explained: "Yeah, even when we were younger there was a bit of gym work but nothing too serious. Back then it was some upper body but no squats or deadlifts lift you have now. Gym work was nowhere near what it is now.
"When I was 16 or 17 there still wasn't that structure in place. You can see it on all them young lads now. They are only 21 or 22. But they have shoulders and they're bulked up in the legs. It did take us a little while longer but we probably were the first ones to under go that towards the end of our teens or into our early twenties."
Hide original message
That process now starts at 16 or 17 years of age. So many of the new faces in Declan Bonner's squad this term are already seriously impressive physical specimens.
"It's just expected," said McLoone on today's standard. "Not just at senior level but at club too. You have to do your two nights of gym sessions on top of what you're doing out on the field. Players are getting faster and stronger all the time."
The landscape has changed so much in McLoone's time in the senior ranks with managers and players coming and going. The mainstays or survivors from the beginning of it all are fewer now than ever. McLoone, 30, still has so much to give and optimism is certainly high ahead of summer.
Still, this weekend's milestone means he's being asked to reflect.
He said: "It's great to look back and I'm sure I'll do that more when it is finally all over. They were brilliant times. At the time, and it is a cliché, you don't appreciate it. Even now, we're all driving the thing on and it's all about what's in front of us still.
"But as you get older and become one of those older players in the panel, you realise and appreciate it all a little more. Someone will mention a story or something that happened on a trip away that'll make you laugh.
"It's not just the winning it's the good times you have in and around it all. Telling stories on car journeys to training and wee things like that. As the years go on we'll all look back on it even more. But there is still so much time to add to all that.
"Even last year, it was such a new and fresh feeling to win Ulster again. For me, having been out of it a year and maybe it being a little stop/start before that; I really enjoyed it so much. Getting to know the younger lads too is great.
"It's a fresh start. Because after 2014 and the defeat in the All-Ireland final, that was the memory that stuck. We knew it was the end of an era with players retiring and Jim leaving. It was a tough one to take as we'd given that season so much to get back to an All-Ireland final. Last year lifted that.
"A whole new generation has come in. There is a real sense of something new arriving like it's the start of something special all over again. When I seen how enthusiastic they were last year it was really easy to get caught up in all that.
"There is serious potential. You can see it. They are the future. They're only young but they're all ready I think. They will make the step up no doubt. I think it's an exciting time for Donegal football. The lads that are starting and the lads that have yet to come back, there is real strength in depth.
"The Gaoth Dobhair boys have to come back in, Paddy McBrearty, Michael Murphy, Paddy McGrath and Frank McGlynn too. When you take all that into consideration it's very encouraging."
Posted: 9:00 am February 24, 2019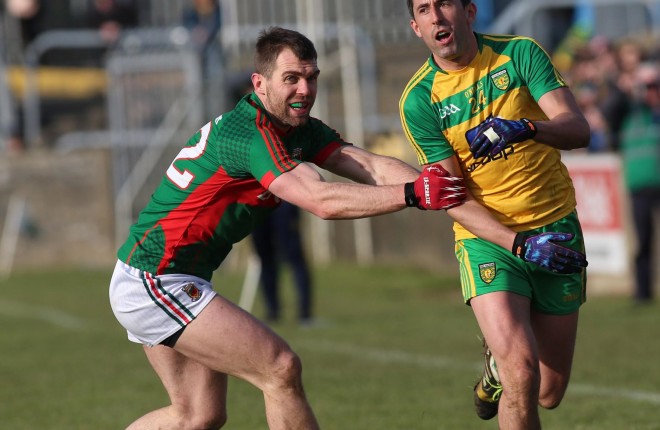 LEO McLoone's 57th minute goal was the crucial score as Donegal defeated Mayo in front of 11,000 people at...