By Ciaran O'Donnell
For all the words in the English vocabulary, not one could rightly capture the inescapable sense of emotion, compassion and humanity that filled the air at the start of the 'Dash for Diddler 5K' on Saturday morning in Newtowncunningham.
Paul Dillon is a 44-year-old local butcher and affectionately known as 'Diddler'. He's been the face and voice of the butcher department at the well known Kernan's Store for years. Married to Emma, the couple have three daughters, Lilly (11), Heidi (9), and Daisy (2). At the turn of the year, Paul was diagnosed with a life-changing condition.
An easy-to-like individual, he could effortlessly talk the day away once the subject of running pops up. He's competed in every distance from 5ks to marathons as a member of the Lifford Strabane Athletic Club and was still competing up until 2018.
So when a local committee was set up to raise funds to carry out the necessary modifications to the family home at Ballybegley, incorporating a 5K into the fundraising weekend was a no-brainier.
Just after 11.10 on Saturday morning, a round of applause that started at the back of the field of 1,127 along Monad Road grew louder with every clap as Paul made his way to the front with the aid of crutches. His stepping through the participants conjured different emotions for all concerned. Rarely have so many been so humbled at the sight of one man's efforts.
"It was very overwhelming. It was nice, but it was hard," Paul said about those minutes through the masses.
Emma had similar thoughts as she reflected on a hectic couple of days in the local village.
"It was a wee bit hard at the start because I'm used to seeing him up at the front, getting his watch ready and going off," she commented.
"That bit was a wee bit hard for me. I know he would loved to have been taking part, but that's just the way it has to be.
"You just have to look at the bigger picture and remember that that they were all there for Paul."
"It helps so much to know there are that many people there. Whenever you find these things out at the start, you think it's the end of everything. But seeing all that on Saturday just helped us a whole lot," she added.
Herself and Paul saw people they hadn't seen for years.
"It was great to see others who we crossed paths with making the effort to come and support us. We will always remember that."
Emma expressed her sincere gratitude to the local people for their kindness and generosity.
"Straight away they came together. Whatever help is needed or what ever needs done, it's no bother. You do feel you are putting people under pressure or putting people out, but it's not like that. I don't think people will ever know how grateful we are. We could never, ever thank them enough."
Emma said the weekend past is one she will never forget.
"It was more than I ever expected. It's extremely unfortunate that something has to happen to realise how good people actually are. Yet it's unbelievable to have it. For me, the weekend will be a great memory. I will always remember it. It was also nice for the children, too, because they really enjoyed it. It was for their Daddy and they thought they were wee celebrities," she added.
"I'm so grateful to the people who came out over the weekend. Since we found out at the start of January, we've had people contacting us everyday. That's been a great help because it keeps us busy and keeps the mind busy."
After the race, local county councillor, Paul Canning, who is part of the fundraising committee and who was a member of the large team of marshals on Saturday, spoke of the pride felt throughout the area at having staged such a big event.
He commented: "What I witnessed in Newtowncunningham today made the hairs stand on the back of my neck."
It really was that kind of a day.
The start of the 'Dash for Diddler' can take its rightful place among the truly great moments in sport. It attracted the biggest ever field for a 5K in Donegal, brought runners and walkers from every club and none together, and showed that goodness and decency are alive and well.
Moreover, it's a memory to cherish for the hundreds fortunate enough to have been there in one form or another.
And the value of that memory?
Priceless.
Posted: 9:35 am February 23, 2019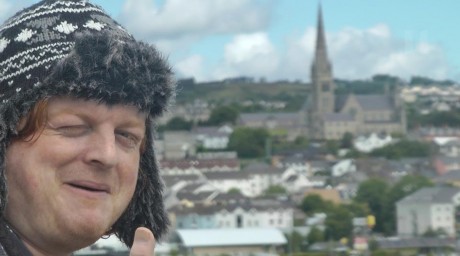 THE Donegal News is pleased to premiere the brand new mock documentary series Letterkenny People by the hilarious guys...