Originating from South East Asia, Turmeric root has a long history in Ayurvedic medicine of health-giving properties. Used as a seasoning and the main ingredient in curry powder, this spice is a natural wonder of the healing world. In recent years there have been many studies to investigate its benefits in fighting disease many of which have shown it has major benefits for your body.
What gives the spice its bright yellow colour is Curcumin, which is extracted from the turmeric plant. Curcumin is the active ingredient that has been used in traditional therapies in India for thousands of years and is available in supplement form from health stores.
Curcumin is currently involved in numerous medical studies to examine the many potential uses in everyday health. Tradition tells us that its true power lies in its powerful anti-inflammatory effects and its antioxidant levels.
Macánta curcumin is an Irish product available from The Natural Way Health Store in the Letterkenny Shopping Centre. Right now in store this product is on special offer where you can buy one and get one half price. For more information, check out The Natural Way on Facebook or check out www.macanta.ie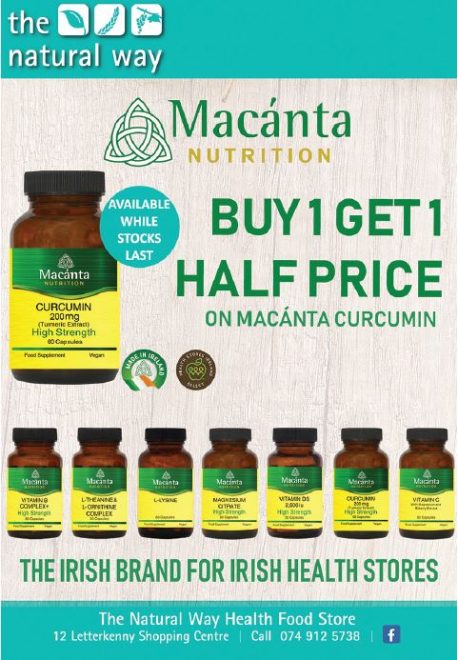 Posted: 9:21 am February 18, 2019