AT Crawford Gallagher Solicitors our aim is to ensure that whether you are buying / selling or transferring property, that the conveyancing process is made as simple as possible. Buying or selling your home should be an exciting time for you, not a stressful one. At Crawford Gallagher Solicitors we can help to make the sale or purchase run as smoothly as possible, and keep you informed every step of the way. Early instructions from you can smooth the road ahead and we can anticipate the likely documents required by the other side.
 IF YOU ARE SELLING YOUR PROPERTY, WE WILL REQUIRE THE FOLLOWING DOCUMENTS
Your deeds (or a letter of Authority signed by you detailing your bank account number) so that we may take up your title deeds.
The address of the bank holding your deeds
Your P.P.S. number and tax type
Your ID either passport/ driver licence
A utility bill / bank statement within the last 6 months
If you are married your marriage certificate or if you are divorced a copy of your divorce decree / separation agreement
LPT certificates paid up to date and NPPR certificate
Receipt for septic tank registration (Protect our Water)
Folio & file Plan or if Registry of Deeds then an we will require a land registry compliant map.
Planning Documents
Architects Certificate of compliance with Building Regulations, Planning Permission and Identification Certificate
Please let us know if there has been any alterations to the property and whether you had planning documentation for the alterations.
Are there any contents included in the sale, if so please give inventory of same
 IF YOU ARE BUYING PROPERTY WE REQUIRE THE FOLLOWING DOCUMENTS
Are you getting a mortgage? please remember that any associated documents that the bank requires should be put in place as soon a s possible such as the following, Life policy, Insurance on the property, valuation of the property, survey report, this will help speed up the process and avoid any unnecessary delays.
 THE FOLLOWING DOCUMENTS ARE REQUIRED FROM THE PURCHASER
The name and address of your bank. (mortgage Bank)
How much you are borrowing?
Do you have your deposit ?
Is there an estate agent on board. Who are they?
Survey report on the property from a registered Architect/Surveyor
Photo ID either passport or driver licence
Utility Bill/ Bank Statement dated within the last 6 months
Your P.P.S. number & tax type/ you & your spouse
If married / marriage certificate
If you have been divorced/ separated /divorce decree or separation agreement
Details of any contents included in sale. We shall advise on the legal costs and stamp duty applicable to the sale.
To conclude if you are considering buying or selling property, we would be happy to discuss with you and provide you with a competitive no obligation quotation. Make the call today:
Contact us on 0749164906 or email info@crawfordgallaghersolicitors.ie
This article is general in nature and can not be regarded as legal advice, as it is commentary only.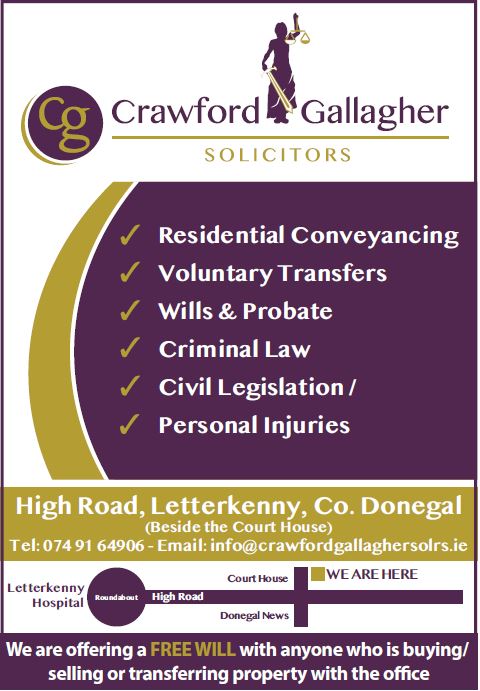 Posted: 2:49 pm February 1, 2019