LAST Sunday's Dr McKenna Cup match between Donegal and Queen's University, Belfast is not one that will live long in the memory, but for Eoin McHugh, it was the recommencement of his promising intercounty career.
The Kilcar man starred for Donegal at underage level, and was called into the senior ranks in 2015, when he was twenty.
That year would be dominated by a health scare when he picked up meningitis, but he recovered, and went on to represent the county with distinction for the next two seasons.
He opted to leave the panel in 2018 to focus on completing his studies at Ulster University, while he went onto secure championship glory with Donegal Boston during the summer months.
McHugh concedes that it wasn't easy watching from afar as Donegal came up short in the big games in the Super 8s, but he's now back in the green and gold and is eagerly awaiting the season ahead.
"I think the main thing you miss is the craic because when you're in it, you're in it," he told the Donegal News.
"You're in five or six days a week, and the boys become the only people that you see, even more than your family, and that's the truth of it.
"I suppose being away in Boston at the time, it was hard watching the games.
"Myself and Michael Carroll sat and watched the Dublin match, and they were so close, and we weren't there or part of it.
"We also watched the Tyrone match and that was heartbreaking. No matter who goes out on the field, you want Donegal to win at the end of the day.
"I wouldn't say it was upsetting, but you wanted to be there and to be part of it.
"But at the same time, I'm happy with the decision I made.
"I stepped away and I got my degree, and I had a good year of it, but I'm happy to be back as well."
McHugh played in the 2016 Ulster Final, and won an Irish News All Star later that year.
He also impressed the following season where his dazzling pace and point-taking ability caught the eye.
However, the versatile player – who can play in attack or defence – admitted that what went before counted for little when he linked up with the squad again in December.
"I'm back at square one. I never dealt with Declan (Bonner) before in my life until last year when I talked about taking a step back, and to be fair to him, he was 100% about that.
"But I knew if I was going to go back this year, then I would be back at square one like anyone else. You're not held higher than anyone else in this team.
"The McKenna Cup was the target that I wanted to get in shape for, and to put the name in for a league spot."
McHugh impressed in the season opener last Sunday. He landed two points off his left foot as he marauded forward from his right-half berth.
However, perhaps the most noteworthy feature of the outing was his stronger physique.
The 24-year-old has been working closely with new Strength & Conditioning coach Aaron Kyles in the gym, and believes it will stand to him in the future.
"I think I got enough abuse about being small from all the family and everyone else.
"I've just put the head down, and myself and Declan agreed when I went back that the main thing I needed to do was bulk myself up.
"With the big hits you have to take, it's very easy to get an injury.
"I just said that I'd try and get the gym work done early, and get some muscle on, and try and protect myself from injury.
"Thankfully everything has gone well in pre-season so far and hopefully that will continue."
McHugh says the panel made a pact not to undo all their pre-Christmas work during the festive season, but they were still granted a few days off, and a chance to unwind.
Now, it's time to knuckle down and he is looking forward to showing what he can do over the next week when Donegal take on Down and Cavan in the McKenna Cup.
"I don't know about starting the season in December – it doesn't make much sense to me.
"But all players want is games, games, games. The Super 8s gives players that, so there's no point in complaining about it.
"We're all looking forward to the league, and I think we are in Ennis on the first day.
"We have two games to build towards that and hopefully we will have a good league campaign.
"It's a completely different team from four years ago when I started off.
"I'm only getting to know some of the boys. I never played before with the likes of Shaun Patton. You have serious players that I have never dealt with before.
"It's a fresh set-up, with a lot of new faces, and a few older heads still about which is needed. I'm really enjoying it at the moment."
McHugh got a taste of the new experimental rules in the match against Queen's, and while he wasn't impressed with them, he feels they will be able to make a better judgement by the end of the pre-season competition.
"I think it adds even more weight to the shoulders of referees, and it's going to be incredibly tough for them.
"For players, you just have to be constantly shouting at your teammates.
"Like, if you're on the ball and you're charging up the wing, it's hard to remember how many passes were done before you got it.
"It would be a big change if they were introduced, but look we have only played 70 minutes with them so far.
"There will be two more games and then they will review it, so we will see what happens after that."
McHugh is well aware that seasoned campaigners like Michael Murphy, Paddy McGrath, Eoghan 'Ban' Gallagher, Leo McLoone, and his cousin Ryan McHugh will all be togging out again in the coming weeks.
The Gaoth Dobhair contingent and Stephen McMenamin (Red Hugh's) are also tied up at the minute with club commitments, but they will all be aiming for jerseys when they return.
There will be a lot of highly-rated players vying for the 15 starting shirts, so the men occupying them during the McKenna Cup need to make an impression.
"There's a lot of competition, and that's what every team needs," said McHugh, who recently started working in marketing for AIB in Dublin.
"It's no good if a team has just got a set 15. In fairness, Declan has built a massive panel since I left.
"I've noticed that we have so many players coming through, as well as the older gang.
"On top of that you have the Gaoth Dobhair lads and (Stephen) McMenamin, who are doing unbelievable things with their clubs.
"We all wish them well, but we want them back in as soon as possible too.
"Hopefully by March time when McMenamin and Gaoth Dobhair have wrapped up their All-Irelands, we will be very strong.
"It will be a tight team to make, but that's the way it should be, and it will leave Declan with a nice headache."
Posted: 9:00 am January 6, 2019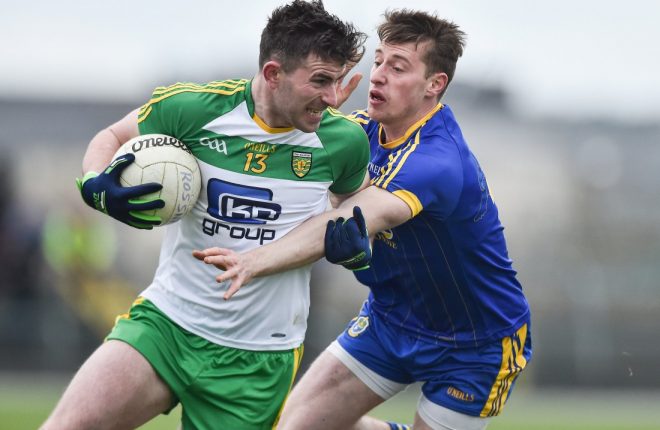 Roscommon 2-9 Donegal 0-16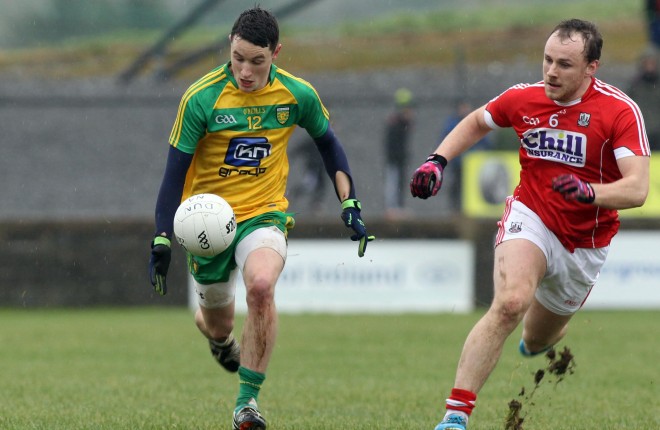 RORY Gallagher is regarded as a perfectionist, and he will be delighted I'm sure with his team's perfect start...