FALCARRAGH is set to come alive to the sound of some of the world's finest jazz music, as two local twin brothers are to bring the first ever festival of its kind to the town.
Jazz musicians, Michéal and Conor Murray are behind the much anticipated Falcarragh Winter Jazz Festival, which takes place on Friday, December 7 and Saturday, December 8.  
Big names are on the bill including European jazz icon Jesse van Ruller and MOBO nominated Irish jazz drummer David Lyttle, as well as up and coming Derry jazz guitarist Joseph Leighton and two gigs by Michéal and Conor, who perform as the Murray Brothers. 
Michéal and Conor (21), who are both in their final year at Glasgow's Royal Scottish Conservatoire, have performed with many leading Irish and Scottish jazz musicians. 
The brothers, who have both enjoyed critical acclaim, say the festival has been borne out of an attempt to bring jazz to rural Donegal.
Both young men are already leading the way on the jazz music scene. Saxophonist Michéal studies with world-renowned Tommy Smith, while Conor, who plays double bass and was a finalist in this year's Scottish Young Jazz Musician of Year, has been praised heavily by The Times.
Speaking to the Donegal News, Michéal said he believes there is an appetite for jazz music locally.
 "Falcarragh is our hometown and an unspoiled rural Irish community. To be creating our own jazz festival and bringing the music and musicians we love to our village is something we believe is very special and something we are really excited to be doing," he said.
"Falcarragh is an amazing place to grow up in and live in, but we realised we had to travel a bit further afield to get access to different types of music, so we really want to bring it home and make it accessible for people who may not otherwise have the opportunity."
Michéal said spending time on the road this year bringing jazz music to rural communities and seeing the amazing effects it had on people was the inspired them both to bring Falcarragh Winter Jazz Festival to our community.
Both brothers have been busy juggling their studies with booking acts for the festival. Despite this, they have secured some of the most successful artists in the field. 
Based in Amsterdam, guitarist Jesse van Ruller is rated as one of the best jazz guitarists in the world. He has worked with A-list jazz names such as Roy Hargrove and Christian McBride and released ten of his own albums.
Originally from County Armagh, David Lyttle is arguably the most significant jazz musician to come out of Ireland in past twenty years. This year his schedule has included China, Canada, the United States and many European countries and he is the only Irish musician to be nominated for a MOBO Award. In Falcarragh he will present a world premiere of the Irish language edition of his 'Tapes and Drums' solo show, which features his drumming alongside tape recordings from around the world. 'Tapes and Drums As Gaeilge' will follow his recent 'Tapes and Drums New York and includes a poem written by a pupil of Falcarragh National School.
"I've known the brothers for a few years now and watched them developed into great young musicians with massive potential," said David Lyttle.
"They work incredibly hard and are doing a very positive thing for their town. I love Falcarragh and enjoyed spending some time there when I played at FestiFál this summer. The twins came up with the idea of 'Tapes and Drums' as Gaeilge for their jazz festival and I'm excited to create the piece in Falcarragh and have an Irish edition of my 'Tapes and Drums' series."
Michéal said reaction to the up and coming festival locally has been incredible.
"People have been very supportive. The whole concept has really been supported by the community. We're both very excited for the festival and can't wait to bring jazz home."
Venues for the event include The Shamrock Lodge and The Gweedore Bar.
Posted: 4:03 pm November 23, 2018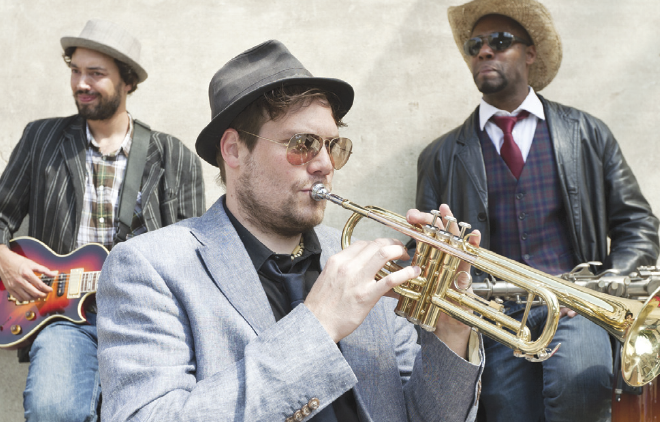 2015 will be the eighth year of the Dunfanaghy Jazz and Blues Festival and everyone is looking forward to...