By Ciaran O'Donnell
It wasn't a decision he took lightly. For weeks, Philip Deignan tossed it over. And tossed it back.
Yet when he made his mind up that the time had come to retire as a professional cyclist, it all made sense. That it felt the right thing to do has made the thinking-long-and-hard process a whole lot easier for the Letterkenny rider.
"It was something I had been considering for the last three to four months. It was just the right time. I'm very happy I've made that decision now, and made it public," he told the Donegal News.
On Tuesday morning, the former Olympian announced via Twitter that he was calling it a day.
Frank and honest, Philip explained that he didn't have a set age or specific time that we wanted to bow out from the top tier of the most unforgiving of sports. If he'd still been enjoying the bike and still getting on the right team, he would have been happy to continue.
"But there was a combination of factors," he said.
"I had quite a bad season. A lot of teams were downsizing or are downsizing and getting smaller. A couple of teams folded, so it was quite a tough market this year. And at my age too, I'm 35, it was just a tough market. I had a limit of what I'd continue for and that was it. It would have been a different decision if I had been five years younger, maybe. But it was the right time for me to stop," he added.
Life has changed dramatically, and for the better, for one of Donegal's sporting heroes. In September, 2016, he married fellow cyclist, Lizzie Armistead, who was crowned world race champion in 2015 in Richmond, Virginia. She also won a silver medal in the 2012 London Olympics. Eight weeks ago, Lizzie gave birth to their first child, Orla. Life, consequently, has become much more about perspective.
"The arrival of Orla has brought a different dimension to our lives. It's been a huge change. Orla is probably the reason I don't really think about cycling to be honest. I certainly don't miss it. It's definitely a different phase in my life now for a couple of different reasons."
Growing up in the Cathedral Town, Philip had a passion for a number of sports and he wore the black and amber vest of Letterkenny AC with pride and distinction as a juvenile back in the day. But cycling grabbed his imagination like nothing else. The heart followed. The rest is now folklore.
"When I went to watch the start of the Tour de France in Dublin in 1998, that was what really drove me. I wanted to see how far I could get in the sport. I never really imagined that I would get as far as I did. The possibility of getting to the professional level seemed almost impossible, but it was something that I really enjoyed working towards. I really enjoyed racing my bike and if it took me to a national level or an international level, I was happy to pursue it," he added.
During his 14 years at the business end, Philip has experienced the sky-scraping highs and loneliest of lows.
"To be honest, there have been more lows than highs. As a cyclist, you go through a lot of hard times with injury and lack of form."
Philip hit rock bottom in 2008 following the Beijing Olympic Games and came extremely close to quitting for good. But he sucked it up and the following year saw a complete change of mindset and fortune.
2009 would be his most successful season. He won stage 18 of the Vuelta a Espana into Avila – the last Irish man to win a Grand Tour stage was Stephen Roche in the Tour de France in 1992. Philip also finished in the top ten in a Giro d'Italia stage.
"Those two years were an absolute roller-coaster," he recalled.
"I came from almost giving up to having my best ever year. I had made my mind up that I was going to stop. Not long after the Beijing Olympics I was filling in university application forms. My agent at the time called me and told me there was a new team starting up. They were at the forefront of bicycle technology and coaching. They were also a very scientific team and would be different to the team I was in for the previous four season."
Philip hadn't been enjoying life in the saddle, but the switch from AG2R Prevoyance to Cervelo TestTeam kick-started a massive transformation.
"I went to Seville and got a whole new lease of life. They totally changed every aspect of what I was doing in terms of training and diet. I made so many different changes."
Philip's last pro race was in Hamburg back in August. He got a late call to fill in for a rider who had to pull out of the one-day event at the last minute because of illness.
"I didn't really have a fixed race programme. I was aiming to ride the Giro d'Italia earlier this year, but I missed out on the team for that. The early part of the season was geared to building up for the Giro. When I didn't make that team I was sort of in limbo a bit from then on in terms of a race programme because a Tour spot was out of the question," he commented.
There were a few other races here and there, but he found himself riding around aimlessly.
"I didn't have a big goal to work towards which made everything a lot harder. But it wasn't really the team's fault. It was just the fact that when riding for a big team like Sky, they have such a wealth of talent there that you are almost constantly fighting to gain team selection. I found that extremely difficult this year – not knowing what races I was doing and missing out a lot on race selection.
"One of the regrets I have of the season is that I didn't get a real run at it."
While Philip has stepped off in the pro circuit for the last time, Lizzie is readying herself for a rattle at some major events before she calls time.
"We had plans in place for childcare. We made preparations and looked at the best support we could have had. Based on the last two months it would have been really, really difficult because as a professional athlete in any sport you have to be quite selfish, and I don't think either of us would really have compromised Orla's upbringing. So the training and preparation would have suffered. For me I always needed to be 100 per cent focused to be competitive in any sort of a way.
"Being a hands-on father now, I don't know where I would have got time to go out and do four or fives hours on the bike and come back exhausted. And then to think about trying to look after a baby it would have been really tough. Another factor was being able to give Lizzie a bit more support, she can achieve a lot of great things in the next two years."
Lizzie has her sights firmly fixed on the world championships in September, 2019. The couple, who are currently based in Monaco, have a house in Harrogate and plan to relocate there when Lizzie retires.
"The race goes past Harrogate and passes her parents' home. So it's a once in a lifetime opportunity. Then the Olympics in Tokyo will be another big goal," he said.
While keen not to move into anything immediately, Philip expressed an interest to stay involved in the industry.
"I wouldn't want to be involved in the sport in a way that you'd be on the road 150 days of the year, but I'd like to be involved in some role within the sport. I'm weighing things up at the moment."
A true role model who never forgot his roots, his humility and decency combined to make him the people's champion.
Philip Deignan dreamed the dream. Then went on to live it.
Thanks for the memories.
Posted: 1:35 pm November 30, 2018
Letterkenny cyclist Philip Deignan will represent Team Sky in the Giro d'Italia, which starts in Sardinia next week. Deignan...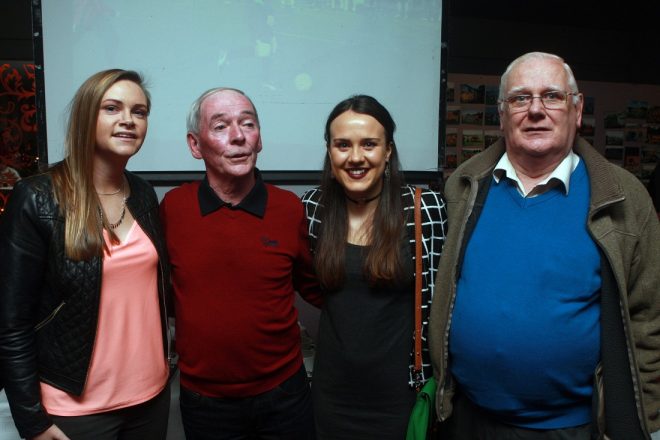 Many, many players have worn the Ballyraine FC colours with distinction, including Olympic athlete Mark English, All-Ireland winner Rory...