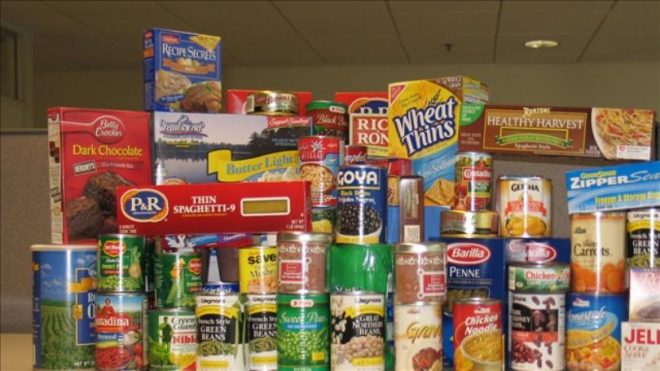 
RISING numbers of young people are accessing the food bank in Letterkenny, it has emerged.
The Annual General Meeting of We Care Letterkenny Food Bank on Friday heard how demands on the service are at the highest they have ever been.
The organisation, which acquired charity status in December last, is now open two days a week to cope with the growing pressure. Those within the organisation say they are helping more than 50 families in food poverty every week.
Additionally, volunteers are also collecting food from Mark's and Spencer's Food Cloud for delivering the to clients in need nightly after the organisation purchased a van last year to help maximise their reach to those in need.
The group formed in Christmas 2014, to meet a growing social need for such a service. They handed out seven parcels, but having opened twice weekly last year in the run up to Christmas, those at the charity said once that started it could not be stopped such is the need.
Speaking at the AGM in the Station House Hotel, one committee member told of how he had been away for a weekend and had inadvertently left his car open. When he returned, he said, he found a note inside his vehicle written by an 18-year-old apologising for sleeping in his car. In his note, the teenager said he had knocked on the man's front door but there was no answer. In desperation, he found his car door open and stayed there for the night. "I stayed in your car, I am so sorry. I didn't touch anything. I had nowhere else to go," the note read.
The charity receives referrals from St Vincent de Paul, Cara House and Barnardos. Its Food Cloud serves in areas including Buncrana and Drumkeen. Victims of the floods in Inishowen last year were supported and the charity is grateful for a volunteer who comes in from Convoy to collect food and transport it back to people in need in that area.
The committee's goals are to continue expanding the service within the county in combating food poverty and increase distribution outlets. With these distribution centres operating, committee members say the food bank will be positioned to meet the growing challenge of sourcing and distributing food to those in need.
Volunteers and sponsors who have been at the heart of the food bank since it opened its doors were praised as a major part of the initiative's success story.
With Christmas approaching, more need is expected to arise. Committee members are now busy planning a fundraising drive, which will include a coffee morning to be held in November. Premises are to be confirmed.
Anyone who can donate food is asked to leave it at drop off points including Lettekenny Community Centre, Mac's Mace, Solo, Simpson's and Whoriskey's Ramelton. The Food Bank is situated at the Market Centre, Market Square, Letterkenny. Opening times are 12pm to 2pm Tuesdays and Fridays.
See We Care Letterkenny Foodbank on Facebook for more information or telephone 0871471325.
Posted: 3:41 pm October 8, 2018