DONEGAL anti-wind farm campaigners have welcomed news that the Irish Raptor Study Group has been granted leave to legally challenge An Bord Pleanála's approval of a proposed multi-million development near Barnesmore Gap.
The Study Group, a voluntary organisation committed to the monitoring for conversation purposes of birds of prey, particularly the hen harrier and buzzard throughout Ireland, has been granted leave to legally challenge An Board Pleanala's approval of the development.
Ms Marie Scanlon, Finn Valley Wind Action, said the affected community in the Finn Valley, together with many others in Donegal, applaud 'this courageous move' by the Irish Raptor Study Group.
"The Raptor Group know the vulnerable status of the Hen Harrier in Ireland and we, the vulnerable community, are heartened by their intervention.
"This is the second such application by Planree Ltd, a Cork based firm, for a wind farm on this site (the first for 49 turbines was refused in March 2016) and the community responded to both applications with over 250 objections. Not a reason to refuse permission in the eyes of An Bord Pleanala.
"Sadly this unsatisfactory planning system which allows for such systemic failure as underlined by the IRSG Judicial Review has drained this community both mentally and financially. Many tens of thousands of euros have been wasted on planning consultant fees and countless sleepless nights have accrued over the past four years. It is simply quite unfair. The sad reality is that hard scientific evidence was presented to The Bord by the IRSG and others in this community but they failed to take that into account," Ms Scanlon said. 
Ryan Wilson-Parr, of Gleann Alainn, Drogheda, Co Louth, who is chairman of the bird protection group, claims the planning permission is contrary to the European Birds Directive and to the Planning and Development Act.
He told the High Court last month that in December 2017 the Cork-based company Planree Limited had applied for planning permission for 19 turbines at Meenbog, Croaghonagh and Cashelavean in south Donegal, an area identified by the National Parks and Wildlife Service as important for the hen harrier and deserving of special protection.
The Study Group had strongly objected to the proposed development and claimed the southern area of the county supported up to 11 territorial pairs of breeding Hen Harrier, equivalent to seven per cent of the national population.
An Bord Pleanala's approval of the development had been granted with 20 conditions attached, including the appointment of an on-site Ecological Clerk of Works and the putting in place of a specific monitoring programme for the species throughout construction.
"By way of background, nineteen turbines, 156.5 metre high, have been given planning permission in a protected area for Hen Harriers. The tragedy is that our community will be left to live in the despoiled landscape with the whoosh in our ears and the flicker on our wall steads of these 156 metre high monstrosities. 
"The other aspect of this sorry saga was last month's parallel attack by Planree in taking Judicial Review proceedings against Donegal County Council's County Development Plan 2018 – 2024. They see this statutorily binding Plan, conceived by Council and approved by it's members, as an imposition on their plans to litter our iconic Gap with turbines.
"I wonder if any other Council has ever faced down such an abuse of departmental, statutory, process by a private firm? Or would ABP allow turbines in the Sally Gap or the Gap of Dunloe," Ms Scanlon asked.
The Irish Raptor Study Group say the hen harrier, once widespread throughout the country, is now Ireland's rarest declining breeding bird species due to habitat loss and has suffered a 50% decline in numbers over the last 40 years.
Posted: 5:10 pm October 1, 2018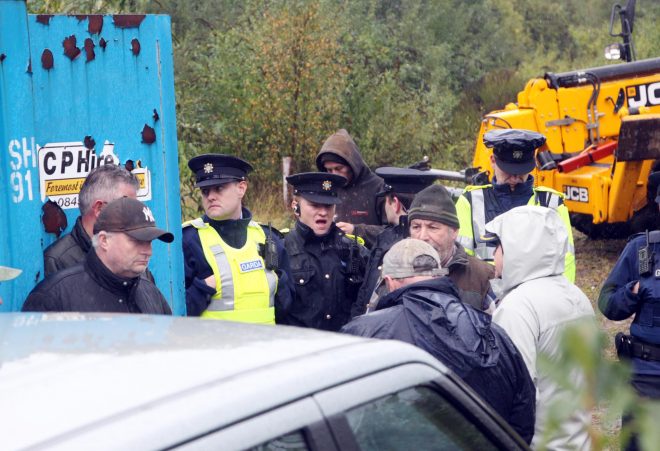 Shortly after 6.30am on Friday, concrete bollards were removed allowing machinery to gain access to a disputed four-acre...