Michael Murphy, Ryan McHugh, and Eoghan 'Ban' Gallagher have been rewarded for their impressive displays for Donegal this summer with nominations for the PwC All Star team.
All three excelled for Donegal and played a key role in helping Declan Bonner's team land the Anglo Celt Cup.
Murphy has been placed in the midfield category, while McHugh is in with the forwards, and Gallagher is in defence.
Gallagher has never won an All Star before, while McHugh was honoured in 2016, and Murphy picked up gongs in 2012 and 2014.
The nominations are divided into 3 goalkeepers, 18 defenders, 6 midfielders and 18 forwards. The final 15 that make up the PwC All-Star Football team of 2018 will be presented with their awards at a gala black-tie banquet in Dublin's Convention Centre on Friday, November 2, which will be screened live by RTE TV.
All-Ireland champions Dublin received 12 nominations, while beaten finalists Tyrone received 7 nominations as have Galway and Monaghan. The remainder of the breakdown saw Kildare get 3, Kerry 2 and Armagh, Carlow, Fermanagh and Laois receiving 1 each.
The selection was voted on by a committee made up of GAA media, and chaired by Uachtarán Chumann Lúthchleas Gael, John Horan.
Also announced today is the short list for this year's Footballer of the Year and Young Footballer of the Year award.
These overall awards will be voted on exclusively by intercounty players and they will choose between Ciarán Kilkenny, Jack McCaffrey and Brian Fenton (Dublin) for the senior prize.
The shortlist for the Young Footballer of the Year prize is still confined to players under 21 and this year's nominees are Brian Howard (Dublin), David Clifford (Kerry) and Michael McKernan (Tyrone).
Uachtarán CLG John Horan said: "My congratulations to all of those who have been nominated for these prestigious PwC All Star Awards. After the fantastic summer of action that we have just had, with all the extra games and all the extra drama of the new quarter-final football format, it adds even greater honour to be chosen on this shortlist as one of the top performers of the season. We have a selection of 45 players who lit up our season and we are indebted to them for the sacrifices they make to play Gaelic football at such a high level."
Chairman of the GPA, Seamus Hickey said, "As a player, this is one of the most special awards you can receive. We all know the hard work that is put in, not only through the championship season, but all year around and the winners of these awards are testament to that. Congratulations to all of those nominated for PwC All-Star awards this year".
PwC All-Star Football Nominations
GOALKEEPERS
1. Stephen Cluxton (Dublin)
2. Graham Brody (Laois)
3. Rory Beggan (Monaghan

DEFENDERS
1. Eoghan Bán Gallagher (Donegal)
2. Jonny Cooper (Dublin)
3. Jack McCaffrey (Dublin)
4. Eoin Murchan (Dublin)
5. James McCarthy (Dublin)
6. Che Cullen (Fermanagh
7. Sean Kelly (Galway)
8. Eoghan Kerin (Galway)
9. Seán Andy Ó Ceallaigh (Galway)
10. Gavin White (Kerry)
11. Eoin Doyle (Kildare
12. Karl O'Connell (Monaghan)
13. Drew Wylie (Monaghan)
14. Ryan Wylie (Monaghan
15. Padraig Hampsey (Tyrone)
16. Michael McKernan (Tyrone)
17. Tiernan McCann (Tyrone
18. Peter Harte (Tyrone)
MIDFIELDERS
1. Michael Murphy (Donegal)
2. Brian Fenton (Dublin)
3. Thomas Flynn (Galway)
4. Niall Kearns (Monaghan)
5. Colm Cavanagh (Tyrone)
6. Mattie Donnelly (Tyrone)
-3-
FORWARDS
1. Rory Grugan (Armagh)
2. Paul Broderick (Carlow)
3. Ryan McHugh (Donegal)
4. Niall Scully (Dublin)
5. Ciarán Kilkenny (Dublin)
6. Brian Howard (Dublin)
7. Paul Mannion (Dublin)
8. Dean Rock (Dublin)
9. Con O'Callaghan (Dublin)
10. Shane Walsh (Galway)
11. Damien Comer (Galway)
12. Ian Burke (Galway)
13. David Clifford (Kerry)
14. Daniel Flynn (Kildare)
15. Paul Cribben (Kildare)
16. Conor McManus (Monaghan)
17. Ryan McAnespie (Monaghan)
18. Niall Sludden (Tyrone)
Footballer of the Year Nominees
1. Brian Fenton (Dublin)
2. Ciarán Kilkenny (Dublin)
3. Jack McCaffrey (Dublin)
Young Footballer of the Year Nominees
1. Brian Howard (Dublin)
2. David Clifford (Kerry)
3. Michael McKernan (Tyrone)
Posted: 7:01 am September 12, 2018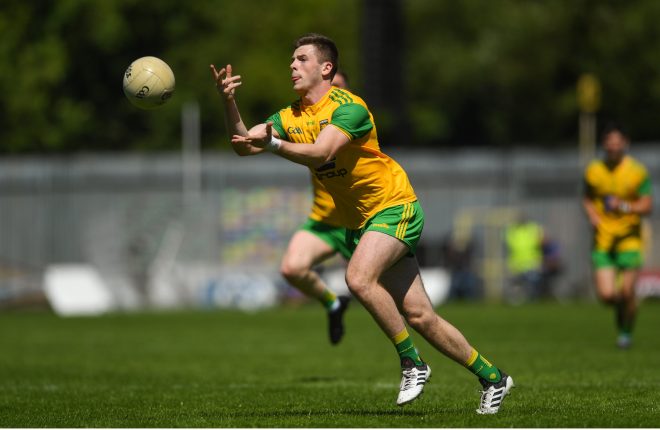 Sunday June 24, 2018 is a date that will live long in the memory of Donegal's dynamic defender, Eoghan...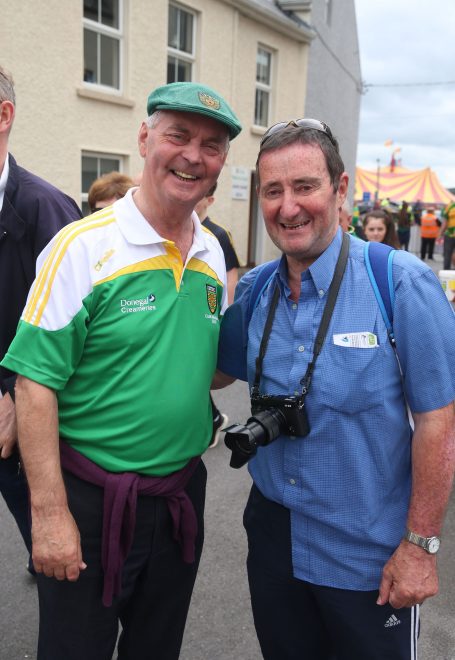 The Glenties native has captured images from thousands of games for local and national publications, including the Donegal News,...