AERIAL images of 14 navigational markers around the Donegal coast which once served as an aid to pilots during WWII have been compiled for the first time, thanks to the drone photography skills of Belfast man, Conor Corbett.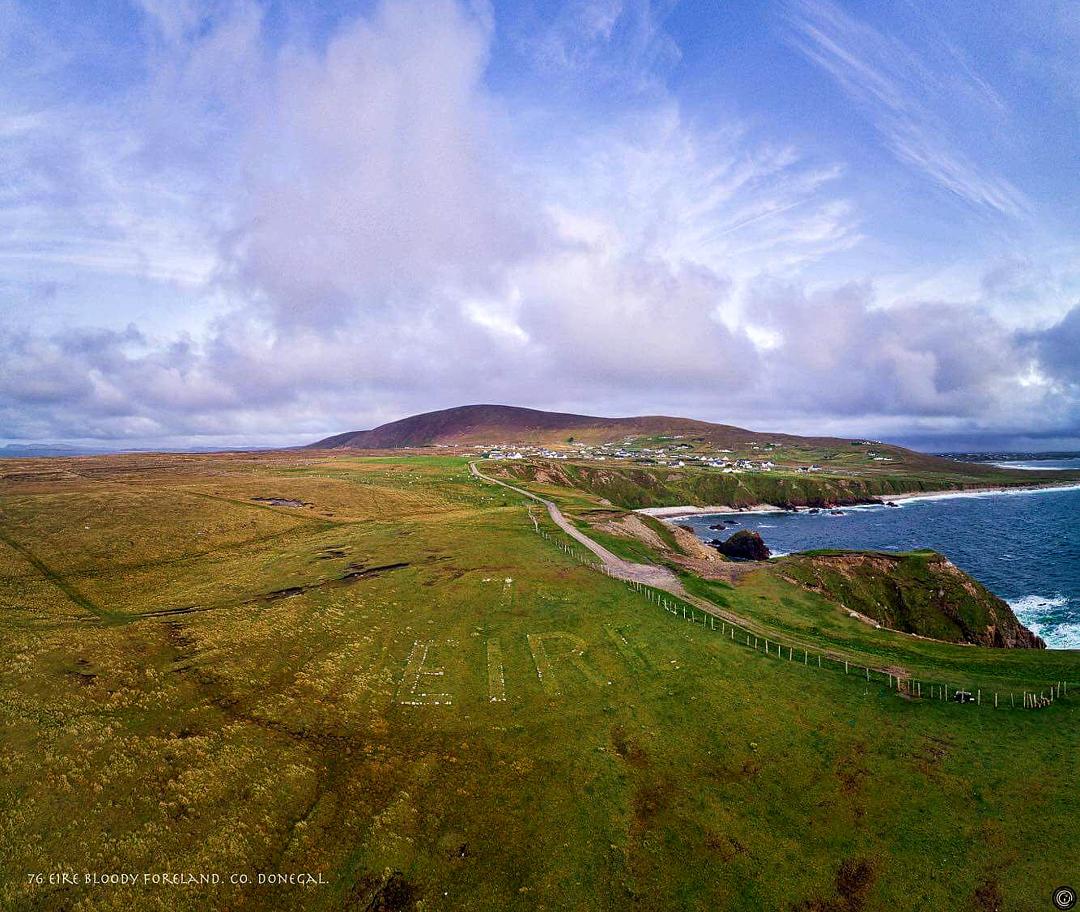 As war raged across Europe from 1939, large markers with the word 'EIRE' were built with boulders along the coastline and painted white – both to orient Allied pilots, and to alert German aircraft.
Speaking to the Donegal News this week, the Crumlin man who takes much inspiration from the Donegal landscape explained how the project came about.
"I photographed my first Éire Marker at Malin Head in June and then another at Crohy Head a few weeks later. Around this time I had also been to Achill Island where I spotted another marker 'Éire 59' and that's what sparked my interest. I wanted to find out more and so the research began.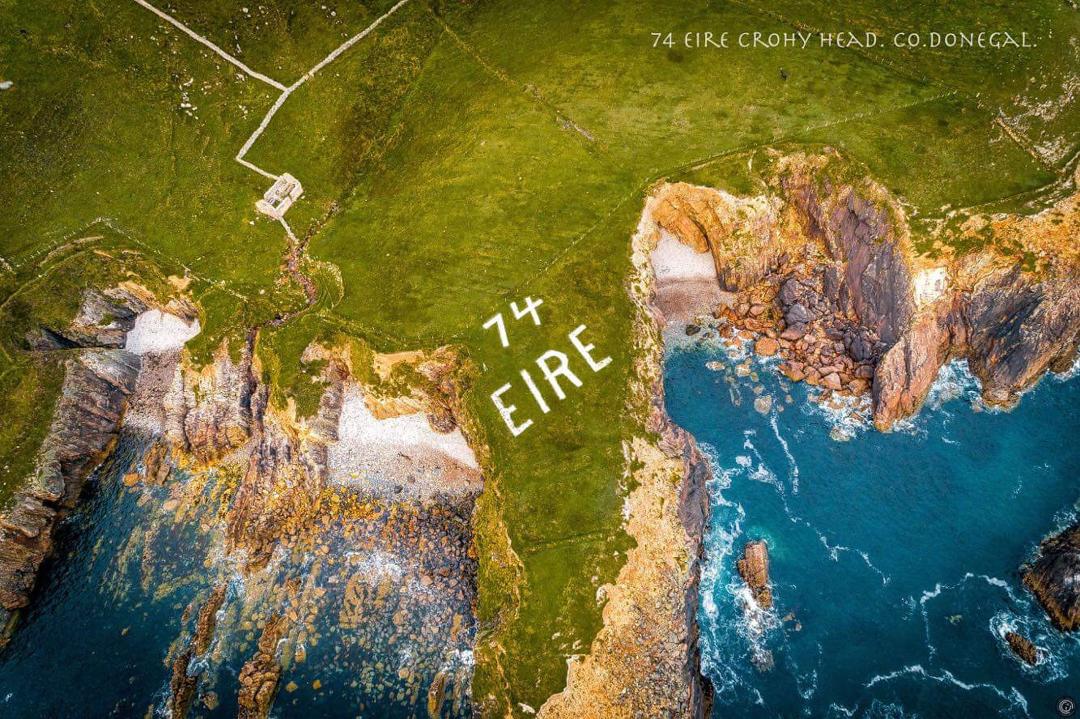 "Some markers have been restored while others are in very poor condition. I have done my best to try and capture what is left of them and also to capture a little bit of history," said the photographer.
Thanks to the help of Treasa Lynch at 'eiremarkings.org', Mr Corbett learned there are 14 markers in Donegal and from there, decided to build a collection. 
"The project took three months to complete. It was a mixture of early mornings, late nights, countless miles and hours, bad weather and some nervous flying moments in and around the coastline," said the photographer.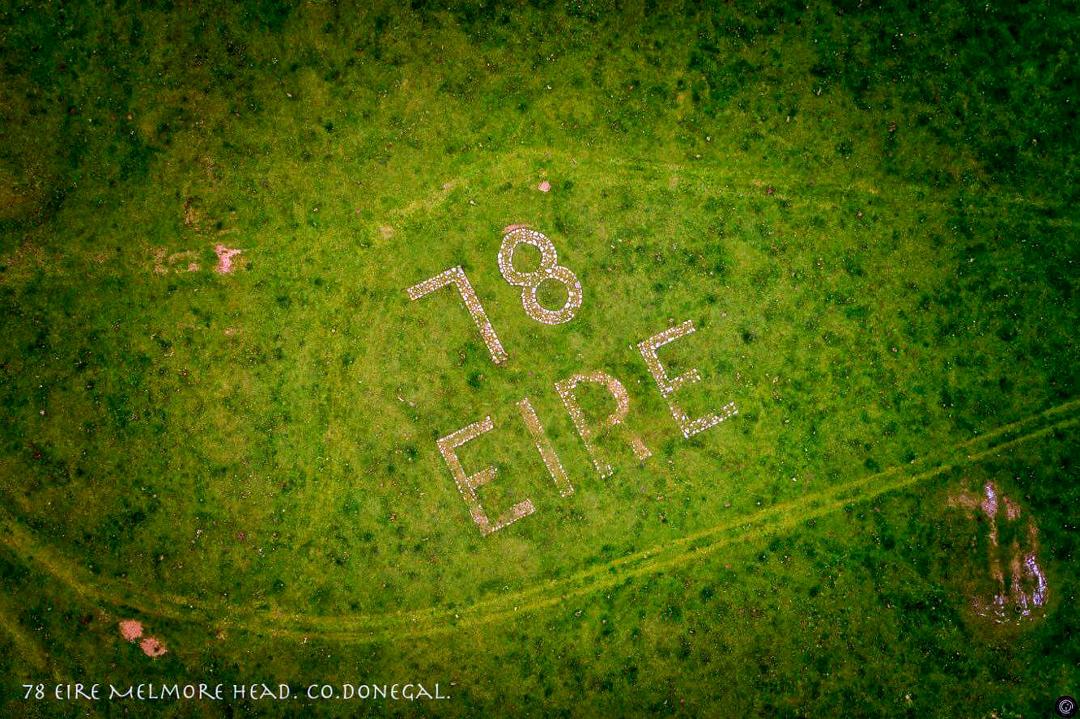 He added: "Horn Head was a hard one to photograph as the weather can turn so quick and the cross wind almost caught me out. It took three separate attempts there but it was a case of third time lucky!
"Each marker is associated with a look out post that you see dotted around the coastline. There are around 83 markers running all around the coast from Malin Head in Inishowen to Ballagan Point in County Louth. They are also known as neutrality markers to show Ireland's neutrality during the Second World War."
Recent months have seen a renewed interested in the navigational aids after a gorse fire in County Wicklow revealed a long forgotten marker. A project is now underway to restore 'EIRE 8'. Similar projects were undertaken by local community groups in Donegal to restore the 'EIRE 80' marker at Malin Head, EIRE 70 at St John's Point and 'EIRE 74' at Crohy Head in recent years.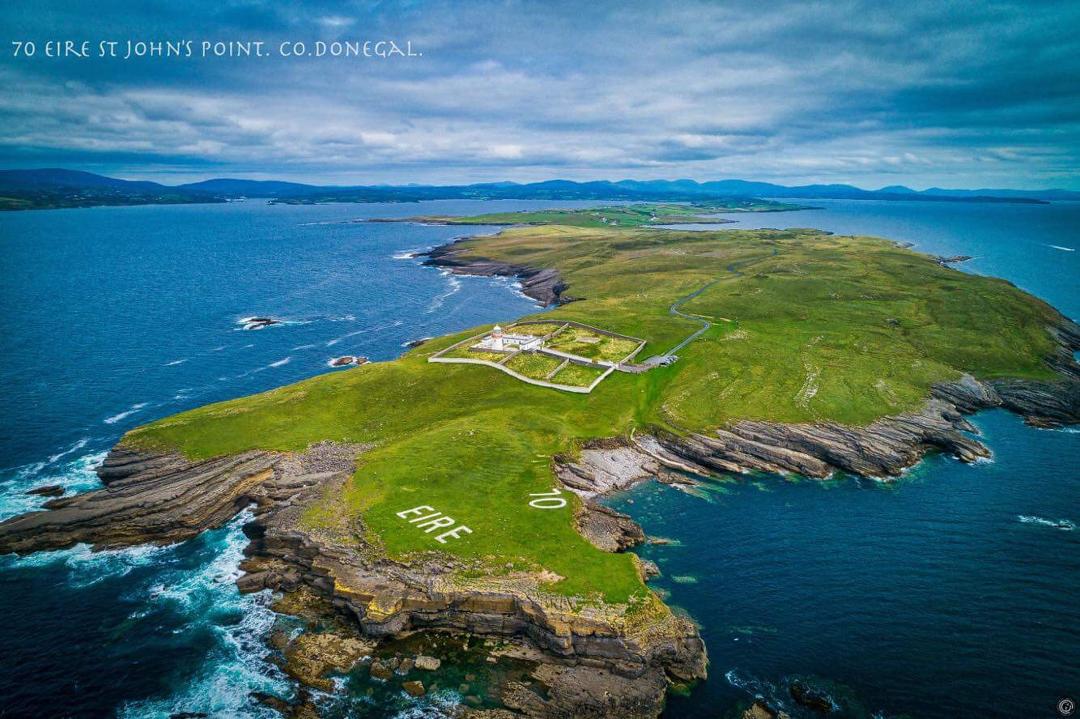 Donegal's other markers include: '71 Eire' – Carrigan Head (Slieve League); '72 Eire' – Rossan Point; '75 Eire' – Torneady Point Arranmore Island; '76 Eire' – Bloody Foreland; '77 Eire' – Horn Head; '78 Eire' – Melmore Head; '80 Eire' – Malin Head; '81 Eire' – Glengad Head; '82 Eire' – Inishowen Head.  Eire at Muckros Head is not numbered while '73 Eire' at Dunmore Head and '79 Eire' at Fanad Head are listed as missing or destroyed.
Advances in aerial photography equipment over recent years are providing photographers with a new perspective on their subjects. 
Mr Corbett explained: "Drones are a brilliant little things, you can see things completely different from the air and it's a great way to document things. 
"I have been to trying to make this a creative project also. It's interesting to show the different landscapes in and around Donegal. It's been a great adventure and a great place to make this happen."
Although he lives in Belfast, Mr Corbett is a regular visitor to Donegal where he finds regular inspiration for his photographs in the county's landscape which he exhibits on his Facebook page 'eirespace'.
"My girlfriend is from Derry so she is my tour guide up and around Donegal and has helped throughout the project. I bought my first drone over a year ago and I haven't stopped since. Everything looks better from the air and Ireland has the best landscapes for aerial photography. Donegal is a hidden gem and there's a lot more I want to document. The castles interest me, so maybe a collection of those could be next."
Posted: 4:27 pm September 7, 2018