"Sometimes you find yourself in the middle of nowhere, and other times in the middle of nowhere you find yourself"

By Ciaran O'Donnell
The business of tackling major endurance events, which ask the big questions of both body and mind, came about more by accident than design. Back in 2012, Gerard Callaghan decided to get himself fit again. It wasn't that he was in bad shape, he just wanted to be able to keep pace with life and stay active with his children.
Gerard's first love was cycling. He was a member of the Tir Conaill Wheelers' Club which merged with the Four Masters Club.
"Cycling was the only thing I really settled in to," he says.
"Everybody had a bike back then. A group of us lived in Ballyraine and we had plenty of company. It started off with the late Billy Black and myself. Mark Ponsonby was heavily involved in those days. There were two fellas from Tara Court as well, Ariel Conroy and Gary Moran – they are two lads I haven't seen since school. There were the Caddys, Aidan and Donal and the boys that were a bit older, Martin McDevitt, Jason Black, Mickey Russell and Ian McLaughlin who were all very influential in those days."
The lads would head off cycling with their fishing rods. Longer rides took them to local beaches. Organised training followed, and a new cycling club was born.
"The standard in Donegal was high back then, just as it is now. I suppose in those days there wasn't too much pressure on us to be working during the summer. We might have been cycling up to 400 miles a week just for fun and for something to do. Really, in the end up, it was about seeing new parts of the county. I remember Mark and myself cycling to Glenties, Doochary and Lettermacaward often when we were 14 and 15," he comments.
Having tackled the Race Around Ireland as a two-man challenge with Mickey Russell in 2015, Gerard wanted to go back and give the Irish Ultra Cycle Challenge a go himself. With Mickey picking up an injury, Gerard ended up doing the bulk of the pedaling. As the event progressed, he reckoned it wasn't a test of how fast or strong one is on the bike, it was more about how much one wanted to get to the finish.
Gerard, who turns 45 in December, is full of praise for those on the northern side of 40 and 50 who are still excelling in their chosen fields.
"When I see the likes of Sean McFadden, Barry Mackey and Jason Black still competing and succeeding, that's what keeps me going. I be asking myself if I should be stopping all this this year, but as long as I feel I'm able to do it, I will."
His wife, Jacque, sons Aaoran (10) Rory (12) and Jamie (14) and daughter Emma (4) shared his journey on the Irish Ultra Cycle Challenge. Jacque, who he regards as his best friend, was his team mate in the two-rider section of the Ultra 555 last year, so she knows what the gigs are all about.
Competitors had 68 hours to complete 680 miles in the Irish Ultra Cycle Challenge.
"That works out at an average of ten miles per hour and that obviously includes your sleep time. So the clock doesn't stop when you lie down. I told everyone 'I paid for 68 hours, so I'm going to take 68 hours'," he says with a hearty laugh.
As things transpired, Gerard finished the race in 59 hours and found himself in a battle for third, something he never expected.
"I actually came across the line third, but Noel Cusack who finished behind me had started 12 minutes after me. There was only a couple of minutes between us at the end."
Was he disappointed not to have made the podium, having missed out by such short margin?
"Not a bit. I was delighted and couldn't have been more proud of myself, to be honest. It was meant to be an end of season family thing to give them an insight into what goes on and an opportunity for me to impress the wee ones. They were all in the van which was driven by Ciaran Shields from Ramelton. I also had a couple of the boys from RAAM, Gavin Harris and Padraig McGinty, with me on the crew. They just couldn't stay away and had to be involved. Arthur McMahon was also about and was a great help."
Being at the start line with his children was the highlight of his week. Cycling through Donegal is another memory that's tucked away in the not-to-be-erased file.
"The idea was to do 240 miles every 24 hours. Inside the first 24 hours, I managed to do 300, so I was well up at that stage. Coming over the finish line was just phenomenal. I had Mickey (Russell) behind me. We've been with each other for 30 years and it was great to have him there. At the start I was thinking to myself 'this might not even work'."
Night time proved the biggest battle. Daylight gives much more opportunity to stay alert and be aware of the sights and sounds.
"After dark, boredom can set in because all you can see is 30 metres in front of you with the lights of the van. I had an earpiece and was in constant communication with the lads. There was plenty of crack, all I kept hearing about was the magic tractor that turned into a field. The magic tractor kept me going."
Gerard had just three 20 minute breaks and a one hour break in Castlebar because of a sore knee.
Mid summer saw Gerard making up a four-man Donegal team that completed the Race Across America (RAMM) under the Team Donegal Oil banner. The experience of competing in The Race, the Donegal Ultra 555 Cycle and the Race Around Ireland all combined for Gerard and Co giving RAAM a rattle.
"We did RAAM, but there is harder cycling around home. RAAM was unbelievable. I was home a week and I still couldn't believe I'd done it."
RAAM is a 3,000 mile race from coast to coast, starting on the west coast in Oceanside, California and finishing on the East coast in Annapolis, Merryland. Gerard describes it as "the wildest race altogether".
The quartet of himself, Padraig McGinty, Arthur McMahon and Gavin Harris split into teams of two, with Gerard pairing off with Padraig. The duo giggled their way from coast to coast.
"We laughed from Oceanside to Merryland. And I'm not joking, we could hardly sleep at night we were laughing that hard," he recalls.
The soaring temperatures in the US were at great variance with the cold bite which was the norm during his prep for The Race at the front end of the year. The Race is Ireland's ultimate endurance challenge over 250km around the rugged landscape of Donegal and Gerard completed The Race for a fifth successive time in April.
Most people would be of the view that the likes of The Race is mad stuff. Gerard agrees.
"I can't explain the joy and satisfaction The Race brings to me personally. There's nowhere that The Race goes that I couldn't call my favourite place on the planet. Everywhere The Race goes, I would go to give myself peace. To be out there on race day with like-minded people and getting support is just something else. There's an old saying that goes 'sometimes you find yourself in the middle of nowhere, and other times in the middle of nowhere you find yourself'. And that's what those races are about for me."
"I've made a lot of mistakes in business and in life. But I just get the greatest sense of peace and achievement when those races are over. As the days go on, especially during the races, no matter what else is going on in the rest of your life, those days are your own," he says.
An ordinary man. Doing extraordinary things.
Posted: 3:32 pm September 8, 2018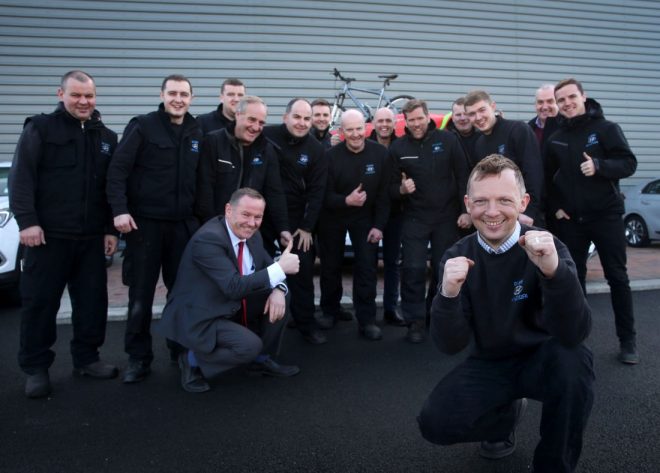 Here's what happens when 'one of the lads' dares you to do something..