A LETTERKENNY woman has taken prayer and Mass cards, medals and rosaries and collected bits and bobs to create symbolic, spiritual mosaics of all the good wishes and prayers sent to her over the past four years.
Pasqueline Blake's unique creations were on display at the Letterkenny Reunion Exhibition this week in the Regional Cultural Centre and she explained to the Donegal News how they came to be.
"I did a bit of training in Art Therapy over the past two years and the idea came to me to create a sort of visual diary. I suppose it is a new method of visual expression.
"It is very personal to me as over the past four years I received Mass cards, prayers, rosary beads and I started to use them in the art work. It was very spiritual for me as I have an emotional attachment to all of the things I used," Pasqueline explained.
The faces were created using layered paper images which she then painted over.
"When I started on each of the works I had no idea what the end result would look like. I had a box of buttons which I had gathered to use in an art workshops and other bits and bobs I gathered thinking they might be useful. There are even bits of Christmas decorations that my sister-in-law gave me which mean something to me. The finished works are symbolic and pay homage to the people who sent them to me. It is knowing that so many people care and I wanted it to be a happy piece."
Pasqueline has cancer and has been going through treatment for the past four years and thankfully, is responding well to her treatment.
"I see the finished pieces as icons – a spiritual expression. Doing this work is a great emotional process and a process of emotional healing. I don't show my work but Letterkenny Reunion asked me to leave the pieces in the RCC.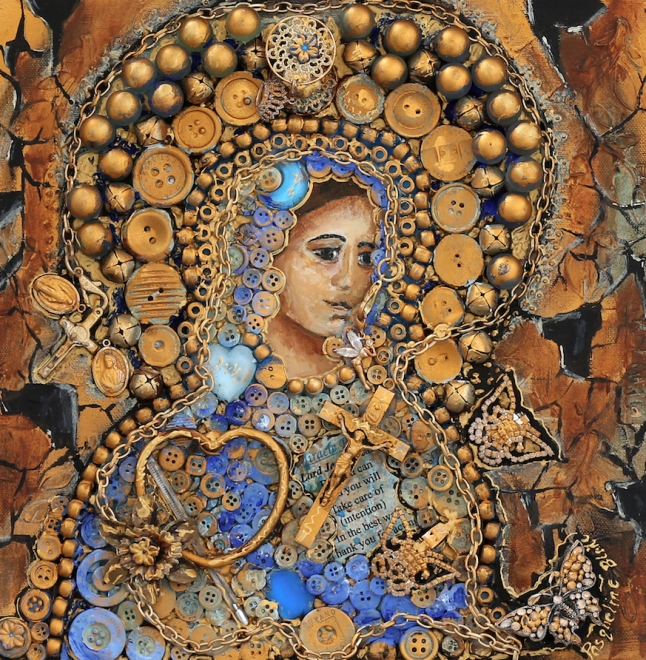 "I am currently working on a 3D piece. The great thing is that I am not under any time pressure to get it done. My works are very personal but I would happily help anyone who wanted to try to do it for themselves. You don't need to have done art before and I don't think a lot of people would realise that – anyone can do it. It opened a new chapter for me and is all about positivity," she added.
Posted: 5:27 pm August 12, 2018