MUCH like Mickey Harte, Donegal Masters manager Val Murray spent most of the past week coming up with a plan to get the better of Dublin.
Harte's Tyrone take on the Dubs in the All-Ireland Senior Football Final in two weeks, but there is a big game taking place this Saturday (throw-in, 3.30pm) in Garrymore, Cavan, with Murray's men taking on the boys in blue for a spot in this year's All-Ireland Masters Final.
"Well the one thing for sure is that we won't be playing a blanket defence anyway," laughed Murray.
"The lads would be able to get up the field, but the mightn't be as quick getting back."
Donegal reached the All-Ireland semi-final stage last season, but suffered disappointment when they lost out to Mayo in a cracking game after extra-time.
That was a tough result to take, and it has been driving the team on this year.
"We lost out last year to Mayo, and we would love to go one step further this time, but we know Dublin will be a hard team to handle.
"Our form has been good enough. We won five of our six games in the group.
"Our only defeat was in our second last game against Cavan, but we kind of knew that we were through before that anyway.
"We won our last game against Antrim, and the team have been playing well in patches, but we're hoping to put it together for the full game this time.
"We're getting 20 boys out at training most nights – sometimes 22 – and we've trained Tuesday and Thursday this week.
"It's a big commitment especially at that age, as we have lads coming from Annagry right down to Bundoran. They're a great bunch of lads to be fair."
Donegal warmed up for the match with a run out against Joe Brolly and a South Donegal Legends select two weeks ago.
The game was in memory of former Killybegs player David 'Croc' Meehan who sadly passed away back in April, and Murray was thrilled that his team were asked to provide the opposition.
"We were delighted to be asked to play and it was a great night.
"I knew David well myself and we were happy to support the game in honour of him, as well as Joe Brolly's 'Opt for Life' charity.
"It was a good test for us, and the main thing was that we didn't pick up any injuries in it thankfully."
Murray will need big performances from the likes of Michael 'Sticky' Ward (Aodh Ruadh), Brian McLaughlin (St Michael's), Adrian McColgan (Buncrana), and Donal Martin (Naomh Brid), who still turn out weekly for their clubs, while he also hopes to have John Haran back from holiday in time to play.
He concedes that he doesn't know an awful lot about Dublin, but is anticipating a tough battle.
"This is the first year that Dublin have been in the competition in a long time.
"They won all their matches, but we don't know what the standard of the teams they were playing was like.
"They have been putting up big scores, and they have a couple of ex-county players, with Peadar Andrews at full-back, Shane Ryan at midfield, and Ray Cosgrove at full-forward, so that's not a bad starting point.
"They're also managed by Val Andrews (Former Louth and Cavan senior bainisteoir), so you'll have two Vals on the sideline and that could be a first," he quipped.
Posted: 8:30 pm August 17, 2018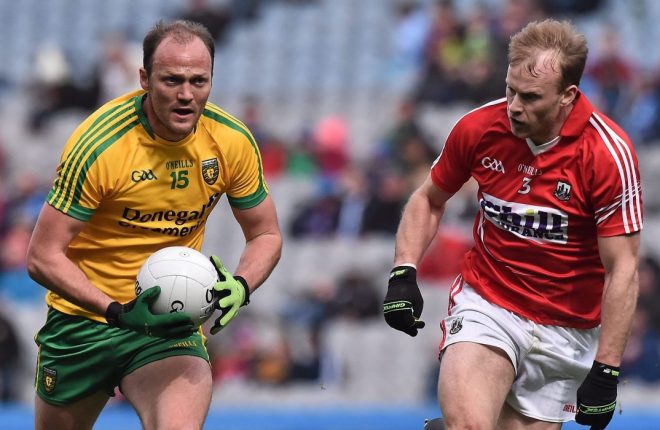 All the adult football in Donegal is finished up now and clubs are already starting to look towards 2017.