By Ciaran O'Donnell
Given his phenomenal exploits in the saddle over the rolling roads of Donegal at the weekend, Cormac Keeney looks remarkably well recovered.
The strong sun is reflecting off the glass behind as he sips on an Americano inside the door at Costa on Monday afternoon. As most of the world slept on Friday night, he was busy cutting a dash in the Donegal Wild Atlantic 555km Ultra Cycle. He cruised, Rolls Royce-like, over some parts, and hurt a bit over other stages. Watching him tear up Glengesh just after four o'clock on Saturday morning was a sight to behold. When he veered right for the climb outside Ardara, it was still dark. By the time he'd spun to get up and over, a beautiful morning had broken.
An average speed of 29.5 kph earned him a time of 18 hours and 42 seconds on a course with a gradient of 6,000 metres, and a new record by 37 minutes. It's fair clipping in anyone's lingo.
Given that it was his first attempt at an endurance event of such longevity, the Letterkenny man wasn't all that sure what to expect. Didn't know how the body would cope. 300 kilometres was the longest he's raced before, so the '555' was certainly new territory.
He's been based in Spain for the last six years. The summer months have become his down time, so he likes to slot in a visit home and take in a race as well.
"I normally do the Donegal Three Day. But it was cancelled this year. So I decided to give the '555' a go instead," Cormac says.
He set up Cycle Sierra Nevada in 2013 which runs cycling holidays and training camps. It also offers bike hire.
"I struggled a bit with the business for the first few years, but now things have picked up and taken off," he comments.
It was a fairly last-minute decision to enter the '555'.
"I rang Charlie Gallagher from Errigal Cycling Club the week before and floated the idea to him. Charlie was very, very helpful in terms of everything – he was a great man to have. Craig McCauley, my coach, put a training plan for me. We'd been working off a training plan for the last four or five months, thinking about doing it, but at the same time not 100 per cent. It was at the back of my mind."
It's been an eventful time for the 34-year-old. Just ten weeks ago, his partner, Maria, from Norway, gave birth to their first child, Oskar. Both were part of a support group that had assembled to watch Cormac whiz by in Letterkenny after he had the first of the three sections completed on Friday evening. It's quite lumpy from Moville to Malin Head and the famous Mamore was tackled on the way back.
"I was pushing well and had a very high average speed there. The legs felt fine and I took it quite steady over Mamore. On the road back to Letterkenny there was a bit of crosswind and it was quite a slog. I had 200 kilometres done when I came back to Letterkenny, and that's when it kind of dawned on me how far it is. I had another 355 kilometres to go from there. I had 200 kilometres in the legs and they were feeling it. The temperature was starting to drop a wee bit and I was starting to feel tired.
'why was I doing this?'
"I passed my family and at that point I asked myself 'why was I doing this? I'd love to be getting off the bike just now. I have 200 kilmetres done now – feck it'," he recalls.
That he was eight minutes down on the leader, Stephen Harkens, merely compounded his mental misery at that point. He knew well how hard he'd been pushing himself, so he was somewhat surprised not to be top of the leader board.
"I kept turning over the pedals going into Ramelton and Rathmullan without killing myself. We were getting the time gaps from Sean McFadden and we knew the difference had been reduced to four minutes. By the time we got to Portsalon, we were running at the exact same time, to the second," he says.
Cormac's main focus was to spend as little time off the bike as possible. Apart from a number of punctures, his only time off the bike was at the sign-on checkpoint located at St Michael's GAA Club in Dunfanaghy.
"After Fanad we went to Carrigart and eventually we could start seeing the other rider up the road. As soon as we got to Downings, I sat behind him. When we hit Atlantic Drive he slowed down a bit. I pulled up beside him and I could tell he was going backwards. I spoke and said hello. When I passed him, I passed him hard and made him know that I wasn't suffering. I didn't look back after I passed him. I kept going for two or three minutes. Then as I turned a corner I took a quick glance back and he wasn't there. I knew he didn't respond so I just kept pushing hard after that to Dunfanaghy."
He punctured going into Horn Head and changed the wheel quickly. But he soon realised the new wheel was badly buckled and had to change it again. He reckons that cost him ten minutes.
While himself and Stephen Harkens left the sign-on point together, Cormac was actually four minutes ahead, as he started four minutes later.
Keen to keep pushing, he got the momentum going again. Another puncture on a section of loose gravel in Crolly saw him off the bike again.
"After Dungloe I was thinking 'just get to Ardara' because the guys were giving me the distances. 150 kilometres is still a long way to go. It's a long spin even without having done 400 kilometres beforehand."
His speed around the Ardara section, dropped to 27 kph. Apart from that, it never dropped below 30 kph.
"The last 100 kilometres were a real psychological battle. I wasn't really familiar with the road from Glencolmcille to Killybegs. It was just climb after climb and the legs were really dead. Once I got to Killybegs it was a wee bit of a lift, and I was trying to figure out how long it was to Donegal Town. Again, it's quite lumpy and the road surface is rough there for a bicycle."
While it started to brighten up around that point, Letterkenny still seemed an eternity away for the leader. Barnesmore Gap can be a lonely stretch at the best of times, as there isn't a whole lot to distract the mind.
"You're just alone with your own thoughts there. At that stage the legs starting coming around. There was a bit of a tail wind and that was a boost, too. It was hard to stay awake. I was conscious about being so tired and not being able to concentrate on the road surface. I was also afraid of hitting something and coming off the bike."
The thought of hitting the top of McGrory's Brae and being able to roll into Ballybofey kept him going.
"I was dreaming about that descent."
Ditto about the long fall into Letterkenny at Lurgybrack.
"I didn't think I was home until that very last descent," he reveals.
A lot of thoughts, positive and negative, went through the top four inches during the 18 hours and 42 minutes in the saddle.
"There were points I felt like getting off it and was saying to myself 'sure it's not important, who cares about this race?'. Then you think about the boys in the car who are doing 19 hours and that's a big ask. I thought how ungrateful would that be to them.
"I was also thinking about Conor Doc (Doherty). I thought if I get off the bike now I'll never hear the end of it – he'll just make fun of me for the rest of my life. So I'm thinking I'll never give him the satisfaction."
"The record? I didn't really care. Everyone goes through the same thing, whether you're finishing in 24 hours or 30 hours, everyone is just trying to finish. You're just in a battle with yourself and it was the same for me, even though I was faster that anyone else. It was nice that I finished first. If we hadn't have had those punctures, I would have been faster."
His first utterance at the finish ramp on Saturday morning was "never again". Perhaps Conor Doherty might use his powers of persuasion to get his mate to give it another go in 2019.
Posted: 5:15 pm June 29, 2018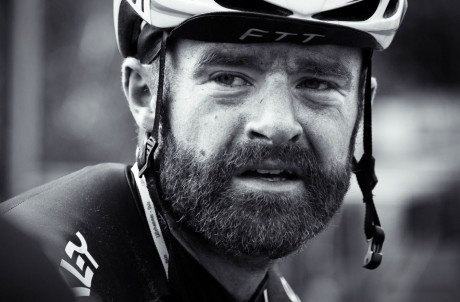 A LETTERKENNY cycling enthusiast has brought his knowledge and love of the sport to a new venture providing guided...