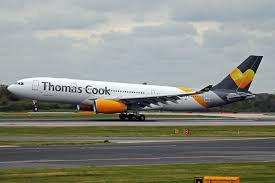 A PASSENGER plane flying over Donegal was forced to turn back on Saturday because of a suspected technical fault.
The flight took off from Manchester Airport and was heading to JFK airport in New York when the decision was made to turn around. Manchester Airport confirmed that the decision was made to bring the Airbus A330 plane, which is part of the Thomas Cook Airlines fleet, back to Manchester.
The plane began to turn just as it passed over Glenveagh National Park and travelled up over Dunfanaghy and turned back towards Derry and onto Manchester.
Thomas Cook Airlines said the decision was taken as a precaution and that passengers were brought back to the UK where they caught an alternative flight to New York later in the afternoon.
A Thomas Cook Airlines spokesperson said: "Flight MT2848 to New York returned to Manchester shortly after take off on Saturday as a precautionary measure due to a suspected technical fault.
"Our customers' safety is always our first priority and we apologise for the inconvenience this caused. Customers departed on an alternative aircraft later that afternoon."
Posted: 1:00 pm April 9, 2018