FARMERS in Donegal could receive a considerable boost from confirmation that Carrigans based Donegal Meats have been approved to trade with China.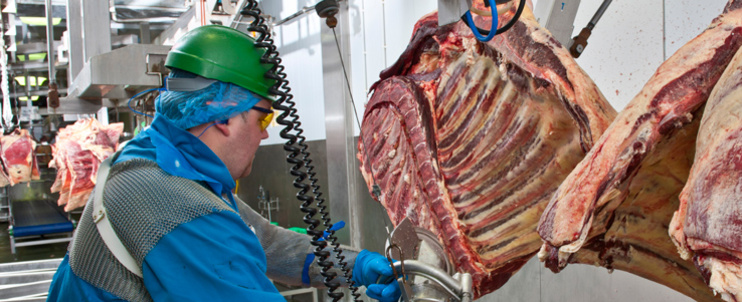 Agriculture Minister Michael Creed has confirmed this week that the Chinese market has been opened to Irish beef. It is the culmination of years of talks between Ireland and China and the result of a "huge effort by Team Ireland", said the Minister.
Donegal Meat Processors along with the Larry Goodman-owned ABP plant in Clones in County Monaghan and Slaney Meats based in County Wexford, are the factories that have been given full approval by the Chinese authorities to export frozen boneless beef products from Monday, April 16.
The Minster said: "The opening of this key market presents an excellent opportunity for the Irish beef sector, from farmers through to processors, in line with the market development theme of our Food Wise strategy. Opening and developing new markets is also a key part of our response to the uncertainties arising from Brexit."
"This decision also represents a powerful endorsement of Ireland's high standards by the Chinese Administration, for which food safety is a prerequisite for trade."
The Minister continued: "Our agri-food exports to China have increased roughly five-fold from around €200 million in 2010 to nearly €1 billion last year. This has been a remarkable achievement and underlines the importance of the Chinese market. For beef, the door has now been opened and there is a real opportunity for the industry to build on this. I will lead a trade mission to China next month to further build on our trade relationships and continue our dialogue with the Chinese Government."   
The Minister concluded by thanking all those who have contributed to this success, including officials from his own Department and the Irish Embassy in Beijing, who have led this effort, along with Bord Bia, other Government Departments and agencies, as well as the food industry and farmers:
"It has taken a huge effort by Team Ireland; Ministers, Departmental and agency officials over several years to get beef market access to China over the line, and I want to thank each and everyone who has made a contribution to this effort. There have been a number of high profile visits to Ireland in recent years, including those by Chinese President Xi Jinping and Premier Li Keqiang, which played a crucial role. I would also like to particularly thank the Chinese Ambassador to Ireland Yue Xiaoyong and all of our Chinese partners for their ongoing co-operation."
The Minister concluded: "I firmly believe that our beef industry can and will compete effectively in the Chinese market."  
Within the last 30 years Chinese demand for meat has quadrupled, and the country now consumes one quarter of the world's meat supply. 
On average, Chinese beef consumption per capita is 4kg, compared to average Irish consumption of 19kg of beef per capita per year. However, despite increases in domestic beef production in China, consumer demand for premium imported beef is forecast to rise significantly, driven by increasing urbanisation, higher disposable incomes and health awareness. 
For example, the import of frozen boneless beef, the category for which Ireland will have market access, has grown nine-fold within the last five years. Overall beef imports to China have increased from under 100,000 tonnes in 2012 to around 600,000 tonnes in 2016. Frozen boneless beef accounts for around 80% of these imports.
Posted: 12:30 pm April 16, 2018