DONEGAL Under 17s will look to make the most of their home comforts when they face Armagh in Ballybofey today (throw-in, 12pm), with a place in the Jim McGuigan Cup League Final at stake.
Gary Duffy's team have had a fine campaign to date, and have won their four matches against Tyrone, Fermanagh, Derry, and Antrim.
That saw them top Section B, while Armagh finished second in Section A, although they were only behind Monaghan on points difference.
Donegal beat Armagh comfortably in the Buncrana Cup last year, but Duffy says the Orchard county have made significant progress since.
"We have home advantage and that is a great boost as it is another game in MacCumhaill Park ahead of the championship where we will face Tyrone there," said Duffy, who is also Donegal GAA's Coaching Officer.
"We have done well so far, but this is going to be a big test.
"Former Armagh player Paul McGrane has taken over as their manager this year, and they have made an awful lot of progress.
"They have done a lot of strength and conditioning work and are a lot more physical.
"We will have to be ready for that, but it will be a good experience for us ahead of the championship, and it will be a real test."
Donegal had two games last weekend as they saw off Derry and Antrim.
They fielded a weakened team and still had too much for the saffrons. However, the Derry match was a big challenging tussle.
There were only two points in it at the end of the match, and Killybegs goalkeeper Corey Byrne made a stunning penalty stop with ten minutes to go.
Duffy said: "Corey Byrne stepped up and made a great save. He works hard on penalties and is very confident in his own ability. He's a big player for us.
"We got the rub of the green at that time, but sometimes you need that bit of fortune.
"I was happy that we went on to win the game, but we did make life difficult on ourselves.
"We were seven up at one stage, but we got a wee bit complacent and allowed Derry back into the match, when we should have killed the game off.
"But to be fair, Derry kept battling to the end and they never gave up."
One interesting aspect of that game with Derry, was the long-range shooting from both teams.
Duffy has some accurate score-takers, and they could be vital as the season goes on.
"There were some great scores, and I think Celtic Park does that to a game.
"Everything seems like it's on top of you, and players aren't afraid to shoot from distance.
"We got some great scores from Shane O'Donnell and Stephen McFadden, who both got five points apiece.
"It's great that players can score from distance, and that gives us options, especially in Ulster games, when it can be hard to work the ball into the full-forward line."
Duffy has four Under 16 players – Senan Rooney, Daithi Roberts, Jamie Grant, and Eric Carr – in his panel, and they missed the Fermanagh and Antrim games, as they were lining out for Rory Kavanagh's Buncrana Cup squad instead.
Duffy says he and Kavanagh enjoy a good working relationship, and they will make the best decision for their respective players regarding which team they line out for.
"I'm a proud Donegal man and I want to see the county do well at every level," the Buncrana man commented.
"It's important for our players that are Under 16 that they have the opportunity to play at their own age level as well, and if it's possible to release them then we will.
"It was a bit of a gamble to release them ahead of the Fermanagh match, but it was a lot easier to do it last Saturday.
"Last year, Tyrone had five or six lads from their Buncrana Cup squad, who were involved with their Under 17 team who won the All-Ireland, and it worked well for them.
"We want to be competitive at both Under 16 and Under 17 level. There's not much between these sets of players and they will all be playing together in a year or two.
"Both teams are through to their respective semi-finals and that is good progress."
Donegal will go into today's game without Padraig McGettigan and Matthew Mullholland, who are both carrying injuries.
Their main focus will be on getting ready for their Championship opener against Tyrone in MacCumhaill Park on Saturday, April 28 at 6pm.
That date is etched firmly in Duffy's plans, and he believes reaching the Under 17 League final will help their preparation.
"I have made no bones about it that we wanted to do well in the league.
"The top teams in the province in the Ulster Minor League over the last decade, have tended to be the top teams in the championship as well.
"We looked at it as a great platform to try and get ready for the championship, and hopefully we can get through to the final."
Posted: 9:00 am April 7, 2018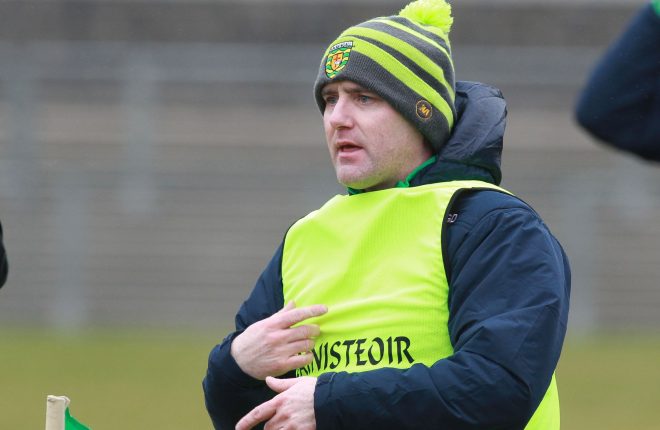 Donegal win in Celtic Park