Cloughaneely are back in the big time this season, and they will test themselves against St Eunan's on Sunday at O'Donnell Park at 3pm.
The Falcarragh men return to the top flight for the first time since 2011, and their manager Michael Lynch says it's a new experience for most of his players, but they are keen to face the best clubs in Donegal.
"It's a big year for the club," said Lynch.
"We have a lot of learning to do. I think there are only four or five lads who have played in Division 1 before.
"For the rest of them, it will be a completely new experience.
"We have to learn how to stay in games, and push on and win them. But we know that's going to be difficult."
There are no shortage of talented footballers in Falcarragh and the surrounding areas.
In 2009, Cloughaneely won the Under 16 Division 1 Championship title, while two years ago, they won the Division 2 Minor crown.
The likes of Kevin Mulhern, John McGarvey, Lee O'Brien, Michael Mulhern and Sean McGarvey have all represented Donegal at underage level, while Denis Boyle and Sean Maguire have been two of the most consistent club players in the county over the last decade.
Jason McGee has starred at senior grade for his county, and he along with Ciaran McFadden are on Gary McDaid's Under 20 panel this season.
"There's plenty of good footballers in this club," said Lynch.
"We have been knocking about at underage level, but it is a big step up at senior.
"It's a different story when you're coming up against the likes of Kilcar and St Eunan's.
"There will be harsh lessons, but you just have to try your best every day you go out."
Lynch and his side are realistic about where they stand, and they know it's unlikely that they will be challenging for the league title.
Kilcar, Gaoth Dobhair, St Eunan's, and Naomh Conaill will all be at the top, and St Michael's have had little trouble in staying up in recent seasons either.
The likes of Milford, Dungloe, Glenswilly, and Aodh Ruadh are expected to be in the bottom half, and those will be the key games for Cloughaneely and Lynch this season.
"I don't think I'll be offending people by saying that. That's the way everyone is looking at it.
"Realistically we're not going to come straight up and walk into the top five. It will take a couple of years to build ourselves up, if we can stay here.
"You'd be hoping to be a bit more competitive against the bigger teams at home.
"We really have to see off the teams in that second table if you like.
"But all those teams are thinking the same, and I'm sure they won't be too worried playing against us."
With that in mind, the opening weekend of the All County League was a success for Lynch's charges.
They recorded a handsome win over Dungloe, and while they were beaten by county champions, Kilcar, there were still plenty of encouraging signs from their trip to Towney.
"The Dungloe game was one we really had to win.
"No disrespect to them, but if we had gone down at the end of the season after losing at home to them, then you would probably say that that was a game we could and should have got something from.
"The scoreline probably flattered us a bit, and I think they were missing a few, but it was a good result for us. We gave it a shot up in Kilcar as well.
"There were a lot of sore bodies going up to Towney, and they were still feeling the effects of two games in three days on Tuesday night at training.
"But I suppose lads want games, and as long as the fixtures stay the way they are and the thing doesn't fall apart, then we won't complain too much about it."
While retaining their Division 1 league status is the main focus at this time of the year, they will also be aiming to win the Intermediate Championship later in the campaign.
Lynch's men lost out to eventual champions Milford in the quarter-final last season, but they are hoping to go one better this time around, and win the Intermediate title, like they did in 2014.
Cloughaneely have a tough group this time with Glenfin, Naomh Brid, and Buncrana, who will all have genuine aspirations of reaching the quarter-finals.
"In fairness, it hasn't even been mentioned yet," said the bainisteoir.
"It's a long way away yet, and we're just concentrating on the league at the moment.
"The two of them probably feed into each other anyway. If you could get the points to stay up in Division 1, it would leave you in a good place going into the championship. But we will worry about that in August."
Lynch is well aware of the task that his side face this week as they head for O'Donnell Park
St Eunan's have won their opening two league games, and appear to be a stronger side this term, with Jamie Doherty now wearing the black and amber, Ross Wherity home from America, and Niall O'Donnell now playing senior football regularly.
However, playing against the likes of St Eunan's and the big guns, was one of the motivating factors last season when they were pushing for promotion.
"It's great that we are going to be challenging ourselves at the highest level against the best teams.
"That's no disrespect to the clubs in Division 2 because we know well what a tough league that is, and you can just as easy go down as you can go up.
"But we want to test ourselves as much as we can. I'd say the majority of the St Eunan's team have represented Donegal at some level, so that's what you're up against.
"It won't be easy, but we'll give it a go."
While it is an exciting year for Cloughaneely, there will be one man sadly missing.
Former player and manager Joe Kelly passed away at the age of 54 in February, and that rocked the GAA club and the surrounding area.
"It was terribly sad news," said Lynch.
"Joe would have really been looking forward to the football this year – going over to Gaoth Dobhair, and St Michael's coming down to us.
"He was always there and he always had a word for you. He coached me the whole way up from underage to senior, but even lads he never managed, he would always have a bit of advice for them too.
"He's a big loss not just to the club, but to his family and the locality in general."
Elsewhere in Division 1 this Sunday, there should be a good tussle in Magheragallon as Naomh Conaill travel to take on Gaoth Dobhair.
Reigning champions Kilcar should have too much for Aodh Ruadh, while Milford entertain St Michael's.
Dungloe have made a slow start to the season, and they will be hoping to get their first points of the season against Glenswilly.
Posted: 8:50 pm April 7, 2018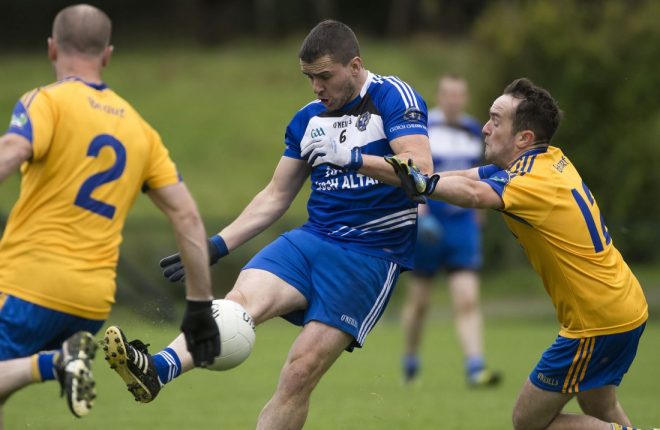 The Donegal section of Comórtas Peile na Gaeltachta will be concluded this weekend, as the four remaining teams in...