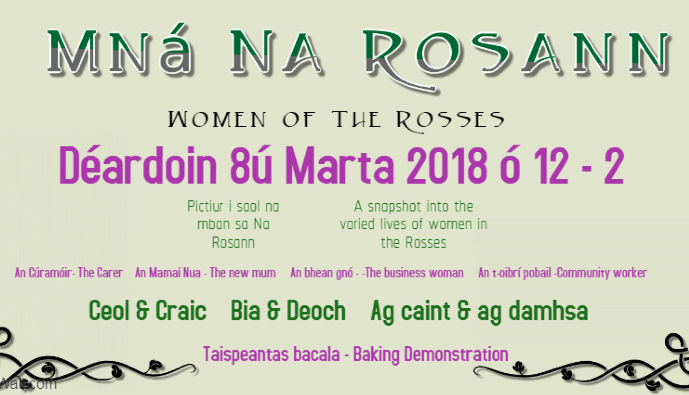 THE priceless contribution of women to community life in The Rosses area will be celebrated this week with a special day of events.
With International Womens Day, March 8, falling during Seachtain na Gaeilge the community around CDP Na Rosann in Dungloe decided it appropriate to pay tribute to the area's female population.
They will host a cultural celebration, 'Mná na Rossan', which will recognise the varied but equally important roles women in The Rosses contribute to both community and family life. 
A spokesperson for CDP na Rossan explained, "Whilst reflecting on the importance of our linguistic and cultural heritage the event will also act as a one stop shop for information on health, supports and financial entitlements.
"As well as that there will be free health checks which will be carried out by the local public health nurses. 
"There will also be a brown bread and soup making demonstration from Helena McClafferty of Ionad Teampall Chroine while stalls which reflect on our traditional skills such as weaving, knitting and crocheting are being provided by St Columba's Community Centre in Burtonport."
Speakers on the day will include: Eilise O Hart – An Mamaí nua (The New Mum), Noreen Coll – An Cúramóir (The Carer), Anthea Anderson An bhean gnó (The Businesswoman) and Helena McClafferty – An t-oibrí pobail (The Community Worker).
CDP Na Rossan added, "They will give us a small window into their lives which will be surmised by Maria Coleman – author, musician, Yoga instructer and self employed business owner of Comhcheol Arts and Wellness."
The event – which is open to both males and females of all ages – aims to be a fun filled afternoon of craic agus ceol, bia, deoch and damhsa.
It will take place at CDP Na Rosann, Chapel Road, Dungloe between noon and 2pm tomorrow, March 8.
"Your support at this event would be very much appreciated," CDP Na Rossan added.
Posted: 10:12 am March 7, 2018