IT'S a long way from Kerry to Donegal after you lose a match to a dubious last minute point.
Daithi Casey hopped the ball twice as he drove through and stuck the ball over the bar.
It's just one of those things and there's no point worrying about it too much. We have to move on and get ready for Round 2.
We'll look at the positives from the Kerry match, and there were plenty to take from it.
The big one was probably the character of the team and we learned a lot about our panel last week.
Playing a team like Kerry with 15 players is tough enough, never mind with just 14 and into a stiff breeze.
The lads left it all out on the pitch, and you can't ask an awful lot more than that.
We gave opportunities to some of our younger players, and they performed well.
They might have played at minor or Under 21, or even in big championship games for their clubs.
However, doing it against Kerry in their back yard in front of nearly 11,000 people is a different matter.
I felt a lot of them adapted well, and while there were mistakes at times, they were able to move on quickly and focus on the next ball.
There's no point in saying that it wasn't disappointing to lose, because it was.
We want to create a winning mentality, and the lads were down after the match, even though they had given it their all.
We should have closed out the game. We were down to 13 men in injury-time, but you're still looking for your game management to kick in.
Maybe we lacked a little bit of experience, and all you can hope for really is that we learn from it and are better prepared if we find ourselves in a similar position again in the league or championship.
I'd like to thank the Donegal supporters that made the long journey down to Killarney last week, and I know it didn't go unnoticed with the players.
It's a lively town, and I'm sure everyone that travelled down for the weekend enjoyed their stay.
It would have been even better if we could have got the win but it wasn't to be on Sunday.
We'd be hoping for another big crowd this week in O'Donnell Park. It's a great stadium for atmosphere, and I'm sure we'll get plenty of backing.
I would ask that people be patient because a lot of these lads are young and inexperienced and they're still finding their feet at this level.
Some of them would have got their first tracksuit as a Donegal senior player last Thursday.
They might have had one or two overnight stays when they were a minor, but it's not something they would be accustomed to.
We headed off last Saturday, and stopped down in Limerick for a run out, and then got to the hotel.
Between dinner, analysis, and team meetings, time can go quickly, and there's a fair bit to take in.
It can be a busy time for them academically as well, and there's not much free time to fit in studying.
It might take one or two trips away until they really get a feel for it, and hopefully people can understand that.
This is a process, and it might take a couple of years. There's a long way to go, but we will continue to work hard.
Players, management, and supporters that come out week after week, are all stakeholders in Donegal football, and we all want to see things move in the right direction.
Hopefully, bit by bit, we will get there.
The good thing about the league is that there isn't much time for mourning or reflecting, and as soon as we got on the team bus and left Killarney, all the focus moved to the game with Galway.
We've got a bit of information from their game with Tyrone last week, and it seems that they were strong defensively.
That's not something that you would always have said about Galway's football team, but it's clearly something that they're working on.
The last time we played Galway, we were beaten out the gate, and that showed us if you let them build up their confidence, then they can destroy you.
They're up in Division 1 for the first time in seven years, and they'll be coming up this week all guns blazing, knowing that a win will leave them in a very healthy position with five rounds still to play.
We had a lot of lads involved in colleges action this week, and I'm always happy when I get the text to say that the boys came through it unscathed, but it can be worrying at this time of the year on heavy pitches.
We're down a few bodies already from last week, and we don't want to lose anyone else.
It's going to be a tough competitive 70 minutes, but hopefully our lads can improve on last week, and deliver a performance that will get us the two points that we need.

National League
The National League pits teams of a similar level against each other, and there should be four really close games in Division 1 this weekend.
You have ourselves against Galway, and on Saturday night, Tyrone face Dublin in Healy Park, and I'm sure Mickey Harte will be looking for a response from his team after last week.
Kerry and Mayo will go to battle in Castlebar, with memories of those two big semi-finals back in August still fresh in the mind.
Kildare also host Monaghan, and that's a crucial game for both those counties after losing their openers.
It's a very, very tight league and there isn't much between the teams. Points will be hard to come by.
From an Ulster perspective, Armagh had a big win against Sligo last Sunday, and Cavan got a draw down in Clare with a relatively inexperienced side out.
Fermanagh got over Wexford in a tempestuous affair in Brewster, Antrim saw off Leitrim, and Derry lost out to Westmeath.
So, it was a mixed weekend for the Ulster counties, and they'll all be looking to improve this week.

Donegal Ladies
The Donegal Ladies opened their campaign with a defeat to Dublin last week and it was interesting to see some of the big names that they had back in their panel like Ciara Grant and Sarah Jane McDonald.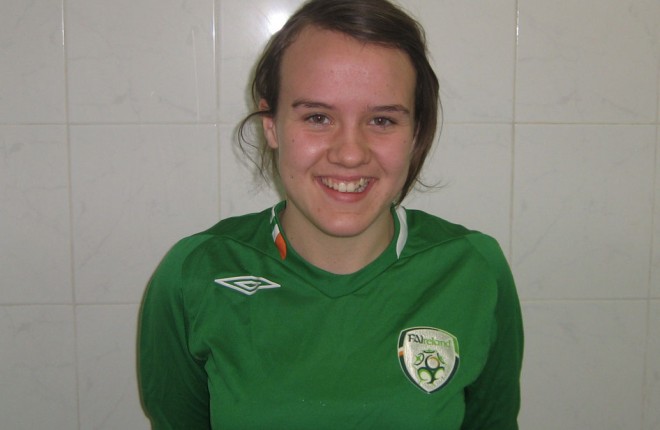 They also host Galway this week and that should be a good game up in Glenfin.
The senior hurlers lost out to Mayo down in Ballina, but it probably was a bit of an unsettled weekend with Setanta also out on Saturday.
They should be stronger this week, and will look to give Derry a rattle in O'Donnell Park.
I'm sure there will be a lot of people in early to cheer the hurlers on, and it should be a good afternoon of action in Letterkenny.
Gaoth Dobhair Under 21s are back in action in the Paddy McLarnon Cup when they take on Carryduff in the semi-final.
That will be a big task but if they can keep an eye on James Guinness – who played for Down in the McKenna Cup – they won't be far away.
Posted: 10:00 am February 4, 2018